District exports: untold stories behind the data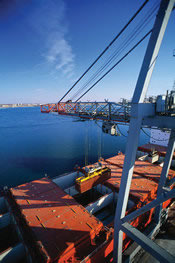 To the average person, there's something eye-glazing about aggregate, macro data. But cut into that morass of information, and there are plenty of interesting trends and other tidbits that offer a more fulsome picture of economic activity in the district. Indeed, some noteworthy trends in annual export data demonstrate the dynamism of district exports and offer something of a counterweight to issues of international competitiveness one reads about so often in the news today.
Treading water, now swimming downstream
In contrast to the national picture, manufactured exports in the district have weathered recessions at home and in important international markets comparatively well. Once the global economy picked up again, district exports also outpaced national levels.
Nationwide, manufactured exports saw an annual average decrease of 6 percent from 2000 to 2002. Global economic conditions improved in 2003, and U.S. manufactured exports increased 4 percent.
The district's manufactured exports, on the other hand, were not as affected by the economic downturn as the nation's. Manufactured exports from district states remained level from 2000 to 2002 and jumped 8 percent from 2002 to 2003, though not everyone shared in the export bounty. South Dakota increased the most at 14 percent, followed by 10 percent and 8 percent gains in Minnesota and Wisconsin, respectively. North Dakota and Montana manufactured exports decreased.
As one would suspect, Minnesota and Wisconsin comprise the lion's share of manufactured exports from district states. Even on a per capita basis, Montana, North Dakota and South Dakota rank low compared with the national average (see chart below and U.S. map). The top export industries by state in 2003 included computer and electronic products in Minnesota and South Dakota, machinery in North Dakota and Wisconsin, and chemicals in Montana.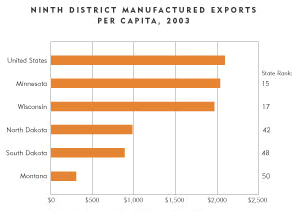 Source: Massachusetts Institute for Social and Economic Researchd
Competitors, but also buyers
Reports abound on U.S. jobs and manufacturing operations moving to other countries, particularly to Mexico, China and India. While these three economies provide competition for U.S. producers, they also provide new markets for U.S. exports. As wealth has grown in these economies, so has their buying power for manufactured exports. From 1997 to 2003, the annual average growth rate in Ninth District manufactured exports to Mexico, China and India has grown 11 percent, 27 percent and 10 percent, respectively, compared with 2.8 percent to all destinations. Nationwide, exports to these three countries over this period increased 6.5 percent and to all destinations, 0.8 percent.
In 1997 Mexico, China and India combined represented 5 percent of district manufactured exports; in 2003 that percentage grew to 9.9 percent. The primary manufactured products shipped to these regions from the district include computer and electrical products, machinery and food products.
Trade theory suggests that all countries have a comparative advantage in one or more products relative to other countries, thanks mostly to differing levels of production factors (like technology, capital and labor). However, as a country specializes, industries with a comparative advantage grow and those without a comparative advantage decline. While examples of companies closing shop are easy to note, the gains to trade through relatively lower-priced consumer goods, job gains in industries with a comparative advantage and increased exports are often diffused throughout the economy and therefore don't get as much attention, that is, until the data are aggregated.
Weaker dollar helps exporters
On average, the value of the U.S. dollar was down 6 percent in 2003 compared with 2002 against a broad index of currencies. A relatively weaker dollar makes U.S. products less expensive to buyers overseas compared with a relatively stronger dollar. The exchange rate used for payments between two companies in different countries, however, is often negotiated in advance of shipment or receipt in order to hedge against exchange rate fluctuations. Nevertheless, on average a weaker dollar benefits U.S. exporters.
The U.S. dollar weakened more against the euro (17 percent) in 2003 than either the Japanese yen or the Chinese yuan (7 percent and 0 percent, respectively). Japan used a policy of buying dollars in order to stabilize the yen's value relative to the dollar. China also bought dollars in 2003, as the yuan traded within a band of 8.27 to 8.28 yuan to the dollar.
U.S. exports to the euro-zone countries increased about 5 percent compared with 1 percent to Japan but jumped 15 percent to China, despite the relatively less favorable exchange rate. This indicates that while exchange rates have some effect on trade movements, other factors such as trade barriers (tariffs and quotas) and the performance of economies abroad often play a larger role. For example, China's economy grew significantly faster than Europe's and Japan's in 2003.
Operation Iraqi export
Iraq was not considered much of a destination for manufactured exports until the U.S. military arrived last year. From 1997 to 2002, manufactured exports to Iraq averaged only $14 million per year. However, after the initial military operation was completed and reconstruction activity began, U.S. manufactured exports increased to $270 million in 2003. This still represents a small fraction of the $645 billion worth of U.S. manufactured products exported last year. Electrical equipment, appliances and machinery topped the list of manufactured exports to Iraq.
Manufactured exports to Iraq from district companies reached $2.3 million in 2003, primarily food and kindred products shipped from Wisconsin. From 1997 to 2002, district manufactured exports to Iraq averaged a mere $87,000.