Job description: Track hiring demand
Looking for a labor shortage crystal ball? A handful of forward-looking measures in the district—surveys in individual markets, newspaper help-wanted ads and industry employment indexes—offer a patchwork of insights and suggest that worker demand is growing.
A recent survey of businesses by the Minneapolis Fed, for example, uncovered a bullish employment outlook and increasing concern about finding qualified workers (for more on this survey, see "Business leaders very optimistic"). According to quarterly surveys in a dozen cities across Minnesota by the temp services firm Manpower Inc., employers' hiring expectations have been particularly strong for the last three quarters of 2004 in a majority of cities surveyed.

See also:
Focus: Labor Shortage, fedgazette, July 2002
Mr. Recession, meet Mr. Labor Shortage, fedgazette, May 2002
The Mid-America Business Conditions Index, produced monthly by researchers at Creighton University, tracks employment expectations for manufacturing firms in a nine-state region in the heart of the country, including Minnesota and the Dakotas. Since January, the employment index in these three district states has been particularly strong. The index has dropped lately for North and South Dakota, but levels had been exceedingly high earlier in the year for both states.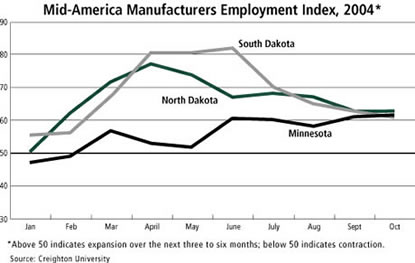 Help-wanted ads in regional newspapers also offer a glimpse into current and future hiring trends, particularly for entry-level and other jobs that don't recruit from outside the immediate area. The Rapid City (S.D.) Journal saw quarterly year-over-year increases in help-wanted ads in each of the last four quarters (ending September 2004), according to ad data provided by newspaper. At the La Crosse (Wis.) Tribune, help-wanted ads in the July-September 2004 quarter were the highest in at least four years, according to Tribune ad data.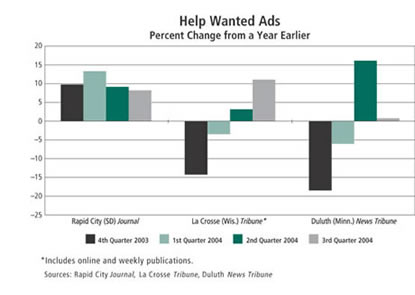 For context, however, employment advertising in newspapers is still recovering from its recessionary whacking. For example, June 2004 help-wanted ads in the Minneapolis StarTribune were roughly 70 percent lower than the advertising peak in early 2001, according to an August report by the Minnesota Department of Employment and Economic Development (DEED).
Employment ads in The Forum of Fargo-Moorhead are up 22 percent for the first six-months of 2004 vs. the first six-months of 2003, according to James Boberg, advertising director for the newspaper. While encouraging, he noted, this performance was still 10 percent below the first six months of 2002.
We're working on it
Ultimately, gauging the proximity and timing of a possible return of tighter labor markets—like those seen before the recession—is a science that has not yet been perfected.
Unemployment and new-job figures are certainly helpful. But neither offers much direct insight into what economists call "market-clearing matches"—the degree to which available jobs find properly skilled and available workers, and vice versa.
One notable improvement in matchmaking measuring is Minnesota's job vacancy survey, produced by DEED. Inaugurated in 2000, the survey polls employers about available job openings in Minnesota and remains unique among states and the federal government. (But even this survey has limitations, as it is conducted only twice annually.)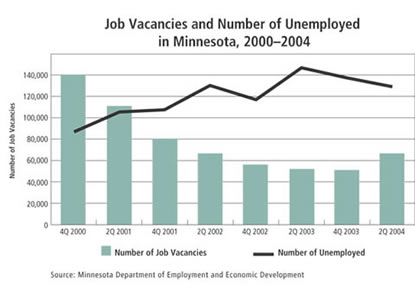 The most recent survey showed that job vacancies were trending up in the second quarter of 2004, though to varying degrees in different regions of the state, and the majority of vacancies (57 percent) were concentrated in a minority (27 percent) of occupations.
Further work by DEED's Todd Graham found that unemployed workers in advertising, architecture and certain management positions were facing a tougher reemployment market because job openings were few compared with the number of unemployed in the field. But on the flip side, social scientists, legal support workers, motor vehicle operators and a number of other occupations had strong reemployment prospects (low unemployment, high vacancy rates) in the Twin Cities, while nurses, cooks, sales reps, metal workers and others were seeing strong job markets in Greater Minnesota.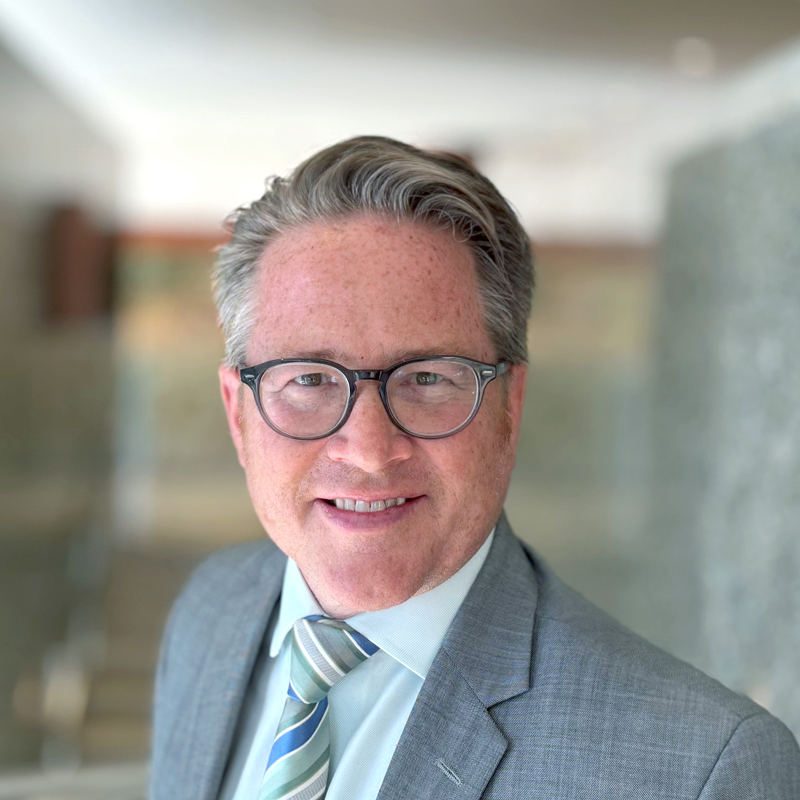 Request as a speaker
Ron Wirtz
Editor, fedgazette
Ron Wirtz is a Minneapolis Fed regional outreach director. Ron tracks current business conditions, with a focus on employment and wages, construction, real estate, consumer spending, and tourism. In this role, he networks with businesses in the Bank's six-state region and gives frequent speeches on economic conditions. Follow him on Twitter @RonWirtz.