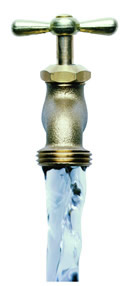 Clean, plentiful water from the Missouri River is so close to Kadoka, S.D., Mayor Harry Weller can almost smell it. Construction of the Mni Wiconi Rural Water System has been repeatedly delayed by lack of funding in Congress, but by June the pipeline had inched within two miles of the town, a wheat and ranching center near Badlands National Park. Weller expects Mni Wiconi water to start flowing through city faucets by the end of the year, at long last solving a problem that forces many residents to rely on bottled water because city wells are contaminated with radium. Despite treatment to remove the radioactive element, the town's water has violated federal safety standards for several years.
"If we would have had our rural water like they said we were going to have it five years ago, we wouldn't have this problem," said Weller, also a teacher at Kadoka High School. "We're just waiting for this water to reach us."
But bringing safe drinking water to Kadoka and other communities on the high, dry plains of South Dakota comes at a high price: about $430.8 million, over 95 percent of it covered by the U.S. taxpayer. That's over $8,600 for every man, woman and child to be served by Mni Wiconi, a network of pipelines, reservoirs and pumping stations that when complete (2008 is the latest "sunset" date for the project) will deliver treated Missouri water to all or parts of nine counties, in addition to the Pine Ridge, Rosebud and Lower Brule Indian reservations.
The federal treasury is footing the entire bill to bring water to the three reservations, which also happens to ring up the lion's share of the project's cost—some $350-odd million. For the $77.2 million off-reservation portion of the project, Uncle Sam is paying 80 percent of the bill. Local ratepayers are required only to pay back a low-interest state loan and to cover ongoing operations and maintenance.
Mni Wiconi is the largest of 13 ambitious, federally funded water diversion projects either under way or planned (see table) in the semi-arid western two-thirds of the district. All involve piping water over long distances to areas where drinking water is either in short supply or of poor quality. All depend on heavy annual infusions of federal dollars to keep construction moving forward. Like Mni Wiconi, most are running behind schedule—inflating final costs with each passing month—because congressional appropriations haven't kept up with local funding requests.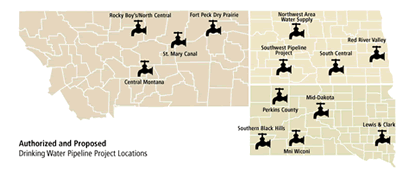 Earth moving for the Lewis & Clark Rural Water System began two years ago. It will pipe treated drinking water from an aquifer underlying the Missouri River to roughly 200,000 people in eastern South Dakota (including Sioux Falls), southwestern Minnesota and northwestern Iowa. A federal grant covers 80 percent of the rural portion of the $423 million project and half of the costs allocated to Sioux Falls, which will receive about a third of the 30 million gallons of water to be siphoned daily from the Missouri.
In North Dakota, residents of Minot and more than a dozen smaller communities near the Canadian border are watching halting progress on the Northwest Area Water Supply project. The biggest project in the state's Municipal, Rural and Industrial (MR&I) water supply program, NAWS would pump water from Lake Sakakawea on the Missouri River north to Minot, and on to Mohall, Bowbells, Bottineau and other towns. The $150 million project faces legal as well as financial hurdles; shortfalls in federal funding threaten the four-year timetable to get river water to Minot by 2009, and a federal judge has ruled that a full environmental review must be done before water treatment facilities can be built.
Other mega rural drinking water projects include the Rocky Boy's/North Central Montana Regional Water System, a $220 million plan to transport river water through 450 miles of pipeline to the Rocky Boy's Indian Reservation and communities in seven surrounding counties; the Fort Peck Dry Prairie Regional Water System, which is already pulling water from the Missouri and will eventually deliver water to about 28,000 people in four northeastern Montana counties; and the Red River Valley Water Supply Project, a massive MR&I plan being developed to augment water supplies in Fargo, Grand Forks, Moorhead and other Valley cities.
If all authorized and proposed big pipeline water projects in the district were built, the total cost—over 80 percent of it borne by U.S. taxpayers—would top $2.7 billion. Only about 1 million people, the population of Detroit, would benefit from that outpouring of resources.
Boon or boondoggle?
For local water users, the benefits of these projects are undeniable. Torrents of fresh water piped in from afar promise to alleviate real or perceived shortages of water for drinking, household use, industry and livestock watering (none of the projects will provide water for crop irrigation) in areas of the district that can't depend on regular rainfall to feed the tap. Water is the lifeblood of any community, pointed out Troy Larson, executive director of the Lewis & Clark system, in making a case for the project: "It either comes down to quality of life, meaning you need good-quality water to live, or economic development, meaning you want to continue to grow businesses and homes. Lewis & Clark addresses quality of life issues and continued economic development."
But given the considerable taxpayer investment in such projects, it's fair to ask whether their benefits justify their costs. Is it really worth $220 million to deliver water to 31,000 people scattered over north-central Montana—the mission of the Rocky Boy's/North Central project? Or $423 million to ensure that the Sioux Falls area can keep growing without worrying about rationing water?
Critics of mega pipeline projects, including taxpayer watchdog groups and some natural resources economists, denounce them as boondoggles—congressional pork that benefits local constituents while siphoning resources away from worthier public imperatives such as education, scientific research and transportation. "A lot of times, because these projects are driven more by political muscle than by actual merit, we're not spending the money wisely, on the most important thing," said Steve Ellis, vice president of programs at Taxpayers for Common Sense, an advocacy group based in Washington, D.C.
As a rule, Congress has approved ongoing or proposed water projects in the district without subjecting them to rigorous cost-benefit analyses. Each one was authorized after protracted, determined lobbying by local sponsors with little incentive to think small. Federal and state oversight has generally been too little, too late.
In some instances, massive government subsidies for long-distance pipelines may be justified. Water in sufficient quantities may be simply unavailable locally, or residents may lack the financial means to pay for expensive water infrastructure themselves. But there are alternatives to piping water overland at immense cost (see "The path not taken"). Thirsty communities often ignore those options because of past public policy decisions and the unique economics of water in the West—a long-standing assumption that water should always be available, regardless of location, and free, or at least dirt-cheap. To paraphrase Benjamin Franklin, people are only willing to pay the true price of water when the well runs dry. And the well never will run dry as long as the U.S. taxpayer keeps filling it.
Drinking their fill
U.S. taxpayers have carried water in the West ever since pioneers complained about a lack of rain to water their crops and livestock. In the first half of the last century, the federal government bankrolled dams, reservoirs, pipelines and other projects in the district to capture river water for agricultural, household and commercial use. Roughly 80 percent of that diverted water flows to farm irrigators, who pay only what they can afford for long-term, no-interest water service contracts. Cities and regional water authorities came to rely on generous grants from the Farmers Home Administration and other federal agencies to help finance new water intakes, treatment facilities and wells, and to pipe water to ranches and homes in outlying areas.
Federal subsidies have helped to keep water rates low, despite water's relative scarcity (Sioux Falls households pay lower monthly water bills than those in water-rich International Falls and Duluth, Minn.), and they foster a sense of entitlement—an expectation that government will continue to provide inexpensive water as a public good. But in the last 15 years, the economic waterscape has changed, putting pressure on many small cities and rural counties to develop new water supplies—and tap into fresh sources of government aid.
Amendments to the Safe Drinking Water Act have tightened federal standards for contaminants such as nitrates, arsenic and radioactive isotopes, putting some municipal and rural water systems on the wrong side of the new thresholds (see additional story, "Paying the piper"). Weller of Kadoka said tests on city wells have been "getting better and better," but last spring the water still contained more radium 226/228 than permitted under Environmental Protection Agency (EPA) regulations. The city water treatment plant can't completely remove the radium. Weller said he drinks tap water, but his wife elects to bring home jugs she fills at the rural school where she works. "We're dealing with [the radium issue] as best we can," he said.
Drought has gripped the region for eight years, exacerbating water problems and adding impetus to the search for alternative water supplies. On the Rocky Boy's Reservation in Montana, residents buy bottled water and limit household water use to eke out scarce well water. Sioux Falls Mayor Dave Munson has warned that if dry conditions persist, the city will run out of water by 2012 at its present rate of growth.
Traditionally, communities in need of improved water resources drilled deeper or additional wells, or linked small communities to centralized treatment plants. But by the 1980s, local officials started lobbying for large-scale water diversion projects that were much grander in scope and vastly more expensive.
Proponents of big rural water supply projects claim that getting them built is vital to the health and economic progress of their communities. For Munson, the case for Lewis & Clark is simple and compelling: Sioux Falls needs more water to maintain its status as one of the fastest growing cities in the country. Last year the city issued over $400 million in building permits for new construction. Swelling numbers of residents and businesses have tested the capacity of the Big Sioux River and city wells, and Munson said he fears that conservation measures won't be sufficient to match consumption levels seven years from now.
"We're always going to look at water conservation," Munson said, "but at the same time ... we want to make sure we have the additional water supply we need to continue growing." Sioux Falls considered other options for increasing water supplies—drilling more wells or damming a tributary of the Big Sioux—but Munson said none promised as much security from drought as a direct line to the Missouri River, 60 miles away.
Weller said that without Mni Wiconi (roughly translated, the name means "water is life"), the cost of treating Kadoka's water to meet EPA standards would be too much for residents to bear. And Rocky Boy's Coordinator Annmarie Robinson said that the pipeline, authorized by Congress in 2002 and in the preliminary design and engineering stage, spells relief for area residents who have put up with severe water shortages and high water bills for years. "In most cases [Rocky Boy's will] provide a better quality of water and quantity of water, and in the long run we believe it'll be more cost-effective," she said.
Creative financing
Cost-effective for recipients of Rocky Boy's water, perhaps. But what about for the U.S. taxpayer? Government is ideally suited to providing public infrastructure such as dams, pipelines, roads and sewer lines because its taxing authority allows it to build big, taking advantage of economies of scale. However, the way in which Lewis & Clark and other rural water supply projects have been approved and funded stretches—some would say distorts—the concept of the public good, raising the question of how far government largesse should extend in providing water to sparsely populated areas.
Traditionally, major water storage and diversion projects have been designed and built by the U.S. Bureau of Reclamation, an arm of the Department of the Interior whose original mission was to reclaim the arid West for agriculture. Major water storage projects in the district developed by BOR include the Tiber, Canyon Ferry, Belle Fourche and Garrison dams in the Missouri basin and the St. Mary Canal in northwestern Montana. That's not the case with Mni Wiconi, NAWS, Fort Peck Dry Prairie and the other big rural drinking water projects under way in the district. Regional water authorities drive the approval and construction process with the blessing of Congress.
"The existing federal programs simply don't work" for large, rural pipeline projects, said Dennis Davis, executive director of the South Dakota Association of Rural Water Systems, an organization that has taken a lead role in developing regional water systems in the state. Grant funding has declined over the last 20 years, and loans available through the EPA and the U.S. Department of Agriculture's Rural Development program are designed for much smaller projects. So local water districts did "what creative people do" when faced with an obstacle, Davis
said—they found a way around it, going directly to Congress to secure funding for their projects.
In a departure from BOR policy on water diversion projects, Congress requires no repayment for the hundreds of millions of dollars authorized so far for rural water supply projects in the district; up to 100 percent of the cost of each project is covered by federal grants, indexed to keep pace with the rising costs of labor and materials. Appropriated funds flow through BOR to each water authority, which commissions engineering studies and lets construction contracts.
Each project has its own tortuous history, justification for federal funding and unique formula for state and local cost sharing.
NAWS was spawned from a plan approved by Congress in the 1950s to irrigate more than 1 million acres in central and eastern North Dakota with river water pooled behind the Garrison Dam. In 1986, after environmental concerns and objections by Canada quashed the irrigation project, the Garrison Diversion morphed into the state Municipal, Rural and Industrial program, aimed at delivering potable water to towns and rural communities. Congress has authorized $400 million for the MR&I program, half of which has already been spent on NAWS and other water supply projects.
The federal government is responsible for 65 percent of NAWS construction costs and contributed $79 million to the Southwest Pipeline, a project that pipes nearly 2 billion gallons daily of Missouri River water to 26 communities in the southwestern corner of the state. Congress has yet to authorize the gigantic Red River Valley Water Supply Project, which carries a price tag of between $550 million and $2.2 billion, depending on the water source selected to supply water to Red River Valley cities fearful of future droughts. Options on the table include piping water from the Missouri River, Lake of the Woods or new wells drilled in Minnesota.
In three water projects, participation by Indian reservations greatly facilitated congressional approval. Under 19th century treaties with tribes such as the Oglala Sioux and Chippewa Cree, the federal government has a responsibility to provide drinking water to reservations. On the Mni Wiconi, Rocky Boy's and Fort Peck Dry Prairie projects, water districts negotiated agreements with tribes to jointly develop long-distance pipelines to serve both reservation and off-reservation communities. A 1997 compact with the U.S. government and state of Montana gives the Chippewa Cree tribe on the Rocky Boy's Reservation the right to 10,000 acre feet of water annually from the Tiber Reservoir.
Robinson said that mandate was crucial to convincing lawmakers of the worth of the combined project. "I don't think if we came in as a stand-alone without the reservation that Congress would have authorized it," she said.
Piggybacking on reservation water supply projects also saves off-reservation water users money, because the federal government covers 100 percent of the cost of water infrastructure on reservations. The North Central Montana Regional Water Authority, the entity that manages the nontribal portion of the Rocky Boy's project, will make use of reservoirs and a treatment plant built to serve the reservation to distribute water to rural water districts and towns such as Shelby, Conrad and Big Sandy. The federal government has pledged to pay 80 percent of construction costs for the nontribal system.
Just because Congress authorizes a project doesn't mean that the bulldozers are ready to roll. Because water projects have been approved separately, rather than as part of an overarching national program, too many projects have ended up chasing too little money in annual appropriation bills. Sioux Falls was to receive Lewis & Clark water by 2012 under the original construction schedule for the project. But because of a lack of funding, Munson and other city residents may have to wait longer for a taste of Big Muddy; Congress approved $16.6 million for construction in fiscal 2005, less than half the amount requested by local sponsors.
Mni Wiconi, NAWS and Fort Peck Dry Prairie have also struggled to stay on schedule because of funding shortfalls. Delays increase both construction and administrative costs, increasing the burden on the taxpayer.
Going with the flow
The high per capita costs of big water supply projects—roughly $6,350 per household for Lewis & Clark, $26,000 per dwelling for Mni Wiconi—naturally raise questions about their economic viability. For $26,000, a family living in Kadoka could buy a lifetime supply of radium-free bottled water to drink. Beyond that, judging the economic merits of big water supply projects is difficult because they have largely escaped hard-nosed scrutiny by federal agencies.
Officially, BOR oversees the projects, disbursing funds to local water authorities and reviewing feasibility, environmental and engineering studies. But the agency has little input into project development—which water sources and system designs offer the most bang for the public dollar, or whether the project should move forward at all. By the time it gets involved, local sponsors have made those basic decisions, and Congress has signed off on the plan. "As a public agency, we're at the whims of Congress," said Jim Beadnell, a repayment specialist in BOR's Bismarck, N.D., office. "So if an entity and its representatives develop legislation and get it passed, we of course do what Congress says."
The Bureau's disengagement from the planning process means that cost-benefit analyses were not done on most of the rural water supply projects authorized over the past decade. These studies, standard procedure on earlier BOR dam and pipeline projects, gauge the national benefits of a project by measuring the willingness of beneficiaries to pay for it, or the cost of alternatives if the project isn't built. BOR did complete formal cost-benefit analyses on the Lewis & Clark and Rocky Boy's projects—and found that neither could be justified on purely economic grounds.
A 1993 willingness-to-pay BOR study on Lewis & Clark, based on a mail survey conducted by the water system, found no economic justification for the project because residents weren't willing to pay the water rates necessary to pay off construction costs. A "principles and guidelines" study of Rocky Boy's, performed in 2004 at the insistence of the Office of Management and Budget, found that the cheapest option for improving water quality in the area was allowing the reservation and individual off-reservation communities to build their own water treatment facilities. Not building a pipeline from the Tiber Reservoir would save U.S. taxpayers $25.6 million in 2002 dollars. Yet BOR recommended the more expensive pipeline plan, partly because the Chippewa Cree tribe preferred that option, said George St. George, the BOR economist who conducted the study.
Feasibility and engineering studies done at the local level tend to justify the preferences of the water authorities that commissioned them, ignoring no-build alternatives or more modest approaches such as improving water treatment or sinking deeper wells. The key calculation in feasibility studies, said NAWS Project Manager Jim Lennington, is how much local communities will have to pay for construction, based on the federal cost share. "You say, 'OK, given that you have a 75 percent grant, can the local people afford to fund the 25 percent, and to what extent?' That's how it works."
Both local water authorities and Congress, which sets the level of grant funding in authorizing pipeline projects, assume that their beneficiaries aren't capable of paying the full costs themselves, or even a higher proportion of those costs. Such assumptions would have to be based on economic data under a bill introduced in Congress. Besides giving BOR a direct role in developing rural water supply projects, the Rural Water Supply Act would require an assessment of local communities' ability to shoulder construction costs, based on factors such as household income, available tax base and the current price of water.
For now, generous federal subsidies ensure that households and businesses pay only a fraction of the total cost of construction, plus operations and maintenance, at the water meter or the cash register. (The city of Minot has levied a 1 percent sales tax to pay the 35 percent local share of NAWS.) The Lewis & Clark system plans to sell Missouri River water to towns and rural water districts for $1.15 per thousand gallons, less than the wholesale price in Kenosha, Wis. Residents of the Pine Ridge and Rosebud reservations will receive Mni Wiconi water for free—a strong disincentive to conserve.
A full accounting of the costs of water flowing from big pipeline projects would include the opportunity costs of diverting water from a river, aquifer or lake. If water sucked into pipeline intakes were left in the Missouri River—the go-to source for most of the projects—it would power industry in downstream cities such as Omaha and Kansas City, and promote tourism in small towns by floating pleasure boats and preserving fish habitat. Diverting the flow of money in Washington, D.C., also imposes opportunity costs—less money available for other pressing national needs such as healthcare and job training. But opportunity cost is not factored into federal cost-benefit analyses.
On the benefit side of the ledger, pipeline boosters often predict that they will bring not only fresh water to town, but prosperity as well. Missouri River water piped to Minot and other communities will create "a more inviting home for potential business and industry and a stronger local economy," the North Dakota Water Commission declared on its Web site. But expecting local economies to blossom on imported water may be unrealistic, given other constraints on growth, such as distance from markets and a lack of natural amenities such as lakes, forests and mountains.
An unquenchable thirst
In authorizing a string of huge water diversion projects in the district, Congress has adopted the widely held view that cheap drinking water is an American birthright, something people are entitled to no matter where they choose to live. Until that philosophy changes, and lawmakers decide that it's not up to U.S. taxpayers to subsidize water use in arid areas, special grant requests for mega water projects in the district are likely to keep coming.
Rather than slaking the West's thirst, subsidized water increases it, observed John Loomis, a natural resources economist at Colorado State University: "The underpricing of water is not only an efficiency loss in the sense of we're building projects that are costing way more than they're worth, but in addition it continues to stimulate the demand for more [water projects], because it sends a signal that water's cheap."
Last fall another ambitious rural water supply project in South Dakota began organizing and looking for funding. The Southern Black Hills Water System would drill new wells and build 100 miles of pipeline to bring water to three counties in the Black Hills area at a cost of roughly $80 million.
And in northern Montana, farmers have joined forces with civic leaders in Havre, Chinook, Fort Belknap and other communities to garner federal support for a $120 million restoration of the St. Mary Canal, a 90-year-old system of siphons, concrete waterfalls and chutes that diverts mountain runoff into the Milk River for irrigation and municipal use. BOR maintains that irrigators must bear the full cost of repairing the leaky, broken-down "Lifeline of the Hi-Line," because it was originally built as an irrigation project.
Congress rebuffed a 2006 budget request of $6.75 million, supported by U.S. Sen. Conrad Burns, to help launch a full-scale, federally funded renovation of the facility. But at press time the project was still alive in conference committee, granted $1 million in funding by the Senate. The Montana Legislature has approved $900,000 for preliminary engineering work, and $10 million in bonding authority for renovating the canal, to be used as a state match for federal funds if Congress authorizes the project.