On the evening of April 19, 1997, Jon and Cindy Bonzer saw their livelihood go up in flames. The Red River of the North, swollen to monstrous proportions by record snowmelt, had surged over earthen levees and inundated 80 percent of Grand Forks, N.D., and all of neighboring East Grand Forks, Minn. As the floodwaters rose in the streets of downtown Grand Forks, the Bonzers had prepared for what they thought would be the worst at their bar and restaurant in the historic Golden Square building, securing business records in a cooler set atop the bar. Then, escorted by the National Guard, they had fled the city, along with tens of thousands of other residents of the river towns.
Safe with Cindy's parents in Fargo, the Bonzers watched TV news reports about a fire in downtown Grand Forks. In disbelief, they saw the fire quickly spread, engulfing the Golden Square building and 10 other structures. The business that bore their name was reduced to ashes floating on the muddy waters. "It was a 100 percent total loss; there was absolutely nothing left of the old Bonzer's," Jon Bonzer recalled. "There was nothing worth saving, except one spoon."
Today there's plenty of silverware behind the bar in the new Bonzer's, a popular lunch spot on Demers Avenue, the main drag through downtown. With the help of disaster loans from the federal government and the city, the Bonzers were able to reestablish their business in a new location, one of the oldest remaining buildings in Grand Forks. It will take them years to pay off $160,000 in post-flood debt, but for now Bonzer's Sandwich Pub is turning a profit—"not much, but enough to stay in business," Jon Bonzer said.
Like Bonzer's, the communities of Grand Forks and East Grand Forks—known locally as Greater Grand Forks, or the Grand Cities—are going concerns again nine years after flood and fire ravaged them, threatening their very survival.
As often happens after natural (and man-made) disasters, life in the cities for the most part has returned to what it was before the 1997 flood. Area employment and taxable sales and purchases (a proxy for economic output) have surpassed 1997 levels and increased at a rapid clip over the past five years (see charts).
Commercial growth in Grand Forks—where, according to local estimates, the population is now higher than it was before the flood—is obvious to anyone approaching the city from the south on Interstate 29. Target, Old Navy, Menards and other big-box retailers occupy land that was mostly vacant before the flood. Nearby, new housing creeps out into former wheat and soybean fields. Across the river in the much smaller community of East Grand Forks, a Cabela's outfitters store and several riverside restaurants anchor a spruced up downtown protected by dikes and an "invisible" floodwall.
Not everything has returned to normal, of course. The population of the Grand Forks metro area, comprising Grand Forks County and Polk County, Minn., still hasn't completely rebounded from disaster. In 2004, according to U.S. Census estimates, just over 96,000 people lived in the area—about 7,500 fewer than lived there before the flood.
The Grand Cities' resurrection can be viewed as a large-scale experiment in urban renewal that has yet to run its course. The flood profoundly affected the economic and physical development of the cities. Some consequences, such as the wholesale demolition of riverside neighborhoods, are obvious; others are more subtle, but just as significant and long-lasting. The disaster—and the massive, federally funded recovery effort that followed—increased the cost of housing, accelerated development on the cities' fringes and changed the character of both downtowns, planting the seeds for what some see as a current urban revival on the banks of the Red.
There's also evidence that the flood, while devastating to property and the psyche of residents, had an economic upside. Over the past five years, the area's economy has grown at a faster pace than before the flood, a consequence of hundreds of millions of dollars in new public and private investment.
The issue of how communities react to an economic shock such as a natural disaster has taken on fresh urgency in light of the hammer blow dealt New Orleans a year ago by Hurricane Katrina—which eclipsed the events of April 1997 as the worst flood to strike a U.S. city. Some communities return to full strength after a calamity, while others do not, even with government assistance. In this story, and others on the following pages, the fedgazette takes stock of the Grand Cities' comeback.
Down, but not out
The available evidence—statistical as well as anecdotal—indicates that the economy of Greater Grand Forks has recovered fully from the great flood. But the cities' rebirth was not a sure thing. In 1997 the Grand Forks metro area was vulnerable to shock because its economy was slowing, falling off the pace of national growth and prosperity that marked the mid-1990s.
Pre-flood Census estimates show that the area's population had declined from its 1994 peak. Business activity was also slackening: Taxable sales and purchases in the city of Grand Forks grew only 2 percent from 1995 to 1996, continuing a decline in growth that began the year before; adjusted for inflation, the dollar value of sales transactions fell. Meanwhile, the population of Fargo-Moorhead, another binary river community 70 miles upstream, grew by more than 3,000 people in the three years before the flood, and its sales and purchases increased 6.5 percent.
Bismarck, N.D., Rapid City, S.D., St. Cloud, Minn., and other mid-sized cities in the district were also outstripping the Grand Forks area in population and commercial growth when the flood hit, decimating an already weakened economy. Thousands of people fled the area and did not return; about 2,800 people were put out of work, doubling the unemployment rate; and flood damage paralyzed commercial activity in the downtowns and other hard-hit areas.
Almost certainly, the recovery would have taken much longer, or the Grand Cities would have slid into decline, without a massive infusion of state and federal disaster funds. The federal government alone poured over $600 million into the two central cities to aid recovery and reconstruction—$10,000 for every resident at the time of the flood. "Absolutely, without that federal money we'd not be where we are," said John Schmisek, director of finance for the City of Grand Forks and one of the tri-chairs who directed recovery efforts in 1997. "We wouldn't have recovered as we have. Simple logic tells you that."
Federal funds either given directly to city governments or funneled through state agencies paid for the acquisition and demolition of hundreds of flood-damaged homes and businesses and the replacement of public facilities and infrastructure. Grand Forks alone spent $52 million in grant money from the U.S. Department of Housing and Urban Development (HUD) to repair and upgrade streets, water mains and sewers. The Small Business Administration (SBA) disbursed $258 million in low-interest disaster loans to residents and businesses in the Grand Forks metro area. Other federally funded programs allowed both cities to hand out grants, forgivable loans, tax breaks and other incentives designed to encourage rebuilding and retain jobs.
How the people of the Grand Forks area—city officials, business owners, individual residents—responded to the initial disaster, and the opportunities presented to them by the herculean recovery effort, determined how quickly the local economy got back on track. The economic going was particularly tough for two or three years after the floodwaters receded, when entire neighborhoods lay abandoned, and intensive cleanup and reconstruction disrupted commercial activity.
No direction home …
Four months after the flood, both cities began acquiring ruined homes in low-lying neighborhoods, such as Lincoln Park and Riverside Park in Grand Forks and The Point in East Grand Forks. The respective local governments spent about $94 million in HUD and Federal Emergency Management Agency (FEMA) grants to buy and demolish about 1,200 substantially damaged properties within and near the 100-year floodplain. More homes would be leveled over the next two years to make way for a gigantic flood protection project—miles of levees, floodwalls and pumping stations designed to hold back the Red and its tributaries when the next epochal flood came (see map).
The buyouts—based on pre-flood tax assessments in Grand Forks and independent appraisals in East Grand Forks—made property owners whole (fewer than one in five area homeowners had flood insurance) and gave them the financial freedom to make new lives for themselves elsewhere. Within a year most of the displaced had moved to areas of town that had escaped devastation in the flood or to other communities.
A study of East Grand Forks housing in March 1998 found that 38 percent of bought-out households surveyed had moved to Grand Forks or outlying towns in the region. "We lost a lot of people who took their buyouts and left," said James Richter, director of the East Grand Forks Economic Development & Housing Authority.
Census figures are notoriously suspect following natural disasters, but the best estimate is that by 1998 about 4,500 people had moved out of the core cities—not an exodus, but a significant population loss nonetheless. East Grand Forks' populace shrank by 15 percent. The population of the metro area fell by more than 5,600 in the same period, indicating that many people—University of North Dakota (UND) students whose classes had been canceled after the flood, families who couldn't find suitable housing, residents nearing retirement—left the region altogether. Some retirees moved permanently to lake homes, Richter said.
For the rest of the decade, uncertainty over where levees would be constructed, the upheaval of reconstruction and a shortage of affordable housing prevented thousands of people from returning to the Grand Cities. The U.S. Army Corps of Engineers bulldozed houses in riverside neighborhoods, converting them into broad swaths of parkland. Both central business districts were essentially rebuilt; construction and cleanup crews labored month after month to lay new sewer lines and pavement, repair public facilities such as the Civic Auditorium in Grand Forks and erect new buildings, including five schools and a new city hall in East Grand Forks.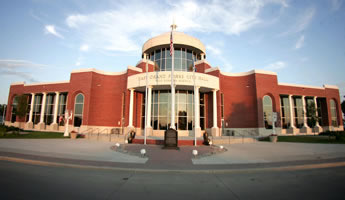 East Grand Forks City Hall
Only after the intensive rebuilding phase began to wind down, and the Corps finalized plans for its flood-protection scheme in 2000, did the population start to bounce back. When exactly the turning point came is debatable: Population figures from the Census and the Grand Forks-based Metropolitan Planning Organization (MPO) are either unavailable for some years or contradictory. But both agencies show marked increases in Grand Forks' population within four years of the flood (see chart below). East Grand Forks also regained population, but not as quickly as its larger twin.
… then a housing boom
Reluctant to break ground on new housing immediately after the flood, home builders responded to demand, putting up more and more houses each year in subdivisions sprinkled around the edges of both cities. In Grand Forks, developers took advantage of new sewers, roads and other infrastructure paid for with federal flood-relief funds; in East Grand Forks, which had struggled to replace its housing stock right after the flood, home builders bought bargain-priced, city-owned lots that had been FEMA trailer sites in 1997.
Both cities encouraged homesteading by giving $10,000 forgivable loans to buyers who agreed to stay at the same address for a specified period—five years in Grand Forks, 10 years in East Grand Forks.
The pace of residential construction accelerated in 2002, fueled by an influx of buyers and low-interest mortgages. An analysis of building permits shows that more than 1,700 single-family homes, townhouses and apartment units have been built in the two cities since then. "Today we have replaced all that we lost [in the flood] and then some," said Terry Hanson, executive director of the Grand Forks Housing Authority (GFHA).
But the new housing made the Grand Cities a more expensive place to live after the flood. Modest wood-frame and brick homes in destroyed neighborhoods such as Lincoln Park in Grand Forks and Sherlock Park in East Grand Forks typically sold for less than $85,000 in 2005 dollars. The larger houses built to replace them in newly platted subdivisions cost much more; last year the average cost of a three-bedroom home in Grand Forks was $137,385, according to the Grand Forks Board of Realtors. In a city where the median household income was $34,194 in 1999, that's a lot of money.
What one local Realtor called an "inflationary market" for housing, along with the loss of rental units in the flood, explains why so many apartments have been built in the area—more than 900 units in Grand Forks since 2002, according to permit records. Before the flood very few multifamily structures were being built. The boom in rental housing suggests that many lower- and middle-income residents have been priced out of the new subdivisions, despite incentives for home buyers and efforts by GFHA to create affordable housing districts.
Few apartments have been built in East Grand Forks since a flurry of construction right after the flood. That may partly explain why East Grand Forks has not fared as well as its larger neighbor in the competition to lure back flood exiles and attract new residents. In contrast to Grand Forks, whose population appears to have almost completely rebounded to pre-flood levels, East Grand Forks is a smaller community than it was before the flood; even under the MPO's rosier estimate, the city's population last year fell well short of the 1996 Census figure. Today the city has about the same number of households as before the flood, but those households are smaller, Richter said. He speculated that larger families that left in 1997 haven't returned, perhaps because of higher housing costs.
In general, Hanson and other sources said that many low-income residents of Greater Grand Forks—the elderly, service workers, Hispanic seasonal laborers—left the area after the flood, resettling in Fargo, Bismarck, Minot and other cities that offered jobs and affordable housing. (For more about the flood's impact on the poor, see the Sept. 2006 edition of Community Dividend.)
At this point, however, it's difficult to separate flood effects from other factors driving population trends, said Richard Rathge, director of the North Dakota State Data Center in Fargo. Robust job growth in recent years (more on that below) has contributed to the area's population gains. On the other hand, on-campus enrollment has dropped at UND—a result of a continued decline in the number of young people in the state—and downsizing at Grand Forks Air Force Base has cut the number of people living on or near the base by several hundred since the mid-1990s. "Have we recovered [fully from] just the element of the flood? That's a big unknown," Rathge said.
Not business as usual
Not surprisingly, the flood wreaked havoc on local commerce. What is surprising is that the Grand Cities' economy was not devastated, as was New Orleans' after Hurricane Katrina. Most industry sectors bounced back within a few months, although full recovery took years.
In April 1997 business was already down in the region compared with the previous spring, according to U.S. Department of Labor statistics. It had been a harsh winter, marked by bitter temperatures and over 10 feet of snowfall that restricted travel. Then the high water came, shutting down scores of businesses and exacting a heavy toll on employment and sales. From April to May, the unemployment rate in the Grand Forks area more than doubled to 8.3 percent.
Retail, service and hospitality businesses bore the brunt of the flood's destruction and the disruption in customer traffic caused by subsequent cleanup and rebuilding. Many of these businesses were located in the two downtowns and on Washington Street in Grand Forks, areas where damage was severe. Firms that managed to keep their doors open lost workers in the evacuation or had to lay off employees because of reduced sales.
Restaurants, bars, hotels and other businesses that depend on discretionary dollars and tourist traffic were hit particularly hard. Labor department figures show that about 1,200 workers—23 percent of the sector's workforce—left the leisure and hospitality industry immediately after the flood. The Bonzers had no choice but to lay off all 20 of their employees.
Retail trade and private services (a huge sector accounting for more than half of metro-area employees) each lost about 10 percent of its workers. Tim Shea's Nursery & Landscaping in Grand Forks suffered minor damage in the flood and reopened within a month, but with business at a standstill—most customers had more pressing concerns than beautifying their yards—the firm operated with a reduced staff for the rest of the year. Some long-time seasonal employees never returned, said owner Tim Shea.
Other sectors, such as manufacturing, financial services and health care, lost sales but didn't suffer drastic declines in employment. These businesses either didn't sustain substantial damage in the flood or were able to shift their operations to other locations, keeping Grand Forks workers on the payroll.
The one sector of the local economy that received an immediate and long-lasting boost from the flood was the construction industry. Demolition, repair and reconstruction required an army of engineers, carpenters, electricians, roofers and other construction workers. By July, employment in natural resources, mining and construction (a sector dominated by construction firms in the Grand Forks area) had surged 18 percent over the previous summer. Workers who had been laid off from retail or service businesses—or who were looking for better pay—took jobs in cleanup and rebuilding. "Anybody who could hold a hammer had a job in construction, and good jobs too," said J. Lloyd Blackwell III, director of UND's Bureau of Business and Economic Research.
Because of all the construction activity (not all of which shows up in local employment numbers, because contractors based in other cities did much of the work), the city of Grand Forks' taxable sales and purchases actually increased 9 percent in 1997 over the previous fall.
Employment in the Grand Forks metro area rebounded to 48,600 five months after the flood—as many people as had worked the previous fall. The unemployment rate subsided to 3.3 percent, lower than the rate before the flood. Frenzied cleanup and construction explains only a small portion of the resurgence; remarkably, businesses across the economic spectrum quickly regained their footing almost before the caked mud and silt had been scraped from the streets. By the winter, employment in the retail, manufacturing, and transportation and utilities sectors was back to pre-flood levels, as if the deluge and fire had never happened. Even industries that had been severely affected by the flood, such as hospitality and private services, had regained most of their workers, although those sectors would not fully recover for three or four years.
Blackwell, a long-time resident of Grand Forks, said that many businesses were able to resume operations once the floodwaters ebbed, catering to the majority of customers who remained in the city or who were living close by. Unlike New Orleans or Biloxi, Miss., after Katrina, the Grand Forks area retained a critical mass of residents who spent money on groceries, haircuts, auto repair, restaurant meals and other goods and services.
Churning away
Over the next two years, as commercial buildings were "mucked out" and refurbished and critical infrastructure was rebuilt, the normal process of business creation and destruction—what economists call churn—reasserted itself in an altered economic landscape.
Many firms displayed resilience in getting up and running again and making the most of their opportunities. A lot of customers had left town, and the streets were torn up everywhere, but there was still money to be made amid the chaos. Aatrix Software of Grand Forks lost about $187,000 in revenue and tens of thousands of dollars worth of software and equipment when its ground-floor offices flooded. But the company was able to absorb the loss and keep operating out of office space in Fargo until its building was repaired. A year later the growing company was expanding its staff.
Dakota TV and Appliance, its riverside store in Grand Forks awash, made the most of the situation by setting up shop in a new location and selling truckload after truckload of washers and dryers to homeowners whose appliances had been ruined in the flood.
Other companies folded or moved to Fargo and other cities, unable to cope with a loss of customers or lingering uncertainty over the cities' future. Business owners weren't sure whether they'd be on the dry or wet side of the dike, or how long the turmoil of rebuilding would deter customers. "If you're a businessperson, you can't stay in limbo very long; you have to make some critical decisions," Rathge observed. New businesses took their place, many of which ended up failing or relocating themselves.
Not that flood-stricken entrepreneurs were left to pull themselves up entirely by their own bootstraps. In addition to SBA loans to cover uninsured physical damage, businesses touched by the flood were eligible for millions of dollars in federally funded assistance from cities desperate to hold on to tax-paying employers (see "To save a city" ).
Bonzer's received a $192,000 rehabilitation grant from the city of Grand Forks for extensive repairs to its new building and a $20,000, partially forgivable city loan to supplement a $150,000 disaster loan from the SBA. Whitey's Cafe, a popular bar and eatery in East Grand Forks, got a boatload of government assistance to relocate to a new building on the waterfront. Including two city grants for extensive renovation, a business recovery loan, an SBA disaster loan and state tax credits, owner Greg Stennes spent over $1 million in public funds to purchase and outfit the new Whitey's.
Flood debt weighed heavily on bottom lines, possibly dampening recovery. Although no hard data are available on the amount of money owed to the SBA, banks, city governments and other creditors in the aftermath of the flood, a 2003 survey by David Flynn, an economics professor at UND, found that some businesses were still struggling to pay off loans.
There's anecdotal evidence, too, that stringent collateral requirements and other covenants in SBA disaster loans made it difficult for some businesses to secure bank financing for expansion. Looking to borrow additional money to capitalize on an uptick in business as reconstruction increased demand for landscaping supplies, Tim Shea chafed against the inflexible rules of the $140,000 SBA loan that he received in 1997. "We just didn't have any freedom to operate," he said. "We ended up having to reborrow that money at a higher rate to pay them off so that we could expand and improve and do more banking."
Tight labor supplies in the late 1990s may also have slowed business recovery, especially in the retail, private services and manufacturing sectors. Plentiful, lucrative construction work drew workers away from lower-paying jobs in restaurants and gas stations and on shop floors, and some low-wage workers had found jobs in other cities. Almost a year after the flood, Grand Forks' state Job Service Office listed over 1,300 job openings at area businesses.
The long road back
Despite these problems, the pulse of commerce in Greater Grand Forks was quickening by 2000. No longer was the level of business activity merely back to what it was before the flood; both employment and aggregate revenues were increasing.
The number of workers in the metro area rose to almost 50,000 in the fall of 2000, and since 2002, employment has grown about 2 percent annually, roughly comparable to Fargo-Moorhead's rate of employment growth over the same period. Taxable sales and purchases in the central cities have also grown rapidly since 2000, although Grand Forks has enjoyed earlier, bigger annual gains than East Grand Forks. From 2003 to 2004, the volume of commercial transactions in Grand Forks grew 7 percent.
Some business sectors shook off the flood's effects more quickly than others. Retail trade, manufacturing, professional services and health care have all chalked up significant job increases in the past six years. Area manufacturers, for example, employed 400 more people in 2000 than they did before the flood. Head counts dipped during the recession, but since 2003, fueled by expansion at companies such as LM Glasfiber, a Danish firm that makes blades for wind turbines, and Cirrus Designs, a Duluth, Minn., aircraft manufacturer, the sector has been growing again. Manufacturing employment reached an all-time high of 4,000 workers last year.
Health care employment has risen even more dramatically—13 percent between 2000 and 2005—a result of hiring at new or expanding facilities such as PRACS Institute in East Grand Forks, a Fargo-based clinical testing firm, and Altru Hospital and Stadter Psychiatric Center in Grand Forks.
Financial incentives offered by cities encouraged major employers based elsewhere to invest in the area, but factors such as cheap industrial land, low taxes and a skilled workforce were also draws, said Keith Lund, vice president of the Grand Forks Region Economic Development Corp., a nonprofit group that promotes business growth. "I think the majority of the reasons it made business sense to be here before the flood are the same reasons you want to be here after the flood," he said. He added that extensive press coverage of the flood may have brought the area to the attention of national companies that previously had never heard of Grand Forks.
The construction boom that gave the local economy a lift right after the flood tapered off after 1999, but activity has remained strong, driven by housing construction. Employment in the sector has stayed consistently above pre-flood levels for the past six years.
The road back has been the longest for the private services and hospitality sectors. Employment in the large services industry didn't surpass pre-flood levels until 2002, and growth has been modest since then—just 6 percent through 2005. The upheaval of reconstruction, and competition with construction firms for labor, may have depressed this industry—comprising a wide range of labor-intensive firms dependent on regular customer traffic—worse than others. Many of these businesses were located in areas that suffered severe flooding.
Restaurants, bars, hotels and other hospitality businesses have struggled the most to get back on track after the flood. Employment has inched up since 2000, but not until last year did employment return to 1996 levels. This sector is behind the area's overall growth curve for the same reasons that service firms have found the postdiluvian going tough. And many bars, cafes and other food service businesses face an additional challenge: a downtown address. Both downtowns, despite tens of millions of federal dollars poured into their restoration since the flood (see sidebar), have had trouble vying for trade with outlying, more recently developed commercial districts.
Out of the ashes
One of Grand Forks' new schools, built to replace a school that was ruined beyond repair by the flood, is called Phoenix Elementary. When it was built in 1998, the name was a symbol of hope; nobody knew what the future held in store for the devastated community. Eight years later, hope has become reality. Like San Francisco after the 1906 earthquake, Homestead, Fla., after Hurricane Andrew in 1992 and Manhattan after the 2001 terrorist attacks, Greater Grand Forks has come back strong.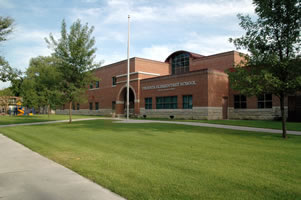 Phoenix Elementary School, Grand Forks
History shows that natural (or man-made) disasters can benefit cities in the long run by cutting away deadwood, making the way for new, improved infrastructure that fosters private investment and innovation. An argument can be made that the flood and the outpouring of government aid that followed it reinvigorated the local economy, lifting it onto a higher growth path.
Of course, no one knows what would have happened if the levees had held in the spring of 1997. That's the economic path not taken. Lund, of the Grand Forks Region Economic Development Corp., said he suspects that Grand Forks' population would be higher if the flood hadn't happened. A bigger population would have driven even more growth in retail trade, services and residential construction. But he doesn't doubt that investments in infrastructure and financial aid for businesses—both largely financed by flood-relief dollars—made the Grand Forks metro economy more vibrant and therefore more capable of withstanding future economic shocks.
"My gut feeling is that [because of] the flood and the additional resources … we're actually better off in terms of diversifying the economy and attracting primary sector business growth," he said.
Time will tell if East Grand Forks' economy is better off for the flood. Certainly there would be no Cabela's downtown, and nowhere near as many new, roomy houses in the city, if the flood had not occurred. But if the population doesn't fully recover, the community may remain a satellite of Grand Forks, dependent on diners and shoppers from across the river to sustain its economy.
For now, both cities can be considered scarred but unbroken survivors of the Flood of '97, qualified to dispense advice to other cities coping with disaster. Last fall the city of Grand Forks "adopted" Biloxi, dispatching Mayor Michael Brown and other civic leaders to the shattered Gulf Coast community to offer recovery assistance and moral support.