Moderate economic growth expected in 2007
Despite weakness in residential construction and real estate, the Minneapolis Fed's forecasting models, business outlook poll and manufacturing survey suggest the district economy will post moderate growth in 2007.
Employment levels grew last year, particularly for workers in natural resource industries and business and professional service jobs. Productivity growth slowed somewhat in 2006, while wage and price increases were tame. The agriculture sector in 2006 faced increased costs and some drought conditions; however, strong harvests were recorded in several areas. The agriculture outlook for 2007 is mixed.
Commercial construction picks up some of the housing slack
After displaying strong building and sales activity over the past few years, the housing sector slid in 2006. Some are concerned that the slow housing sector will drag on the rest of the economy. During the third quarter, slowing in residential construction shaved 1.2 percent off of U.S. GDP. That is, if residential construction had been level in the third quarter, GDP would have grown 3.4 percent instead of 2.2 percent. However, as residential construction skidded, commercial construction picked up. During the third quarter, commercial construction added 1 percent to GDP, almost making up for the softness in home building.
A similar trend is observed in the district. Housing units authorized for the first 10 months of 2006 were down 18 percent in district states compared with last year. Slowing in home building was matched with slow sales activity. Total existing home sales in Minnesota, North Dakota and Wisconsin were down more than 10 percent during the third quarter from a year earlier, but were up in South Dakota and Montana.
As sales activity slowed, increases in home prices slowed. After a number of years of strong gains, home prices were only slightly higher during the third quarter compared with a year ago in Sioux Falls, S.D. (4 percent), and Fargo, N.D. (2 percent), and were flat in Minneapolis-St. Paul. According to the business outlook poll, some respondents from the construction, manufacturing and retail sectors indicated concern about the effects of the slowing in home building on their own businesses.
While residential construction and real estate softened, commercial construction and real estate picked up the pace. In the Minneapolis-St. Paul area, reports from two commercial real estate firms noted that office, industrial and retail markets benefited from positive absorption of space and lower vacancy rates during the third quarter. Construction employment in district states for October was up 3.6 percent from a year earlier, as strong hiring for commercial building projects made up for slow hiring for residential projects.
The forecasting model predicts that housing units authorized in 2007 will increase from a soft 2006. Prospective home buyers have recently been helped by lower mortgage rates; rates for 30-year conventional mortgages at the end of November were down 65 basis points from their 4-year high in July.
Employment posts broad-based gains
Nonfarm employment in district states grew 1.6 percent from October 2005 to October 2006. Natural resource industries posted the strongest increase at 7.6 percent. Montana added 800 natural resource-related workers, most of them in the oil and gas industry. Strong oil prices have kept this sector busy in Montana and North Dakota. Between the two states, 55 rigs were active in November, five more than a year ago and 23 more than three years ago.
The second-strongest growing sector in district states was business and professional services at 4.7 percent. Subsectors with particularly strong employment growth include architectural, engineering and employment services, administration and support, and services to buildings and dwellings. Nationally, the services sector showed robust growth. For example, the Institute for Supply Management's November report on nonmanufacturing sectors indicated growth in business and professional services.
As mentioned, construction employment increased 3.6 percent. The number of workers hired to build buildings was up, largely due to gains in commercial building, as well as heavy and civil engineering construction. Employment in education and health services and leisure and hospitality was up over 2 percent.
Meanwhile, manufacturing employment was essentially flat. Nevertheless, respondents to the Minneapolis Fed's survey of manufacturers were optimistic for the upcoming year. According to a November survey of purchasing managers by Creighton University (Omaha, Neb.), manufacturing activity in Minnesota and North Dakota grew moderately, while South Dakota manufacturing decreased slightly. The government sector was the only one to post a decrease in employment at –1 percent.
According to the Minneapolis Fed's forecasting model, nonfarm employment is predicted to grow in 2007, but at rates slower than in 2006.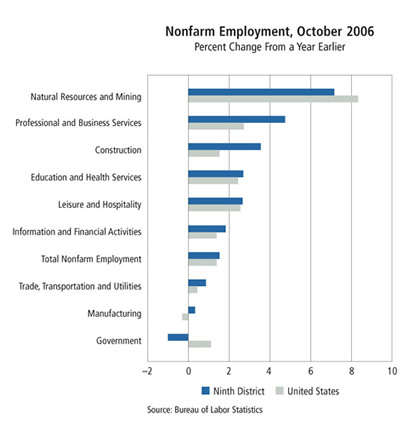 Productivity and price increases soften
National labor productivity, the amount produced per hour worked, increased 1.4 percent in the third quarter compared with a year ago, down from average annual increases of over 3 percent during the past five years. Respondents to the business outlook poll indicated that productivity was up 2.3 percent in their communities during 2006, down slightly from last year's poll. Higher productivity boosts production and allows companies to increase wages and salaries without increasing labor costs relative to output.
While productivity increased modestly, so did wage rates. Manufacturing wages in district states were up only 1.7 percent for the three-month period ended in October. Looking forward, respondents to the business outlook poll expect moderate growth in wages during 2007 for their communities' businesses and industries.
Furthermore, the core inflation rate—the increase in the consumer price index not including the volatile food and energy sectors—while up 2.7 percent in October, was down from a year-over-year increase of 2.9 percent in September. In 2005, the core inflation rate was 2.2 percent. More respondents to the business outlook poll and manufacturing survey expect to raise prices rather than reduce prices for their own companies' products in 2007, but also anticipate overall growth in inflation to remain in check.
Agriculture hit by drought and higher costs in 2006; mixed outlook for 2007
Ninth District agricultural producers faced many difficult conditions in 2006. After a promising winter, drought spread across most of the district. Costs for fuel, fertilizer and other inputs rose. Average prices for the major crops were flat and fell for meat and dairy. However, a solid harvest emerged, and corn and soybean prices rose near harvest time. The outlook for 2007 is mixed; preliminary growing conditions are favorable and crop prices are expected to strengthen, but hog prices are expected to drop.
At the start of 2006, moisture conditions for farmers and ranchers in the district were decent. However, as the year dragged on, conditions deteriorated. Many ranchers had to haul water and hay to cattle, especially in South Dakota. Already stung by higher input costs for fuel and fertilizer, farmers watched their fields dry up. Fortunately, late summer rains, drought-resistant seeds and solid output prices for most agricultural products saved the year for most producers. Record harvests of Minnesota sugar beets and North Dakota corn and soybeans were seen in 2006. The Minnesota corn crop was over 1.1 billion bushels. Furthermore, increased ethanol and biodiesel production increased demand for district corn and soybeans.
Meanwhile, cattle, hog and dairy prices slipped from 2005. Average 2006 cattle and hog prices dropped 2 percent and 5 percent, respectively, from strong 2005 levels, while milk prices dropped more significantly. In addition, solid feed and other input costs squeezed the profits of cattle, hog and dairy producers.
The outlook for 2007 is mixed. According to the Minneapolis Fed's third-quarter (October 2006) agricultural credit conditions survey, the outlook for farm profits is dismal, with 53 percent of the lenders expecting decreased income and only 14 percent expecting increased income. The U.S. Department of Agriculture has forecast 2007 prices to drop for cattle and hogs. However, prices for corn, soybeans, wheat and milk are expected to rebound in 2007. In addition, new corn-fed ethanol plants are under construction in the district and should add to crop demand in 2007. Meanwhile, 62 percent of the winter wheat crop in Montana and South Dakota is rated good or excellent.
AVERAGE FARM PRICES
2003/
2004
2004/
2005
Estimated 2005/2006
Projected 2006/2007
(Current $ per bushel)
Corn

2.42

2.06

2.00

2.90-3.30

Soybean

7.34

5.74

5.66

5.70-6.50

Wheat

3.40

3.40

3.42

4.15-4.45

2004
2005
Estimated 2006
Projected
2007
(Current $ per cwt)
All Milk

16.05

15.14

12.85-12.95

13.70-14.50

Choice Steers

84.75

87.28

85.38

82.00-88.00

Barrows & Gilts

52.51

50.05

47.35

40.00-43.00

Source:
U.S. Department of Agriculture, estimates as of December 2006
Related articles:
Agriculture slips during third quarter
Ninth District Economic Forecast