One order of confidence, please
Confidence is a funny thing. You can't buy, sell or even trade it. There's no stock listing for confidence, and no drive-up window taking orders.
Yet it is a valuable commodity in today's economy, because business investment is often based on confidence—or lack thereof—in the future. When economic activity is low and appears unlikely to change, businesses are reluctant to invest capital, expand operations and hire more workers because they fear such investment will not generate the necessary profits; indeed, it might put the company itself at risk.
Forecasters read as many tea leaves as they can find for clues regarding business confidence levels. But getting a read on business confidence is tricky because it is subjective, the sum of many economic, political and even social factors. Attempts to measure the notion of business confidence might be considered more art than science.
In this vein, a November survey of businesses in the Ninth District paints a picture of growing—if still tentative—confidence, reflected in improved business expectations for the coming year. But businesses continue to harbor significant concerns about the future, at both economic and political levels, according to the survey (conducted by the Federal Reserve Bank of Minneapolis in partnership with state chambers of commerce in Minnesota, Montana and the Dakotas). The survey generated 730 responses, with generally proportional responses across district states and industry sectors, and by market size.
Somewhat confident results
Respondents to the poll, conducted from Nov. 4 to Nov. 12, were generally upbeat (see Chart 1). Looking toward the coming year, respondents were more positive than negative on most business-related metrics involving their firm. While many expected conditions to remain unchanged, more respondents said they expected higher sales, profits, productivity, hiring and capital spending compared with those expecting a decline for their business. On the negative side, at least for business owners, there was also strong sentiment that input costs would be rising, as well as wages.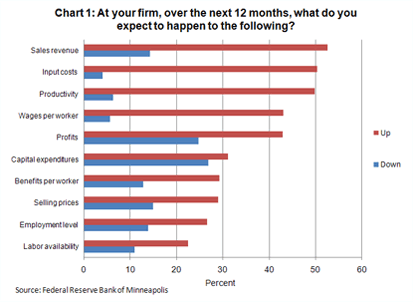 Confidence resides mostly at the firm level; it slowly and very steadily dissipates with movement to a larger context. Whereas 70 percent of respondents are somewhat or very confident of success for their firm this year, 47 percent believe their local economy will do well in the coming year, falling to 38 percent for the state economy and just 18 percent at the national level (see Chart 2).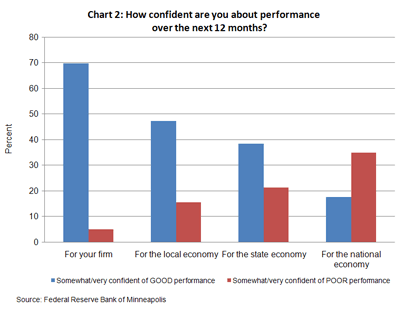 Responses were generally similar across district states. There were some nuances, however. For example, responses from North and South Dakota were similar and more positive than those from Montana and Minnesota—not necessarily surprising given that the Dakotas fared better than their district neighbors through the recession and subsequent slow recovery.
North Dakota, with the region's strongest state economy, is also facing problems different from other district states. For example, businesses there were much more likely to report difficulties finding labor. In line with that, almost 70 percent of respondents expected wages to increase next year; only one said wages would decline.
Digging for confidence
The source of business confidence—and in places, lack of confidence—is a difficult notion to grab firmly because it is influenced by a multitude of converging and changing factors.
Respondents were asked about the role that a variety of factors played in creating confidence regarding their firm's future performance (see Chart 3). The source of their confidence—and angst—was widespread, stemming from both traditional and nontraditional factors.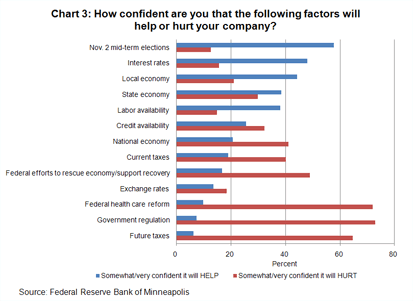 For example, businesses have historically not looked favorably on taxes or regulation. This survey showed nothing new, with a larger proportion saying these items were more likely to hurt than help their company. A new wrinkle, however, was that businesses said they were more fearful of future taxes than they were of existing taxes in terms of taxes' influence on their confidence. About 65 percent of respondents said they were somewhat or very confident that future taxes would hurt their business; 40 percent responded similarly when asked about existing taxes.
It's hard to make a direct connection, but businesses also were adamant in their skepticism about federal health care reform; 72 percent said they were somewhat or very confident it would hurt their firm. The only category viewed more negatively by businesses was government regulation in general. Many respondents voluntarily commented on the deleterious effects of high health care costs on their business. One respondent from Montana said the company's group health policy for 55 workers increased by 33 percent this year. A Minnesota firm said it was "struggling to maintain health insurance for [its] employees" in the face of a 17 percent increase in premiums.
Businesses were similarly unconvinced that various federal initiatives designed to save and/or boost the economy would have the desired effect. Only 17 percent had any confidence that those moves would help their firm; 60 percent believed they would have a negative impact.
In terms of factors that would help their business, many cited low interest rates, labor availability and the strength of local economies; 58 percent also said they were confident that the November mid-term elections would help their business—easily the largest positive response to any variable in the survey.
A leaf in the tea reading
Many of these findings fit quite well with the general findings from a number of national surveys released in the past three months.
Through the first nine months of 2010, the Business Roundtable's CEO Economic Outlook Index reached levels last hit in 2006. Third-quarter performance for capital spending and for hiring both ticked slightly higher from earlier 2010 surveys and were considerably improved over 2009 levels. In November, the business index survey from the Institute for Supply Management reached its highest level since April.
A quarterly survey of manufacturers by Milwaukee-based ASQ, released in mid-November, found that 68 percent predict their organizations will see higher revenue. Wages were also predicted to be higher; 18 percent expected a pay freeze at their organization in 2011, compared with 45 percent in 2010. A November survey by the Society for Human Resource Management found that, for the 13th straight month, hiring in manufacturing and services increased on an annual basis. Compensation for new hires also rose.
But there remains a lot of uncertainty regarding the future. The October Index of Small Business Optimism, from the National Federation of Independent Business, gained a small amount, "perhaps anticipating an acceleration in economic activity," according to the NFIB. Still, the index remains in recessionary territory.
Minutes from the Fed's August Federal Open Market Committee meeting noted that "a number of participants reported that business contacts again indicated that uncertainty about future taxes, regulations, and health-care costs made them reluctant to expand their workforces" or expand capacity.
That angst is also reflected in the Minneapolis Fed survey. In a comment echoed by others, a South Dakota firm stated, "My biggest uncertainty is the national economy and what Washington will do to us next."
Business Confidence Survey Results [xls]