Flying colors: International students flock to Ninth District universities
Life is said to be a long, winding road. Song Hoffman has certainly traveled that road, which has taken her from Beijing, China, to Brookings, S.D., by way of Australia. Today, Hoffman is both poster child for an international education trend and professional leader bringing that trend to South Dakota State University (SDSU).
A decade and a half ago, the Beijing native went to Australia in pursuit of a master's degree at Flinders University in southern Australia. "My dad taught me from an early age that there is a big world out there, and he exposed me to many different cultures, philosophies and religions," said Hoffman. "So it is always in my heart that I want to go out there to check this world out."
While at Flinders, Hoffman worked in admissions and marketing for the international program and also met her future husband, Lee Hoffman, who grew up in Vermillion, S.D., and was working on a Ph.D. in nanotechnology. In 2011, the two came to Brookings when Lee Hoffman joined the chemistry department at SDSU, and Song accepted a position as the university's international student coordinator.
Located in the southeastern part of the state, Brookings is better known for supper clubs than dim sum. Before moving, Song said her husband "didn't describe much" about the place they were moving to. "I remember 'flat, cornfield, cows' were a few words he used. So, it was accurate." While not a big fan of winter, Song said summer and fall are "colorful and beautiful, while in Australia summertime is always hellishly hot and brown. So I love summer and fall here."
Now Song is selling SDSU to students around the globe, and "her efforts have been fantastic," said Greg Wymer, manager of international student and scholar services at SDSU. Song brings 13 years of recruitment experience from her time spent in Australia and about five years prior to that working in this professional field in China. That international experience translates because Song "bring(s) the insight of being an international student and has the ability to encourage students to study in a culture other than their own," Wymer said.
Thanks to a variety of efforts, SDSU today is home to almost 600 foreign students, close to double the number it had six years ago, and the program hopes to attract 100 new students per year.
The university is less of an outlier than these growing numbers might suggest. Analysis of higher education institutions throughout the Ninth District shows that international students have grown by almost one-quarter since 2009 and are rising virtually across the board.
Some of this growth is the result of steadily rising demand for high-quality, postsecondary education from students whose home countries have underdeveloped or lower-quality systems. But more institutions are also actively recruiting international students—to increase revenues and to diversify their student bodies—and supporting these students with more services.
Growing cultural imports
Almost any way you slice the data, foreign enrollments are growing at universities and colleges across the country and the Ninth District. That hasn't always been the case. In the early 2000s, enrollments were largely flat in district states—mostly stemming from increased national security and unease following the September 2001 terrorist attacks.
But since 2006, international enrollments have been rising steadily, interrupted only briefly in the Ninth District during the recession, according to data from the Open Doors survey conducted annually by the Institute of International Education (see Chart 1). (Unless otherwise noted, all enrollment data in this article are from the IIE.)
After a hiccup in 2008, foreign enrollments at district universities and colleges have increased by 22 percent since 2009—a sliver higher than nationwide growth of 21 percent. Almost 30,000 international students attend college in Ninth District states (see Charts 2 - 3).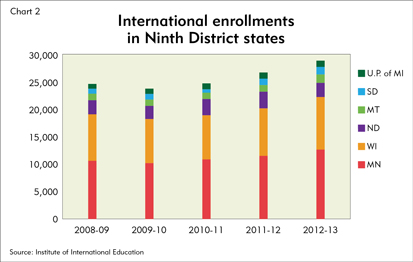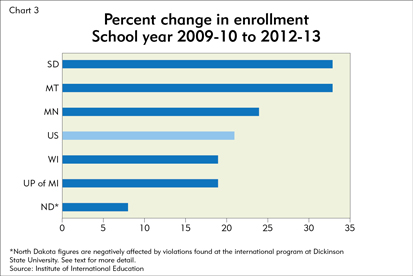 Students have spread themselves far and wide. Montana and South Dakota institutions have witnessed the fastest growth among district states, at 33 percent since 2009. But institutions from every district state grew by at least 19 percent, save for North Dakota, where international students grew by a more modest 8 percent, according to the IIE.
But even North Dakota is seeing more international growth than IIE figures suggest. The state's numbers are skewed by a 2012 controversy at Dickinson State University—the state's third-largest destination—over major recruitment and admissions violations in its international program that affected the enrollment and degree status of some 900 students since 2003. Excluding DSU, the state's foreign enrollment has grown by 21 percent since 2008.
Growth appears so widespread that it's hard to categorize. A breakdown of schools by international enrollment size shows that programs of all sizes saw similar (cumulative) rates of growth (see Chart 4). Growth has even come to some two-year colleges like Century College in suburban St. Paul, Minn., where international enrollment has more than doubled since 2008, to 145 students.
Good lookin' freshman class
Historically, the bulk of foreign students have been graduate and Ph.D. candidates, most of them pursuing science, technology and math (so-called STEM) degrees. That's the calling card for SDSU, where about two-thirds of international enrollees are graduate students, and strong STEM programs are the study of choice for 75 percent to 80 percent of these students. "That's always going to be the constant," according to Wymer.
Location matters little, it seems. Michigan Technological University is located in Houghton (pop. 7,700), tucked into the middle of the Keweenaw Peninsula jutting into Lake Superior. With more than 1,000 international students, it has the sixth-largest enrollment among schools in the Ninth District (including all of Wisconsin). Foreign students make up 16 percent of Michigan Tech's student body—higher than either Michigan State or the University of Michigan—and engineering is the most popular field of study.
But such a foreign concentration isn't unusual for a technological university, according to Maximilian Seel, MTU's provost and vice president for academic affairs. The percentage of international students at Georgia Institute of Technology in Atlanta is 24 percent. "It is the technological nature of our programs that attracts them," he said.
Foreign enrollment at the University of Minnesota-Twin Cities neared 6,400 last fall, according to university figures. It's the largest destination for international students in the Ninth District and "in very high demand" because of its Carnegie rank as a so-called Research 1 institution, according to Barbara Kappler, assistant dean of international student and scholar services. That gives it a global reputation and provides a lot of opportunities for research assistantships, a way for foreign students to cut costs dramatically while giving them an opportunity to assist faculty with cutting-edge research.
Nonetheless, enrollments by international students seeking advanced degrees at Minnesota's flagship university have not grown much in recent years. Since 2005, the graduate student population has remained stable at about 2,500, according to Kappler. The number of students studying for law and other professional degrees has increased, but these programs have smaller enrollments.
Instead, the biggest increase in international students at the university—by far—has been among undergraduate students. Less than a decade ago, Kappler said, "we ranked at or toward the bottom of our comparison group" of universities for foreign students seeking bachelor's degrees. Despite the fact that the university was promoting itself as a world class institution, "you could be an undergrad and not meet any international students," said Kappler. Starting in 2008, the university made a greater effort to attract foreign undergraduates, and the school's population has tripled.
Minnesota is part of a larger trend. From 2009 to 2012 (the last four IIE surveys), international undergraduate enrollment nationwide has grown from 274,000 to 340,000 students (a 24 percent increase) and now outnumbers grad students, whose population grew 6 percent (294,000 to 311,000) over the same period.
The IIE does not provide enrollment breakdowns for individual institutions, but sources suggest that foreign undergraduate growth is occurring at many district institutions. Montana State University-Billings has gone from a few dozen foreign students to 152 in the span of three years. The school offers everything from master's to associate degrees, but "the vast majority study in our undergraduate programs," according to Paul Foster, director of international studies and outreach. Less than 5 percent are in graduate or associate degree programs.
Foster added that the school also attracts students to an intensive (but nondegree) English-language program. Not coincidentally, nondegree programs have surged by 34 percent (19,000) nationwide during this period.
WeWant U
Some, even much, of the enrollment growth has occurred by sheer momentum and a virtuous enrollment loop: More students are seeking education outside their home country, and those that make the leap tend to tell their friends of their experience.
Since 2006, international enrollments have surged by 41 percent nationwide. According to Foster, "Most accredited U.S. universities can easily attract international students."
Some schools do very little in terms of recruiting, satisfied to focus on quality education and the student's general experience while on campus, because there is no better recruiter of foreign students than one of their own back home.
"We actually see retention as a recruitment tool," said Thy Yang, director of Michigan Tech's international programs and services. "If you ask our international students how they found out about Michigan Tech, an overwhelming majority will say that they knew somebody who knew somebody that went to Tech. If our students were not satisfied with their experiences in and out of the classroom, we will not have the success we have with enrollment." MTU's foreign enrollment has grown 15 percent since 2009 despite a shoestring recruitment budget compared with its peers, Yang said.
But not all schools are leaving such matters to geographical chance. Kappler, for example, said that the University of Minnesota "has been proactive in the past seven to eight years in recruiting international undergraduates," and it has paid big dividends with a "dramatic change in our population."
At MSU-Billings, Foster said that the school "has actively begun to recruit students and to develop and implement an internationalization program." Foster himself was hired last summer, and there are six full-time employees working in the office supporting foreign students as well as U.S. students and faculty abroad.
It's a similar staffing story at SDSU, where the international office was reorganized and enlarged to centralize all activities—admissions, advising, recruiting—in a single office, rather than spread through several offices. Where there were once roughly two full-time equivalent jobs related to international students, now there are five, including Song Hoffman's position.
The increase in staff and general activity has also meant more services for these students once on campus. A school's international reputation is seen as resting on its students' experience, and a growing undergraduate population brings a host of new challenges. For example, for many students this is the first time they've lived outside their home country and their first collegiate experience, both of which can be big adjustments. For this reason, Kappler's office is in the process of creating online modules for students prior to their arrival that help with academic orientation and address common challenges like finding housing.
Wymer said SDSU has "definitely increased services" to its international students. Two years ago it started an airport pickup service three weeks before classes started for foreign arrivals in Sioux Falls, about 40 miles away. "We have a 'no student left behind' policy," joked Wymer. The university has also created a student mentor program "to help new students adjust to life both at SDSU and in the U.S.," and significantly upgraded its online resources, all in an effort to ensure that the student experience is "second to none compared to other (universities) around the U.S.," he said. "This will have a direct impact on attracting future students. One of the best ways to attract new students is to treat our current students well. News travels fast."
International benefit$
Universities seek out foreign students for many reasons. Many of them relate to the mission of higher education in exposing students to a variety of experiences—cultural as well as academic. In a global economy, the thinking goes, a university has to bring the globe to campus.
SDSU, for example, has a largely homogenous, white student body. "Ninety percent [of SDSU students] have not stepped out of South Dakota" or neighboring states, Wymer said. "Our goal is to break down cultural barriers ... by making the halls of SDSU more culturally diverse."
At the University of Minnesota, the influx of international undergrads has given the campus an "awakening," Kappler said. "I think it's wonderful to have students from around the world come here. People learn about the world from interactions with these students."
There are other perks for universities, like the fact that these students are paying customers—well-paying customers. Most state universities and colleges charge nonresident students higher tuition on the theory that state residents support the institution with their tax dollars. International students typically pay nonresident rates, and sometimes even a little extra to cover the cost of the additional services that are provided to these students. On its website, the University of Minnesota lists current undergraduate resident tuition at $13,600 compared with out-of-state tuition of $19,800 and international tuition of $21,400 per year.
At Michigan Tech, international undergraduate and graduate students pay the nonresident rate—$14,175 per semester, which is more than double the resident rate—plus an additional $150 fee per semester, according to Seel. Since many grants and other forms of financial aid are restricted to U.S. students, he added that "international students pay a much higher percent of the sticker price than U.S. students."
There are exceptions to this rule, however, because many foreign graduate students also receive assistantships, where students either teach or conduct research in exchange for free or greatly reduced tuition and a small stipend. But lower tuition revenue from these foreign students is offset by the considerable value they offer universities in terms of net human resource costs for teaching and research.
High retention rates are another benefit of increasing foreign enrollment; fewer international students drop out or transfer to another institution. Before coming to SDSU, Wymer also worked in international programs at Southwest Minnesota State University and Minnesota State University-Moorhead. He said retention rates for international students are typically about 90 percent, compared with 70 percent to 75 percent for domestic students at most universities.
"This is pretty typical because many times, international students are choosing universities based on price, major and whether they have friends or relatives at an institution for support. As a result, there isn't much movement of international students. ... They sort of feel like, I started here and I'll finish here." They also tend to have high completion rates and earn those degrees faster than the rest of the student population because "there is often pressure back home to get through" due to the high relative cost of U.S. schooling.
The case for courting foreign students becomes even more attractive in light of smaller high school graduating classes. In Minnesota and Wisconsin, the total number of high school graduates fell by about 5 percent (or about 3,500 students) in both states from 2010 to 2013. That trend is tumbling into higher ed enrollments, which declined at public universities in the fall of 2012 in both Minnesota and Wisconsin, while foreign enrollment grew by close to 10 percent in both states that same year.
Future U
In some respects, the country has a lot of room for growth in international enrollments. Despite a stellar global reputation for U.S. higher education, foreign students make up less than 4 percent of the student body; that figure is 17 percent in the United Kingdom and 24 percent in Australia.
The good news for Ninth District universities and colleges is that the international spigot of students is likely to stay open for the foreseeable future.
According to World University News, for example, an estimated 900,000 foreign students are expected to enter U.S. institutions this year, roughly 80,000 more than in 2012. A report by the National Association of Foreign Student Advisers projects that the number of foreign students leaving their home countries to study will more than double by 2025 "to well over 7 million students annually, and perhaps substantially more." The report expects that the U.S. share of these students will fall, but adds, "The U.S. remains a highly attractive destination and the raw numbers of incoming students will likely continue to increase."
That's why SDSU's Wymer is optimistically targeting growth of 100 new foreign students per year on campus, with a goal of attracting 1,000 such students by 2018. That might sound aggressive, but not to Wymer.
"There's no secret here. We're creating an environment where students feel cared about. The rest will take care of itself," he said. Given a growing global population of students, "we'll grow by default. I don't think there's a doubt."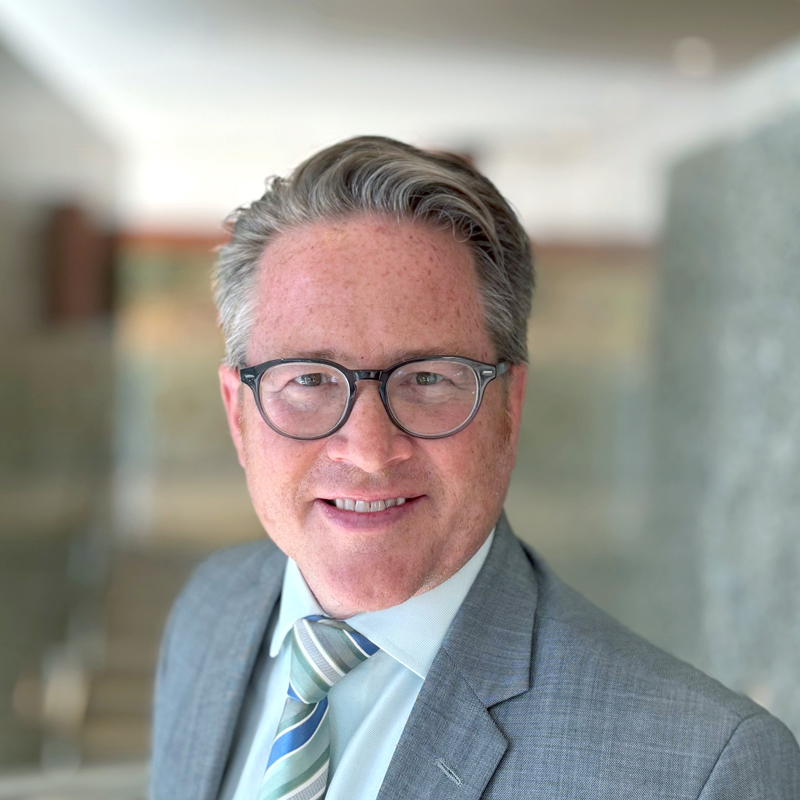 Request as a speaker
Ron Wirtz
Editor, fedgazette
Ron Wirtz is a Minneapolis Fed regional outreach director. Ron tracks current business conditions, with a focus on employment and wages, construction, real estate, consumer spending, and tourism. In this role, he networks with businesses in the Bank's six-state region and gives frequent speeches on economic conditions. Follow him on Twitter @RonWirtz.