It happens to people every day across the country. One day, you're healthy and happy. Then "life" happens: There's an accident at work or a call from the doctor about "those tests." Small aches and pains become large ones, or the mental stress of life, or at least work, becomes too much to bear.
You have a disability, and it profoundly affects your ability to do your job. Two large, federal disability programs offer income and medical support for your disability: Social Security Disability Insurance (SSDI) and Supplemental Security Income (SSI) for those with a disability.
These programs impose some seemingly high hurdles that lead to low overall award rates. But for those willing to endure 12 to 18 months of bureaucracy, an appeal process significantly improves a person's chances of receiving benefits.
The process
Benefits for both SSDI and SSI are administered by the Social Security Administration (SSA), so the disability determination process is similar for both programs. Federal and state-level offices determine eligibility, using a five-step evaluation to verify that a claimant meets medical and other eligibility criteria for benefits (see Chart 1).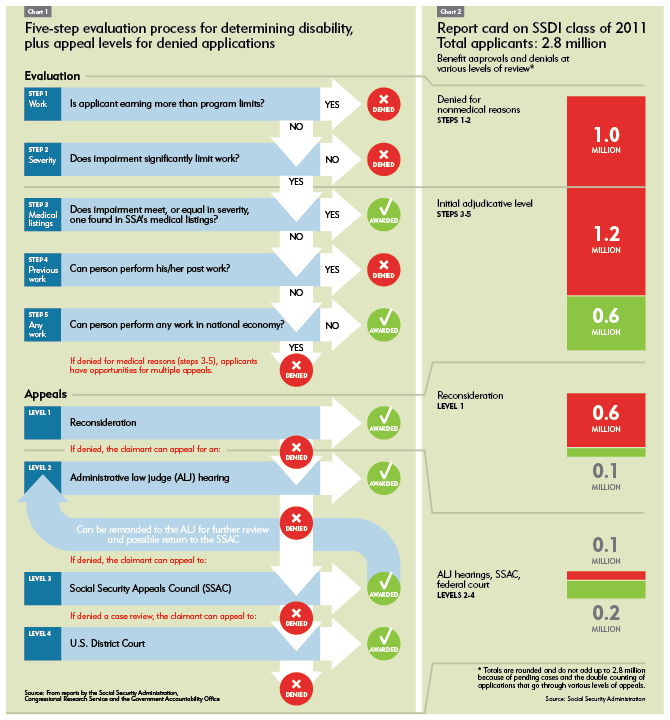 The first three steps determine whether an applicant's disability meets medical guidelines, based on evidence from an applicant's medical providers, according to the SSA. The last two steps—if necessary—consider functional and vocational factors to determine whether benefits are appropriate if a person's limitations alone are not severe enough to warrant benefits. Ordinarily, there is no personal interview with the applicant.
In 2011, about 610,000 (22 percent) of 2.8 million applicants were initially approved for benefits. Almost 1 million were denied for nonmedical reasons, including earnings that exceeded program thresholds, and the remaining 1.2 million were rejected at the initial review level for not meeting medical criteria (2011 is the most recent year available with mostly complete award and appeal data; 6 percent of applications were still pending).
Upon further review
For many of the 1.2 million denied for medical reasons, however, the process has just begun, thanks to four levels of medical appeal whose approval rates vary considerably (see Chart 2). In an average year, between 55 percent and 60 percent of those initially denied for medical reasons appeal the decision, first to the so-called reconsideration level, which has a bare-bones award rate of just 8 percent.
But slightly more than half (53 percent) of those denied a second time continue their appeal. At the last three levels of appeal, benefits are awarded to roughly two of three applicants willing to stick out a process that can last 12 to 18 months from initial application.
In 2011, appeals helped 290,000 applicants—about one-third of all awards that year—receive benefits, raising the overall award rate to 35 percent. That's lower than rates over the past two decades (see Chart 3), but the drop appears to stem at least partly from rising applications. The final 2011 rate is also likely to inch slightly higher, given 177,000 pending cases, many of them at appeal levels with higher approval rates.
The rapid rise in applications and total enrollment for SSDI and SSI has prompted some to suggest a rubber-stamp mentality on the part of evaluators. Disability advocates disagree, pointing to dropping award rates.
Anne Quincy is a staff lawyer for Mid-Minnesota Legal Aid and has been involved in disability benefits since the 1980s. She works mostly with SSI applicants, who undergo the same review process as those applying for SSDI.
"We reject a lot of cases," said Quincy. For 50-year-olds with bulging discs thinking that a disability check looks like free money, "we tell them, you'll be in a room with a lawyer with a bulging disc. And then you'll be in a room with a judge—who is 20 years older—with a bulging disc. There is a system to this. It's not just a hangnail" that qualifies people.
At the same time, those making it to a medical review tend to have a good chance—about 50 percent to 60 percent—of receiving benefits, at least eventually. That rate is due in part to the availability of multiple appeals. Approval rates at the third level—hearings with administrative law judges—can vary significantly even within the same regional office. In the Office of Disability Adjudication and Review's Minneapolis location, award rates of judges in fiscal year 2014 ranged from 32 percent to 78 percent. Rates for judges in Billings, Mont., and Fargo, N.D., fell into somewhat smaller ranges.
Though cases are supposed to be based on firm criteria, the subjectivity of disability and its effect on work capacity often leads to different outcomes, said Quincy. Some judges have "gut feelings" that plaintiffs are really suffering, she said, "and then there are others that say, 'That's not why you're not working.'"
But, she added, "you can't pick a judge … and if you get assigned to judge so-and-so, you take your case there like any other" with the understanding that further appeals are still available.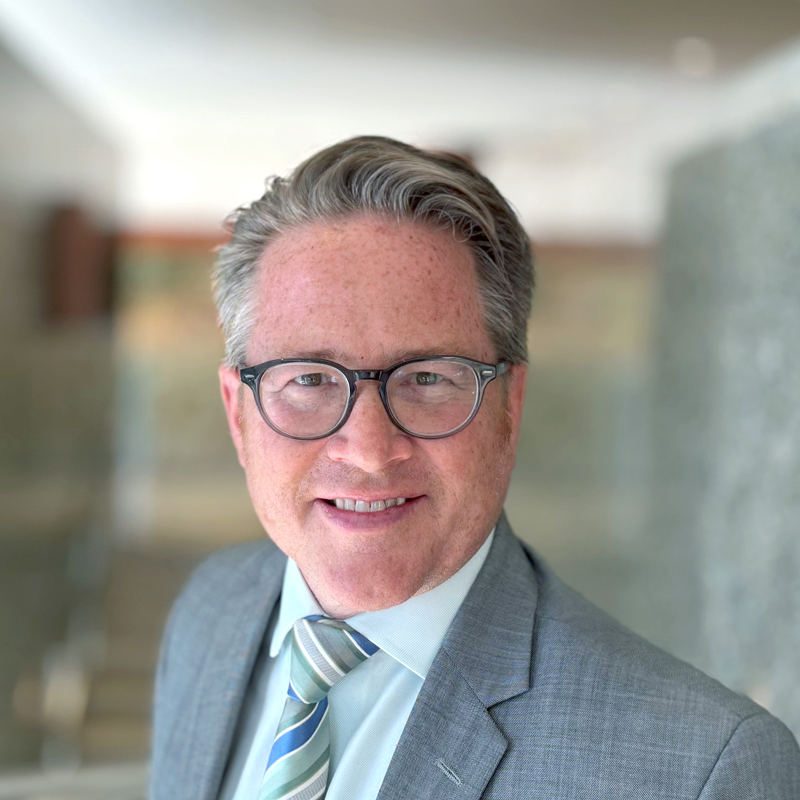 Request as a speaker
Ron Wirtz
Editor, fedgazette
Ron Wirtz is a Minneapolis Fed regional outreach director. Ron tracks current business conditions, with a focus on employment and wages, construction, real estate, consumer spending, and tourism. In this role, he networks with businesses in the Bank's six-state region and gives frequent speeches on economic conditions. Follow him on Twitter @RonWirtz.