Business survey and forecast point to modest 2016
Extending a lengthy streak of optimism, a recent survey suggests a modestly confident business sector in the Ninth District heading into 2016.
The Minneapolis Fed's annual business outlook poll, conducted in December, shows that many Ninth District businesses had a decent 2015 and are generally optimistic about the coming year. While current confidence levels have dropped compared with last year's high levels, businesses are solidly optimistic; however, not everywhere, nor in all sectors. For example, while confidence is high among South Dakota businesses, it plunged from already low levels in Michigan's Upper Peninsula. Similarly, respondents in retail have a more positive outlook than those in agriculture and manufacturing.
But district businesses widely expected expansion in many fundamental areas of operations and were also sanguine about prospects for local economic growth. That optimism generally aligns with other economic indicators, including the Minneapolis Fed's regional forecasting model, which projects increases in employment and personal income growth across much of the Ninth District.
Optimism: Two-thirds are half full
Among 329 business poll respondents across the Ninth District, about two-thirds reported being somewhat or very optimistic about their community's economic outlook over the coming year. That's down considerably from the previous year's poll, but is still one of the survey's stronger outlooks since the end of the recession (see Chart 1).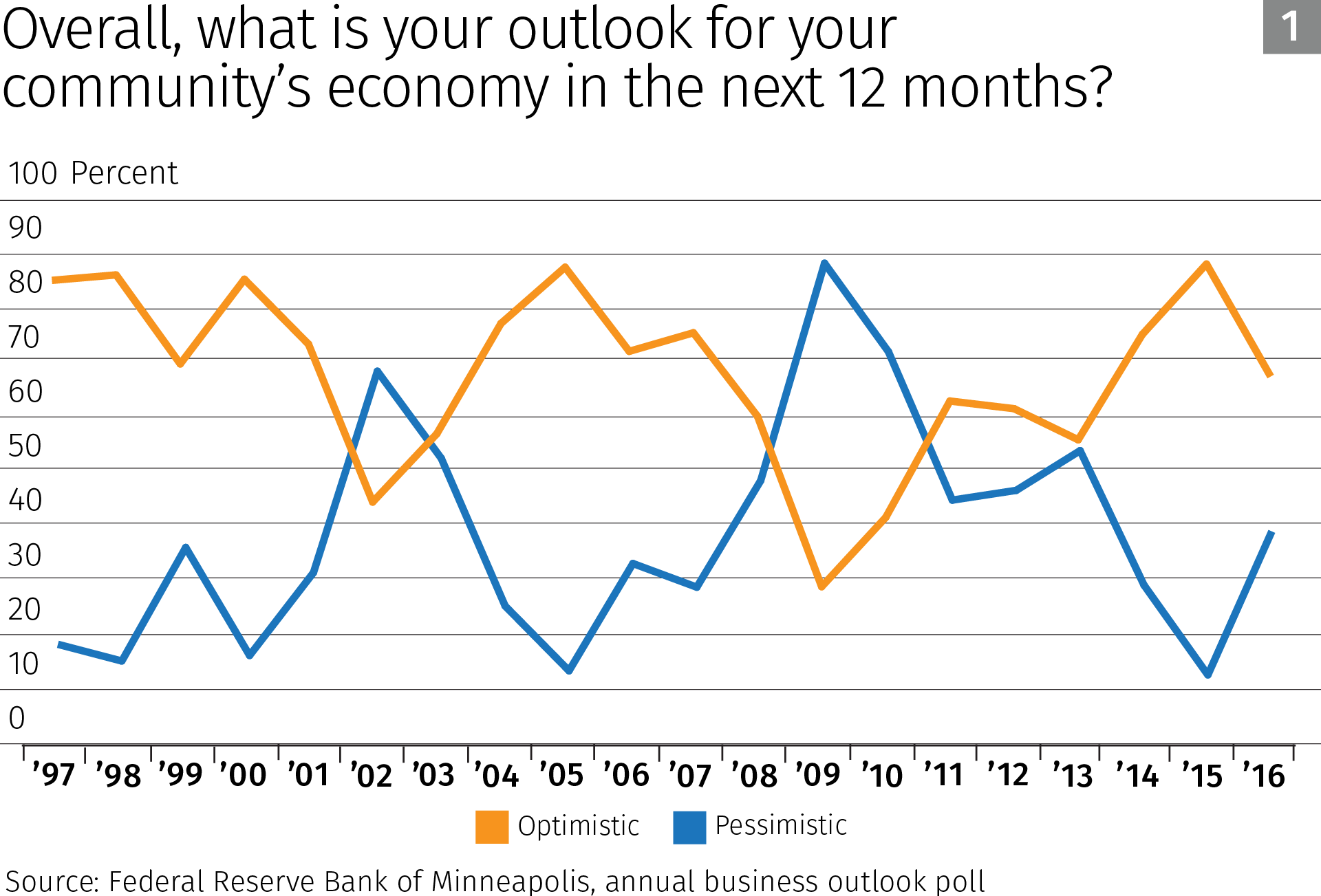 Most district states were optimistic overall about their local economy, led by South Dakota (see Chart 2). The only pessimistic region was Michigan's U.P., possibly due to a continued slump in iron ore mining, as well as a slow start to the winter tourism season because of unseasonably warm weather and thin snow cover. But results for the U.P. may be unreliable because of relatively few survey responses from the region.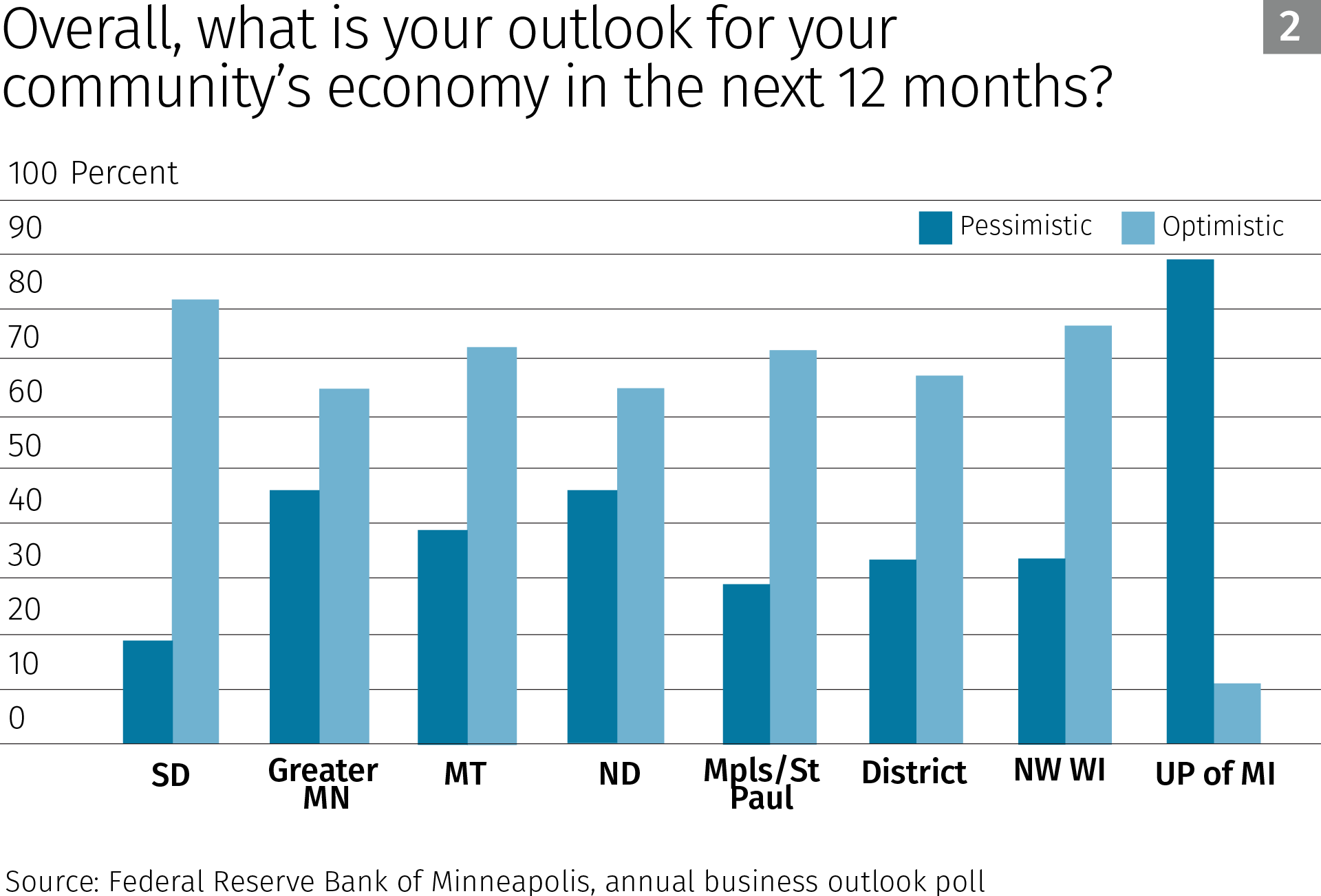 When it came to their own firms, respondents overall were equally upbeat, again with some exceptions. Across industry sectors, firms expect sales, staffing and investment to expand in the coming year. Many were also projecting higher prices, which can cut both ways for businesses in terms of inputs and selling prices.
The economic enthusiasm appears to be locally rooted, not reflecting views of the national economy. A majority of respondents projected that U.S. economic output in 2016 would increase by just 1 percent to 2 percent, considerably below its long-term historical rate of growth.
Employment gains in 2015 (November to November) were modest across much of the Ninth District (see Chart 3). Only South Dakota (2.6 percent) surpassed the nation's rate of job growth (1.9 percent) over this period; for other states, slower employment appears to be at least partially due to very tight labor supplies and a slow-growing labor force across the district.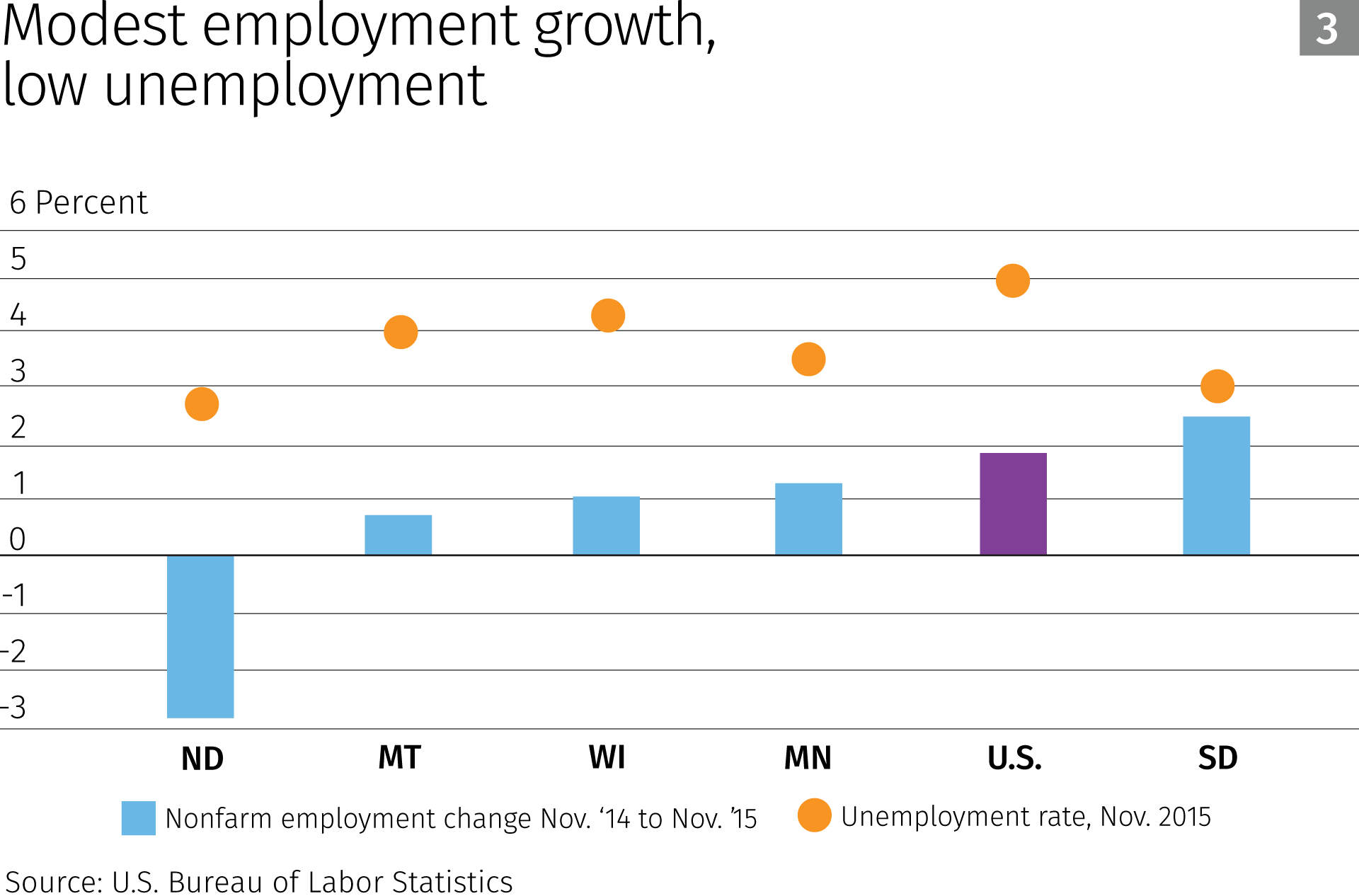 These factors have made job matching tougher for employers, who have reported trouble hiring qualified workers despite intense recruiting efforts. In the 2016 outlook survey, respondents identified finding workers as their biggest challenge.
Despite low unemployment rates virtually everywhere save for the U.P., respondents were confident that job growth would continue, both in their communities and at their own firms. About one-third predicted job growth at their firms in the coming year, compared with 14 percent expecting a decline (the remainder saw no change). Much of that employment confidence came from respondents in Minnesota, South Dakota and Wisconsin.
Respondents from Montana and North Dakota predicted essentially flat job levels—most likely owing to continued softness in oil and other energy markets—and those in the U.P. were strongly negative.
Nonfarm employment in North Dakota had declined by almost 3 percent as of November 2015 compared with a year earlier, according to the Bureau of Labor Statistics (BLS). Layoffs in the oilfields due to low oil prices contributed to a loss of 6,300 mining and natural resources jobs in North Dakota. Yet the state's unemployment rate continues to be the country's lowest, at 2.7 percent. Most district states have significantly lower unemployment rates than the national average of 5 percent. Only Michigan's is higher, at 5.1 percent, with the U.P.'s rate higher still at more than 6 percent.
But respondents didn't expect wages to rise significantly in many areas where labor markets are tight, as more than two-thirds predicted wage increases of 2 percent to 3 percent (roughly the historical average) in the coming year; remaining responses were fairly evenly split on either side of that wage growth range.
Dour outlook in ag and natural resources
The overall upbeat tone of the outlook poll contrasts with other economic indicators that suggest that some parts of the district economy face headwinds.
A strong dollar continues to hamper exports to other countries, a matter that hurts sales of many manufacturers in the district (but, it should be noted, helps those using foreign inputs). Monthly manufacturing surveys by Creighton University have found that manufacturers in Minnesota and the Dakotas are much less optimistic; overall confidence, new orders and employment were at levels indicating contraction in December, continuing a several-months trend.
But those findings run contrary to a more upbeat, forward-looking manufacturing survey conducted in November by the Minneapolis Fed and the Minnesota Department of Employment and Economic Development. While respondents to that survey viewed 2015 as disappointing, their outlooks for 2016 were positive on average.
Somewhat clouding the outlook is expected continued softness this year in the agriculture, energy and mining sectors. For most district farmers, 2015 was a perfect growing year. Planting began early, and much of the region's prime cropland remained free from severe drought (large parts of Montana's wheat country being an exception). Harvests went quickly and crop yields were high. Data from the U.S. Department of Agriculture (USDA) show that yields hit new records in some cases: corn in Minnesota, South Dakota and Wisconsin; wheat in Minnesota and North Dakota, and soybeans in Minnesota and South Dakota.
However, the decline in crop prices that began in 2013 continued through the year. Moreover, livestock and dairy producers, who had been the bright spot in agriculture, saw prices fall in 2015 as well. The outlook for 2016 is for this trend to continue. According to USDA forecasts, prices for major crops and animal products are expected to decrease (see table).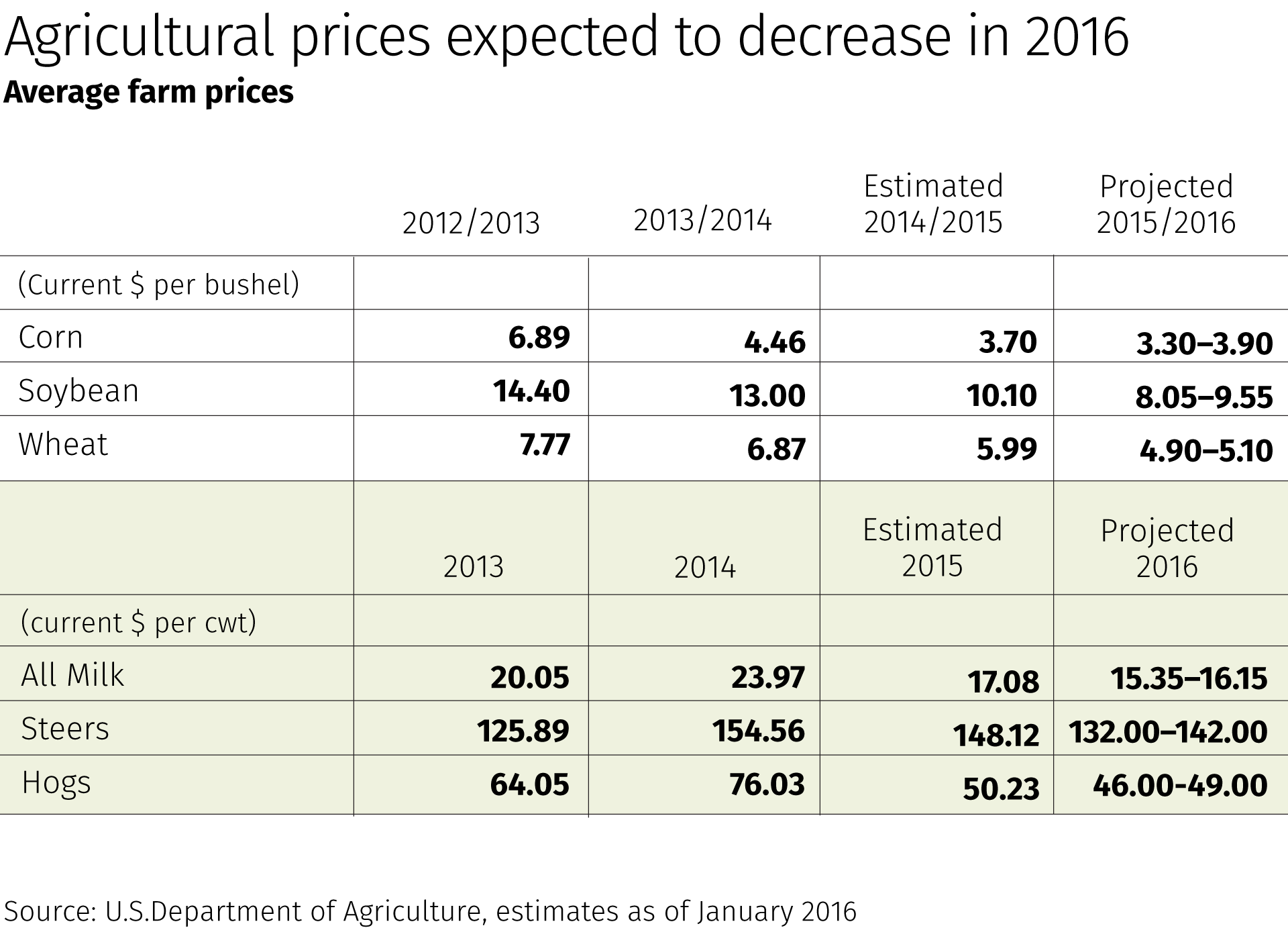 Meanwhile, falling commodities prices had negative impacts on other key district industries. Low oil prices throughout the year slowed drilling in the Bakken, while falling prices for iron ore and nonferrous metals led to layoffs and idling of several mining operations in Montana, in the U.P., and on Minnesota's Iron Range. As of November, employment in mining and natural resources was down 17 percent in district states from a year earlier, according to the BLS.
The 2016 forecast
Earlier this year, the Federal Reserve Bank of Minneapolis released results from its Ninth District statistical forecasting model for Ninth District states projecting employment, unemployment, personal income and housing permits. Much of the forecast aligns with optimism seen in the Minneapolis Fed's business outlook poll.
By most measures, the 2016 forecast is positive for most parts of the district. Robust employment growth—above historical annual averages—is projected for most district states, with the exception of Wisconsin and the U.P. Unemployment rates are expected to respond accordingly in district states—with notable rate declines in Minnesota, the Dakotas and Montana, but small increases in Wisconsin and the U.P.
Personal income (which includes wages, but also investment income and government transfers) is also forecast to rise, but at a rate below historical averages for most district states, save for South Dakota, where personal income growth for 2016 (at 5.9 percent) is expected to slightly exceed its historical average. North Dakota's 2016 income growth forecast of 5.8 percent is below the state's historical average, but follows a dozen years of breakneck income growth that has catapulted the state's household income from one of the lowest in the nation to one of the highest. Wisconsin's forecast rate of 3.6 percent personal income growth is the district's lowest. There is no income forecast for the U.P.
The biggest caveat in the forecast concerns housing; fewer construction permits overall are expected to be issued in 2016 compared with last year. Among district states, only South Dakota is projected to see a measureable increase in annual housing permits (11 percent). The housing forecast for other district states shows mostly declining permit issuance; Minnesota's is expected to be flat.
But the anticipated drop-off in housing permits in some states comes on the heels of a fairly strong 2015. Housing permits also tend to be quite volatile, both in forecast models and on the ground, especially when compared with other forecast variables. In South Dakota, for example, housing permits fell 26 percent in 2013, rose 58 percent in 2014 and fell again by 25 percent last year.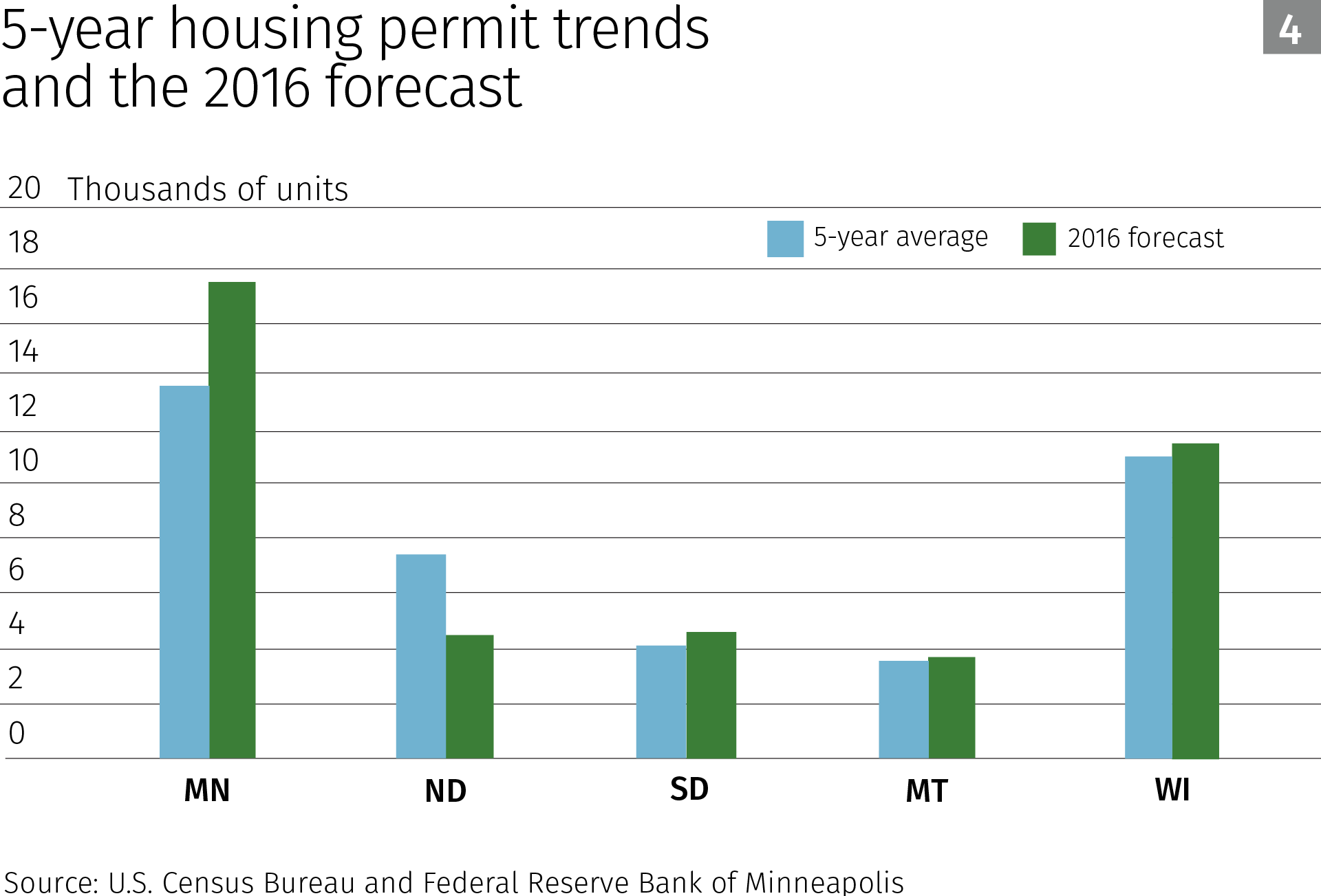 Another useful yardstick for housing permits is the five-year average (see Chart 4). Compared with this Census measure, the 2016 forecast is more stable and slightly positive, with most states approximating their five-year averages (Minnesota outperforms and North Dakota falls short of this benchmark).
The business outlook poll also offers a different perspective on housing starts: Survey respondents expected increased home building this year.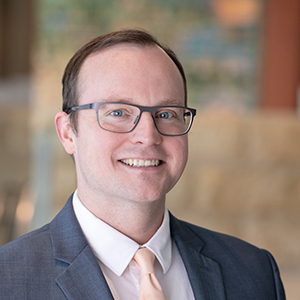 Request as a speaker
Joe Mahon
Director, Regional Outreach
Joe Mahon is a Minneapolis Fed regional outreach director. Joe's primary responsibilities involve tracking several sectors of the Ninth District economy, including agriculture, manufacturing, energy, and mining.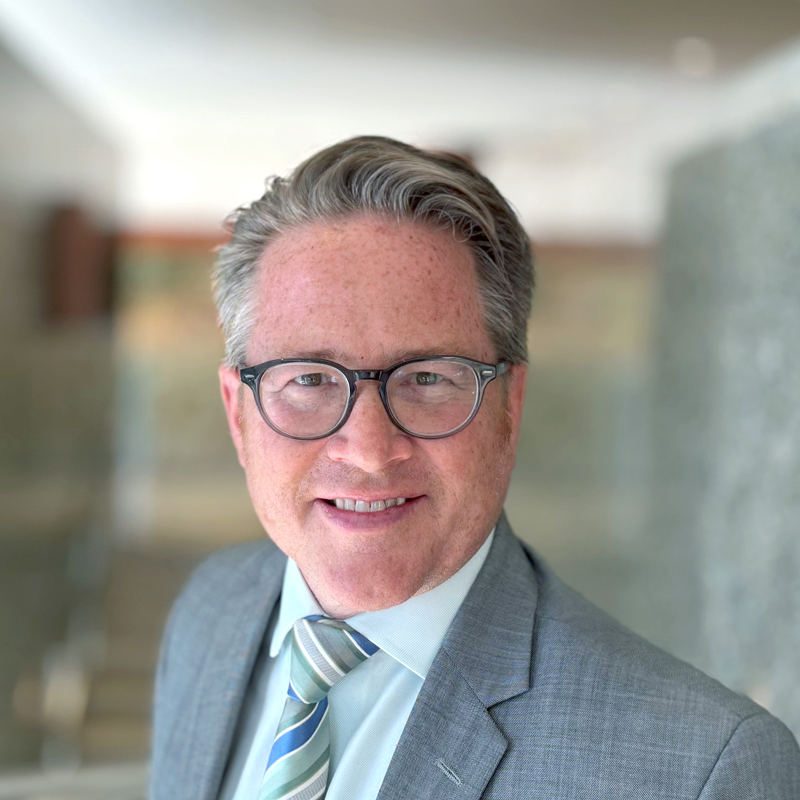 Request as a speaker
Ron Wirtz
Director, Regional Outreach
Ron Wirtz is a Minneapolis Fed regional outreach director. Ron tracks current business conditions, with a focus on employment and wages, construction, real estate, consumer spending, and tourism. In this role, he networks with businesses in the Bank's six-state region and gives frequent speeches on economic conditions. Follow him on Twitter @RonWirtz.