Demand for services by low- to moderate-income households up, optimism for service organization capacity down
The following post is the second in a series of four report-outs of findings from the 2017 Ninth District Insight survey. To access the other posts in the series and learn more about the survey, visit the Ninth District Insight page.
Results of the latest Ninth District Insight survey* indicate that the number of low- to moderate-income (LMI) households seeking services had increased or stayed the same over the previous 12 months. Survey respondents expressed concerns about the future capacity of organizations to meet LMI communities' needs.
One nonprofit's executive director in Minnesota described the tension between expected decreases in funding and stable or increasing demand.
"When the economy is good, funding to workforce development often declines, and yet we see the same or increased need in the population we work with," the executive said. "We've sustained programming because the need in the community hasn't diminished, but we're revisiting this decision due to cash flow issues. Funding instability impacts our ability to provide critical programming, operate our nonprofit, and maintain our staffing patterns."
A majority of respondents reported that the ability of LMI-serving organizations to meet their clients' needs had stayed the same, but about a third of respondents reported decreasing capacity (see chart below). Only 1 in 8 reported an increase in organizational capacity.
About half of respondents reported a decrease in their optimism about the sustainability of organizations that support LMI households. When asked to describe their concerns about the future in an open-ended question, three-quarters of these respondents said they were concerned about funding, mostly airing concerns about the federal budget.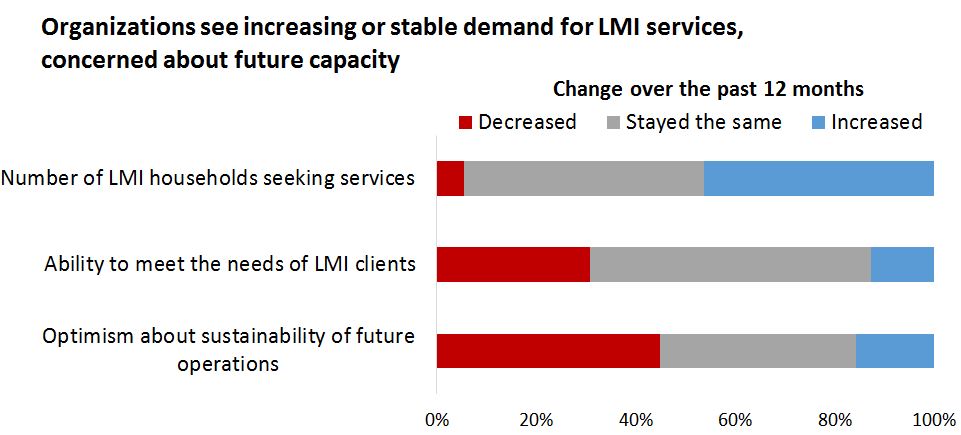 Several respondents noted the wide range of programs that could be impacted by federal budget changes, including block grants, tax credits, and financing capital for nonprofits that connect LMI families to basic necessities like food and shelter. According to one Montanan nonprofit leader, in the current administration's federal budget proposal, "many social services are recommended for reduction or elimination. That makes planning for future services very difficult, but more importantly, it places the most vulnerable in harm's way."
Less frequently mentioned concerns related to high costs faced by LMI households, including housing, child care, and higher education; and over-regulation.
*The Ninth District Insight survey provides a snapshot of economic conditions for LMI communities in the Ninth Federal Reserve District. The survey is conducted by the Minneapolis Fed's Community Development Department and is sent to organizations that work in LMI communities, including banks, community development financial institutions, credit unions, economic development organizations, foundations, local government agencies, nonprofits, university extension programs, trade associations, and cultural organizations that serve LMI populations. Topics cover economic activity, housing conditions, business and economic development conditions, and financial well-being of LMI households. For the 2017 survey, 144 community development organizations responded in May and June.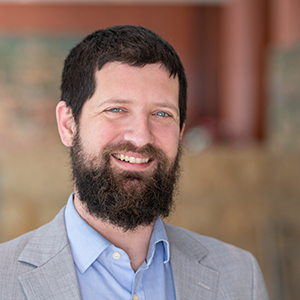 Ben Horowitz
Senior Project Manager, Community Development and Engagement
Ben Horowitz writes about policies and programs impacting affordable housing, early childhood development, and investments in low- and moderate-income communities. He is a Senior Project Manager in the Minneapolis Fed's Community Development department.