Developing Future Tribal Leaders: The Role of Civics Education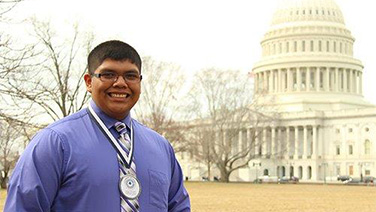 Photos provided by the Center for Native American Youth at the Aspen Institute
Tribal governance is at the foundation of the Center for Indian Country Development's Framework for Sustainable Development. Key characteristics of good governance are experienced and informed leaders, as well as reliable and respected institutions that align with the cultural values of that society. From that perspective, good tribal governance requires the development of tribal citizens as future leaders who understand their tribe's legal history and governing institutions, are informed about the assets and needs of their communities, and actively participate in community governance.
The need for civic-focused education in American Indian and Alaska Native (AIAN) communities is heightened by the relative youthfulness of tribal societies, where 32% of the AIAN population is under the age of 18. This means that there is a great opportunity for AIAN youth to be a force for political, social, and economic change in their communities. Opportunity, skills, and recognition are needed for positive youth development.
One program that focuses on youth leadership is The Center For Native American Youth (CNAY), an Aspen Institute Policy Program founded by North Dakota Senator Byron Dorgan (Ret), whose mission is to nurture young AIAN leaders from across the country and develop their talent as active citizens and future leaders. Every year since 2013, CNAY's Champions for Change Youth Ambassador Program recognizes young AIAN leaders, selecting five Champions from among hundreds of applications.
Champions are typically young adults who have demonstrated leadership in their tribal community and schools. They are either leading change or actively involved in important issues impacting tribes and AIAN youth— health and mental health including suicide prevention, anti-bullying, literacy, language and cultural preservation, environmental issues, and a host of other issues. The qualities CNAY looks for in a Champion include commitment, persistence, self-directedness, a desire and ability to lead, community engagement, and respect. These Champions are recognized nationally at the Aspen Institute and at the National Congress of American Indians, thus positioning them to expand their national networks and engage with experienced leaders across the country. Another way their achievements are recognized and promoted is through the annual American Indian Youth report, such as Drawing Strength from Our Cultures (2016) and Our Identities as Civic Power (2017). These reports are "a resource and roadmap to help decrease barriers and increase opportunity for Native youth."
CNAY's model appreciates that civics education and mentorship for AIAN youth enhances opportunities and improves skills needed to improve their communities. Indeed, advocates of civics education point to the many benefits from these programs: participants are more tolerant of others, more willing to listen to differing points of view, and are more likely to take greater responsibility for their actions and to improve their communities.1
These benefits are doubly important for AIAN students and future leaders. In addition to needing a solid understanding of state and national governments, they also need to have a good understanding of their own tribal governments. This includes knowledge about the tribe's history and current governance structure, the evolution of the tribe's governing documents, the elements of inherent tribal sovereignty and the role of the federal government of trustee. They also need training and practice in leadership, including how to participate, advocate, and contribute to change that benefits their tribal nations.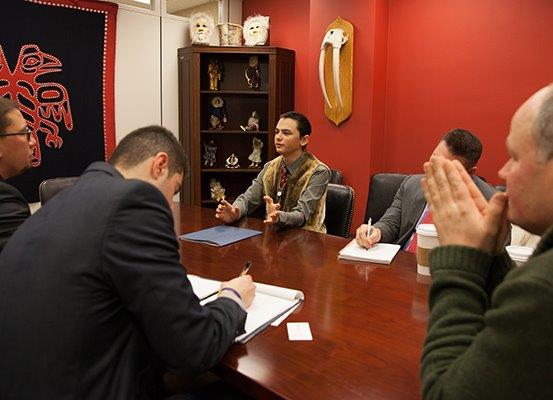 Photos provided by the Center for Native American Youth at the Aspen Institute
For young AIAN leaders like Champion for Change Nancy Deere-Turney, "Native Americans were civically engaged before the term was coined or trending. Four hundred years ago you would have seen our people working to ensure that the whole community was fed, sheltered and protected… The youth would be constantly stepping up to help their community in many roles involving leadership and support… Today civic engagement still can be seen in many Native communities, but a little differently. We are still stepping up but in many more roles" Leading by example, Deere-Turney started her own initiative focused on cultural preservation called the Youth Enrichment Camp (YEC). She hosts a youth camp at a traditional roundhouse on her family's land to talk about the importance of culture and the ways in which culture can be used to combat suicide and other serious issues confronting Native youth. She also is involved in her tribe's government as a youth advocate and plans to run for elected office for her district's National Council one day.
While CNAY's model is national in scope, countless local opportunities are available for AIAN youth to receive civics education and to practice citizenship on issues that impact them daily. Examples include Oglala Sioux President Scott Weston incorporating a youth track into the Great Plains Tribal Leaders Economic Development Summit in 2017, and Navajo Nation's President Russell Begaye and Vice President Jonathon Nez who have enlisted youth as full partners and advisors in addressing suicides and other challenges to the well-being of the Navajo tribe.
The challenge for the future of Indian Country is to encourage these emerging Native leaders and prepare them for the bigger challenges of governing their Native nations. This means more attention and resources are needed to support AIAN civics education, develop youth leadership, and continue to provide them with meaningful opportunities to participate and lead at every level.
---

Endnote
1 America's Civic Learning crisis: Preparation for informed and engaged citizenship is the co-equal goal of education: A Fact Sheet. Campaign for the Civic Mission of Schools: Educating for Democracy. 2009