Coronavirus sufferers remain in the data shadows
The health and economic crises created by the coronavirus pandemic, now in its eighth month, are historic. Policymakers at every level of government have had to make urgent decisions to mitigate the spread of the disease itself as well as to address the health, economic, and social consequences of the pandemic. While we know that COVID-19's impact is deep, designing policy to address its long-term impact requires a thorough understanding of who is affected and how they are affected.
However, despite historic efforts at data gathering during the pandemic, one crucial piece of data is missing. U.S. statistical agencies are not currently collecting information on who has had COVID-19 and how that has affected their livelihood and well-being.
Case counts are being tracked, of course, in most cases alongside demographics like age, gender, and race or ethnic status. But that is where our data gathering on COVID-19 sufferers stops. This means we have no national data source that allows Americans to report their experience with COVID-19 alongside the many economic, social, and health outcomes our agencies track.
Why is this a problem? Because to support the return of COVID-19-affected families to the U.S. economy, we need to understand the full impacts of the disease on their outcomes. Without this information, there are pressing questions we cannot answer—now or in the future. A few examples:
Is a COVID-19 diagnosis linked to lost earnings or employment?
Are these impacts worsened in households led by Americans of color? With children? With single parents?
How persistent are any changes in earnings or employment that follow a COVID-19 diagnosis?
Are long-term financial consequences more likely among Americans with more severe COVID-19 cases? With compromising underlying health conditions? Among certain age groups, regions, or populations?
Does a COVID-19 diagnosis in their home make it less likely that kids are in school? When do they return after a diagnosis?
I could go on. But I believe it's clear that encouraging Americans to report on their health alongside their overall economic well-being this year is essential for measuring the full impacts of this pandemic.
The good news is that gathering basic information on COVID-19 infections from survey respondents is easy to do. I co-directed the COVID Impact Survey, which interviewed Americans in April and May. An NPR-Harvard survey asked similar questions in July. Both surveys asked about COVID-19 diagnoses in the household using the same question structure the CDC uses to track heart disease, diabetes, and other health conditions in its major surveillance survey.
Together, these projects prove that respondents will answer questions about COVID-19 diagnoses. Importantly, these answers align with data on confirmed case rates from health agencies, suggesting that respondents are answering truthfully.
To support the return of COVID-19-affected families to the U.S. economy, we need to understand the full impacts of the disease on their outcomes. Without this information, there are pressing questions we cannot answer—now or in the future.
But more than that, both projects show how important it is to collect this information on an ongoing basis. For instance, the COVID Impact Survey found significantly worse mental health outcomes among people in households in which at least one member received a COVID-19 diagnosis or experienced symptoms. In fact, the decline in mental health with COVID-19 symptoms is similar to the decline connected with pandemic-era earnings loss. The Harvard-NPR survey reported that financial hardship was more likely among those who had had a COVID-19 diagnosis.
What these surveys can't do is track COVID-19's many impacts across a range of U.S. communities, over the duration of the pandemic. In fact, it's unlikely that any single academic team, institute, or private sector entity can do this.
To go beyond the snapshots these two efforts provide, the COVID-19 diagnosis question needs to be included in a national statistical agency product. The Census Bureau's Household Pulse Survey is a clear option, but there are others, including regular supplements to the Bureau of Labor Statistics' Current Population Survey or the CDC's Behavioral Risk Factor Surveillance Survey. The Census survey would provide the most timely information, but the others would provide additional insight on a slower timeframe.
The pandemic is moving through, affecting hundreds of thousands of American families, but it's not too late to collect this information. Those who have lived with diagnosed COVID-19 this year are likely to have accurate recall. Surveys conducted in the coming few months can capture key connections between household COVID-19 infections and economic well-being.
Data are stories from real people, and surveys help ensure that all people are included. When you are not in the data, you are invisible. I was moved to write this in part because of stories about youth who'd lost their parents and caregivers to COVID-19, sometimes leaving them without an adult guardian. Their lives are profoundly changed and will remain so after COVID-19 is gone. To help them, and the hundreds of thousands of others personally affected by a COVID-19 diagnosis, we need to understand their experiences. What are we missing because we aren't asking them to tell us about the COVID-19 infections they've lived with?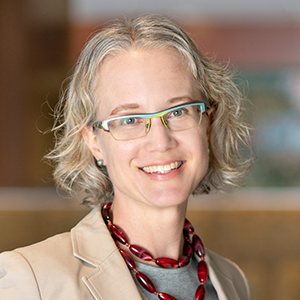 Abigail Wozniak
Vice President and Director, Opportunity & Inclusive Growth Institute
Abigail Wozniak is vice president and director of the Bank's Opportunity & Inclusive Growth Institute.