Opportunity & Inclusive Growth Institute expands with three new economists
This spring, the Opportunity & Inclusive Growth Institute continues in its mission to conduct and share research that promotes economic opportunity and inclusive growth for all Americans by adding three new economists to its staff. The expertise and energy that Amanda Michaud, Mallika Thomas, and Alex Albright bring will help the Institute to continue to achieve excellence in its core activities, including twice-yearly conferences, the visiting scholars program, and connecting with the broader community of policymakers, community groups, and the public.
"We founded the Institute in January 2017, just over five years ago, with the goal of bringing more focused research attention to economic disparities both in our region and around the country," Minneapolis Fed President Neel Kashkari said at an Institute event in April. Since its founding, the Institute has established itself as a resource for Federal Reserve policymakers, cultivated a growing network of researchers with expertise on the diverse experiences of American households, and engaged in robust communication efforts to share findings and engage in dialogue.
"Our new hires will help expand our core Institute activities, like our regular public and scholarly events, while also allowing us to begin to work as a team on more ambitious projects," said Institute Director Abigail Wozniak. "Amanda, Alex, and Mallika each bring expertise in different areas of research related to economic opportunity. Supporting scholarship on a range of topics and using different approaches is a hallmark of the Institute, and it's exciting to have our team reflect that."
Senior Research Economist Amanda Michaud comes to the Institute from the Federal Reserve Bank of St. Louis, where she was a research officer. Previously, she advised the White House as a senior economist with the Council of Economic Advisers, and she was an associate professor at Indiana University and the University of Western Ontario.
"I think that the Institute provides a great space where researchers can be pushed to think more critically about how their work can inform policy—the practicalities of administration, for instance, and how to extrapolate policy recommendations made using current data to the future world as conditions change," Michaud said. This type of reflection permeates Michaud's research to understand and improve how well government programs serve diverse populations. In one current project, Michaud is investigating how much unmet need there is for unemployment insurance (UI) for individuals who don't qualify for state UI programs. This assessment can then inform the design of a program that targets those who are currently ineligible for UI but would benefit greatly from it—while not disincentivizing those who are currently ineligible and do not need it from returning to work.
Research Economist Mallika Thomas joins the Institute after positions as the David M. Rubenstein Fellow at the Brookings Institution and as an assistant professor at Cornell University. "I was drawn to the job at the Institute because my research is driven by a goal of understanding the causes of persistent inequality and the nuances behind proposed policy solutions," Thomas said. Her research reflects that goal. In one current project, Thomas is developing a deeper understanding of inequality in the United States by analyzing which firms offer more non-wage amenities—for instance, flexible leave, health benefits, and career growth opportunities. If lower-paying firms have better amenities, then inequality is smaller than wage inequality suggests. However, she finds the opposite is generally true.
"From a policy perspective, this has important implications. It means that measures of inequality—for example, the gender-wage gap or the racial-wage gap—actually underestimate the true extent of the gaps in total compensation," Thomas said.
Research Economist Alex Albright joins the Institute after earning her Ph.D. from Harvard University. Albright was drawn to the Institute for its strong community of researchers, its intentional emphasis on policy-relevant research, and its efforts to communicate research to broader audiences. She looks forward to continuing research on monetary sanctions in the criminal justice system. When court debt goes unpaid, jurisdictions may use private debt collection agencies to recover that money. Albright and her co-author seek to assess the effects of private debt collections on individuals' access to credit and other measures of financial well-being. "This research question is interesting to me because it actively investigates how the design of funding for the justice system—in particular, using fines and fees—impacts the economic lives of people who pass through the system," Albright said.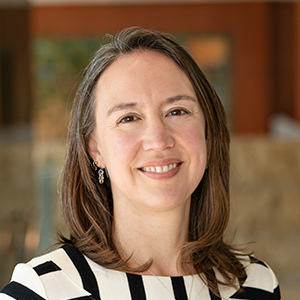 Lisa Camner McKay
Writer/Analyst, Institute
Lisa Camner McKay is a writer/analyst with the Opportunity & Inclusive Growth Institute at the Minneapolis Fed. In this role, she creates content for diverse audiences in support of the Institute's policy and research work.