How the Red Lake Nation has used the New Markets Tax Credit
For many people, running out of a staple like milk is no big deal. They hop in their car or run down to the nearest corner store for more. But in many lower-income areas, rural communities, or Native American reservations, there is no local grocery store. Residents may have to drive or walk several miles or more to access fresh milk and produce.
The Red Lake Trading Post, a grocery store located on the Red Lake Indian Reservation in northern Minnesota, aims to fill that gap in its community. Established in 1984, the Red Lake Trading Post moved to a new, larger facility in 2019 and expanded its operations and merchandise. At its new location, the store provides fresh fruits and vegetables, deli and bakery items, and even cosmetics, hardware, and auto supplies. New features include a gas station, a laundromat, ATMs, and a Subway restaurant.
New Markets Tax Credits (NMTCs) made it possible for the Red Lake Band of Chippewa Indians to build this full-service, 27,000-square-foot store in an area far from major population centers. NMTCs are designed to incentivize capital investment in low-income communities. Run through the U.S. Department of the Treasury's Community Development Financial Institutions (CDFI) Fund, the NMTC Program can provide needed financing for initiatives that will help revitalize low-income communities like the Red Lake Nation. Under the program, the CDFI Fund awards NMTC allocations to certified financial intermediary organizations called Community Development Entities (CDEs), which sell the tax credits to private corporations or individuals in exchange for equity investments in those same CDEs. The CDEs then use the proceeds to make qualified investments—such as business loans or equity investments—in low-income communities. In previous work, the Center for Indian Country Development (CICD) has explored the ways in which NMTCs provide an important source of capital for economic development projects in Indian Country.
The Red Lake Trading Post was difficult for project partners to finance, due largely to longstanding barriers to lending that individuals and entities on reservations face. The project illustrates how parties structuring NMTC transactions can deal with those barriers.1 In this article, we describe how several non-Native organizations and a tribe were able to work through tribal-sovereignty issues and credit and collateral challenges to fund a project that has had positive effects on a reservation economy.
Using multiple layers of financing
Organizations participating in the NMTC Program typically use a financing structure that can generate additional capital to provide all the financing needed for the project. "Multiple layers of financing are common in the community economic development industry or in difficult-to-finance projects, including this," said one nonprofit executive when discussing the Red Lake project.
To make the financing work, the Red Lake Nation sought and secured involvement from multiple entities that filled distinct roles. Ultimately, the project spanned years of work among nine partners: Red Lake Retail Center, Inc. (borrower); Ogaakaanigh Enterprises, the Red Lake Nation's economic development arm, formerly known as Red Lake, Inc. (guarantor); Native American Bank (co-lender); Clearinghouse CDFI (co-lender); U.S. Department of Agriculture (USDA) Rural Development (guarantor); Travois, Inc. (Community Development Entity allocatee); PNC Financial Services (NMTC investor); Brian Gorecki Real Estate Consultants LLC (consultant); and Midwest Minnesota Community Development Corporation, or MMCDC (consultant and co-lender).
NAFOA (founded as the Native American Financial Officers Association) awarded the Red Lake Nation and Ogaakaanigh Enterprises the 2019 Small Deal of the Year Award for the project. NAFOA praised the partners in the Red Lake project for their "creative use of multiple funding streams" over years of complex financial and development negotiations.
Agreeing on dispute-resolution procedures
The sovereign status of tribes means that tribes are responsible for organizing their legal infrastructure, including tribal court systems and rules for commercial activities on reservations. This has substantial implications for jurisdiction, collateral, and arbitration practices that lenders must be aware of when working with a tribe or tribal enterprise. Financial institutions and tribes must work together to ensure that lenders can enforce contracts and resolve contract disputes through agreed-upon methods of adjudication.
To ease the complexity, Red Lake project partners used a tool that Julia Nelmark, president and CEO of MMCDC, characterizes as "the general standard" for economic development activities in Indian Country: a partial waiver of sovereign immunity. This type of waiver allows lenders recourse in the event of tribal default or breach of contract and makes it possible for tribes to engage in certain business transactions. Recognizing the importance of offering this legal tool for the Red Lake Trading Post project, the Red Lake Tribal Council passed a resolution to approve a waiver. As Tribal Chairman Darrell Seki explained, the waiver's scope is limited to the Red Lake Trading Post deal: "We are just limiting our sovereignty in a certain way to comply with the financing requirement. We are not giving up anything. We are just making people feel more comfortable."
Overcoming credit and collateral challenges
A decision to extend credit to NMTC applicants is usually subject to their answers to questions like, Are the cash flows generated by the project adequate to support debt, and is the collateral offered sufficient to secure debt? Is the market sufficient to support business growth? And does the management have sufficient experience and abilities to operate the project? The Red Lake Trading Post project ran into a number of credit-, collateral-, and performance-related challenges that slowed the financing process. But through persistence and flexibility, project partners addressed the challenges. For example:
The Bureau of Indian Affairs (BIA) approval process took a long time. Much of the land on reservations—including the Red Lake Reservation—is held in trust by the federal government. If a mortgage loan to a tribal entity is secured by interest in trust land, it must be approved by the BIA. To mortgage the leasehold interest for the Red Lake project, approval from the BIA's regional and federal offices was required. According to a tribal representative, the federal office took a couple of months to approve the request due to changing administrations and crossing over the federal year-end. But, he said, "The perseverance of the Red Lake tribal attorney paid off finally, and the BIA approved the leasehold mortgage."
The property received a low appraisal relative to project-development costs. Julia Nelmark explained, "The appraised value of the as-built Trading Post was about 60 percent of the cost to develop it." To increase the appraisal to a level that the lenders could accept, the tribe pledged the as-built property plus two other parcels.
A first-of-its-kind financing arrangement introduced more complexity. To add a layer of financing, the Red Lake project partners aimed to combine the USDA Business and Industry (B&I) loan guarantee program2 with NMTCs. However, this presented some difficulty, because it was the first deal nationally to pair the NMTC program with a USDA B&I guarantee on a project located on tribal trust land where the ground lease would serve as collateral. To approve the deal, the USDA allowed the Red Lake project to count the NMTC equity toward the required 20 percent owner equity of the guarantee.
Performance expectations had to be met. To demonstrate the Red Lake Trading Post's ability to make payment on the loan, project partners had to show that the store would continue to perform well in the market. To ensure that the store was in experienced hands, they hired Allen Retz, previously the store director at Marketplace Foods in Bemidji, Minnesota, to serve as general manager. Retz then worked with Red Lake Trading Post's wholesaler to refine the new store layout and inventory projections, and the wholesaler also provided accounting and marketing support.
From concept to project closure, community development practitioners, tribal representatives, and store staff worked tirelessly for almost three years.
From concept to project closure, community development practitioners, tribal representatives, and store staff worked tirelessly for almost three years. At the opening ceremony of the shopping complex in 2019, Chairman Seki said: "It's finally happened. It's been talked about for many years, and it's been two or three years of work, but it's finally become a reality." Nelmark noted that her team saw the project's closing not as the end but as the start of the next phase in the relationship. She said: "We monitor our borrowers to anticipate issues and help them as they work through an unusual type of funding."
New shopping complex benefits reservation residents
Reservation residents enjoy that the expanded grocery store has more to offer than before. "In our new bakery, we bake breads rather than just having commercial, premade bakery items and sweets. We have choices like sourdough, wild rice bread, rye bread, and others. We're making it fresh daily, so that's a big plus," said Retz. The shelves are filled with all the regular brand-name items that can be found in stores like Walmart and Target, but there are also different cultural food choices.
The old store had about 40 employees. The expansion has brought an additional 60 jobs to the reservation, with more potential job opportunities down the line. It has also inspired a sense of pride among the staff. John Needham, who has worked in the meat department for over 36 years, commented on new training opportunities: "We do a lot of training for our high school students. They can come here and get the deli training and acquire some on-the-job-knowledge. In addition, they get some credits from working here. This is the only place on the reservation that offers this opportunity."
"Our people don't have to leave the reservation to get their groceries. Everything that they need is now right here."
—Jane Tarnow, Red Lake Trading Post employee
The shopping complex has become even more important to the community since its opening. "Our people don't have to leave the reservation to get their groceries. Everything that they need is now right here," said Jane Tarnow, who has worked for the Red Lake Trading Post for over 37 years.
"In the area up here, it's a very limited market. We must carry baby items, formula, aspirin, Tylenol, besides all the basics," said Retz. The Red Lake Trading Post has worked hard to be a one-stop shop for Red Lake residents to do their essential purchasing.
Tarnow believes the shopping center is not just providing quick, nearby access to food and other necessities. It also serves as a community hub, a "third place for people to gather between home and work." She added: "You see them every day engaged in long conversations while standing in the aisles."
Lessons learned
Economic development in Indian Country is complex, and there are no quick, easy solutions to longstanding obstacles tribal communities face. However, project partners learned a great deal from the Red Lake Trading Post expansion. These lessons can perhaps bring some perspective to various efforts aimed at improving reservation economies.
Tap the right practitioners. Every successful NMTC project in Indian Country can point to the involvement of CDEs, both Native and non-Native, with economic development experience in Indian Country. These organizations can effectively lead all parties through a collaborative process to structure and close NMTC transactions that can create maximum benefits. They can also leverage their relationships to secure deals and can work with tribal councils and other stakeholders to provide accurate information about NMTCs.
Accept the challenge to gain new knowledge. Financial institutions that are unfamiliar with Indian Country and are considering working with a tribe would benefit from learning about the tribe's constitution, commercial laws and relevant regulations, position on waivers of sovereign immunity, court structure, and relationship with state and federal governments.
Recognize BIA and USDA programs as part of the credit-risk strategy. The BIA and the USDA offer loan-guarantee programs that can be critical for lenders to move forward with Indian Country transactions. These programs are designed to help lenders reduce risks on the loans they make to Native borrowers. Lenders that decide to work with Indian Country borrowers must become familiar with these programs and their approval processes.
The efforts of Red Lake project partners offer potential blueprints for ways to use the NMTC Program effectively for difficult-to-finance projects in Native communities. We hope these partners bring their understanding of sovereign governments and credit issues to even more community development projects in underserved tribal areas.
---
Endnotes
1 A 2012 report by the Board of Governors of the Federal Reserve System on the state of economic development in Indian Country listed access to capital as the most common challenge to economic development. Reasons for the limited access to capital for tribal businesses and independent Indian-owned businesses include limited access to brick-and-mortar bank offices; lack of equity resources, collateral, and credit history; and unfamiliarity with this market.
2 The purpose of the B&I program is to develop businesses and industries that will grow employment and improve the economic and environmental climate of rural communities. This purpose is achieved by bolstering the existing private credit structure through the guarantee of quality loans that will provide lasting community benefits. (From a 2016 report from the Office of the Comptroller of the Currency.)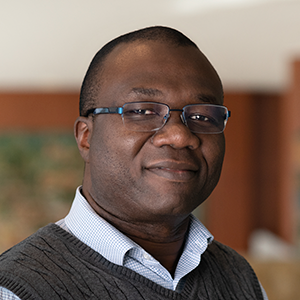 Michou Kokodoko
Project Director, Community Development and Engagement
Michou Kokodoko is a project director in the Minneapolis Fed's Community Development and Engagement department. He leads the Bank's efforts to promote effective community-bank partnerships by increasing awareness of community development trends and investment opportunities, especially those related to the Community Reinvestment Act.