Health insurance concentration: The big bully or one of the gang?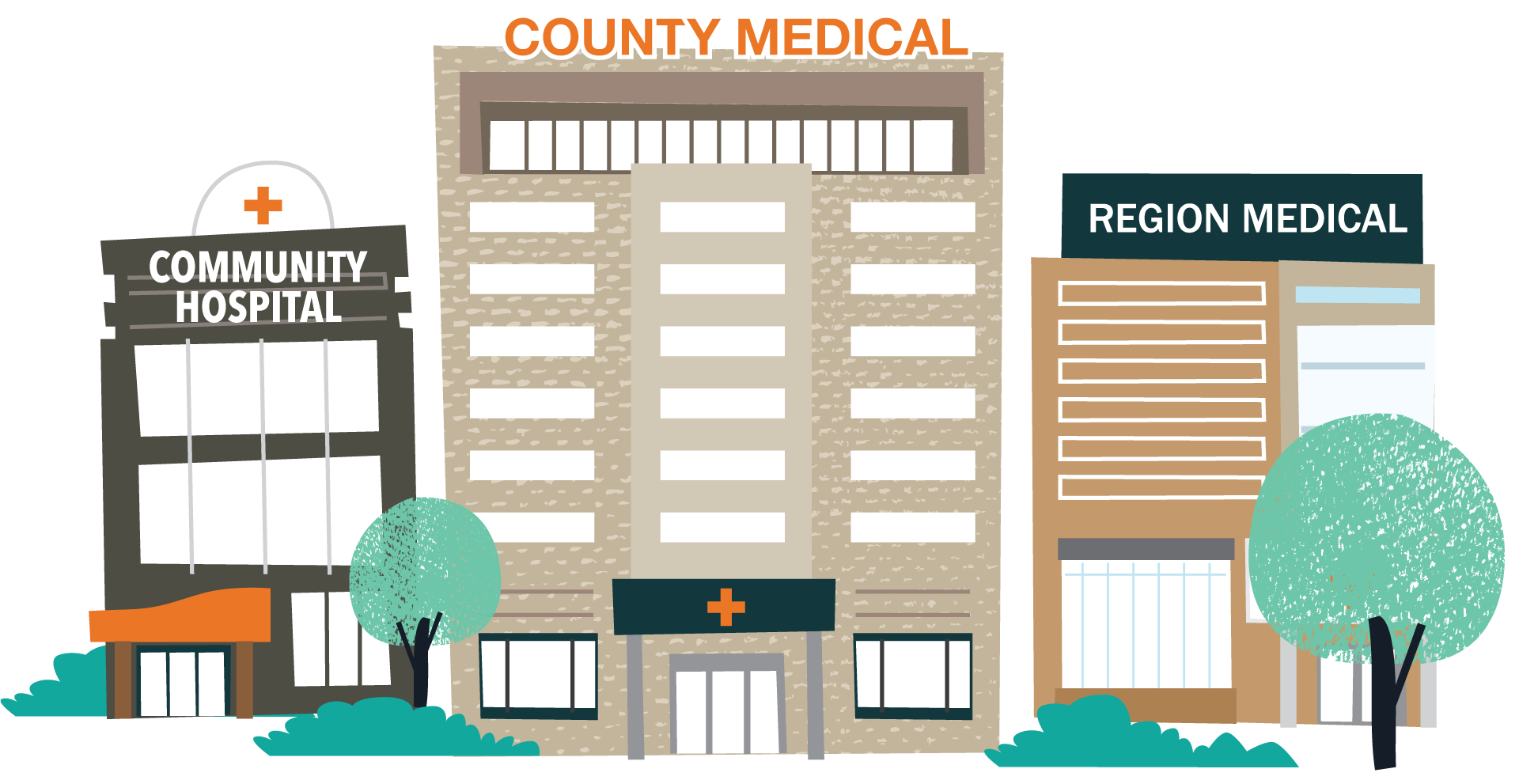 In the battle over rising health care costs and increasing consolidation among providers, more attention is being paid to concentrated health insurance markets.
Over the summer of 2015, several major mergers were announced among health insurers, including Anthem's $48 billion bid for Cigna Corp., while Aetna agreed to acquire Humana for $37 billion. Provider groups and consumer advocates have been vocal in their opposition to such mergers, claiming that health insurance firms have market power and unjustified leverage with providers and patients. Providers, many argue, have little recourse but to also get bigger to maintain their own negotiating leverage in competing for health plan contracts.
"Both appear to be consolidating in simultaneous reaction to the other," said Jim Schowalter, president and CEO of the MinnesotaCouncil of Health Plans, an association of nonprofit health care organizations providing insurance that includes Blue Cross Blue Shield, HealthPartners, Medica, Sanford Health and others.
However, health insurance consolidation is just one of many market forces pushing health care providers to consolidate. And smaller health insurance providers, rather than shrinking or fading away, have gained market share in some states.
The big unknown is whether—or to what extent—health insurance concentration will reinforce or work against the efforts of medical providers to rein in rising health care costs.
Big is better?
The concentration of health plan providers is pretty well documented. According to a 2014 study by the Government Accountability Office (GAO), the three largest insurers in any state had at least 80 percent of the total commercial enrollment in 37 states, and they did so across all market segments (individual, small group and large group plans). In the Ninth District, Wisconsin was the only state below those thresholds (see chart).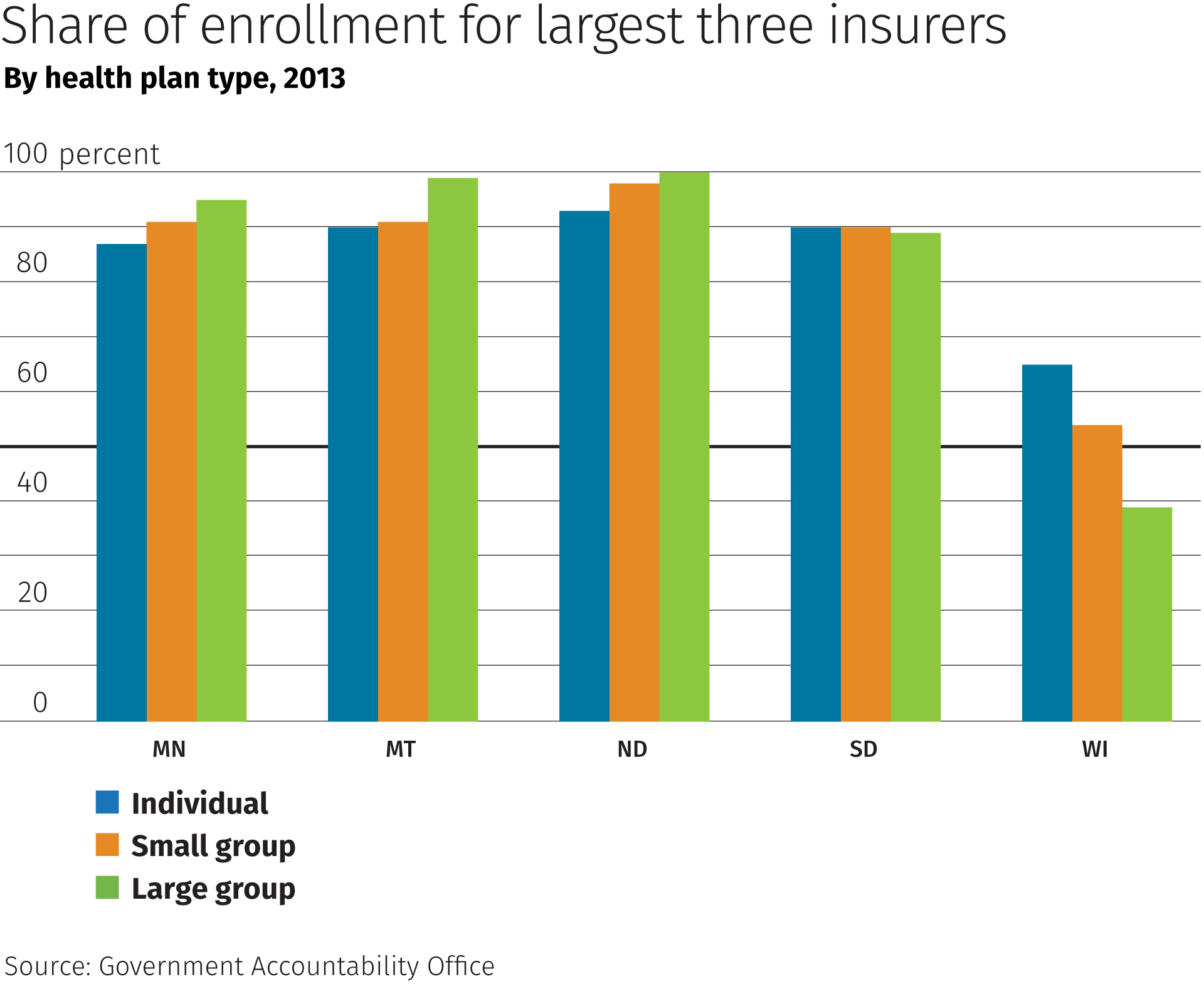 In Minnesota, the "big three" of Blue Cross Blue Shield, HealthPartners and Medica handle more than 80 percent of people on health plans, according to the Health Economics Program of the Minnesota Department of Health (MDH).
Because states regulate their own insurance markets, it's difficult to know exactly why Wisconsin's market concentration is relatively low; however, the state has a significantly higher number of insurers offering plans, according to the GAO report. For example, other district states have at most 12 companies offering plans for small and large groups; Wisconsin has more than two dozen in each market segment.
Health insurance concentration is not a particularly recent phenomenon, and in some states health insurance is dominated by a single insurer. In North Dakota, Noridian Mutual Insurance (parent company of Blue Cross Blue Shield in that state) captured 95 percent of all premiums in 2003, according to figures from the state's Insurance Department. By 2013, total premiums had doubled, and Noridian upped its market share to almost 97 percent.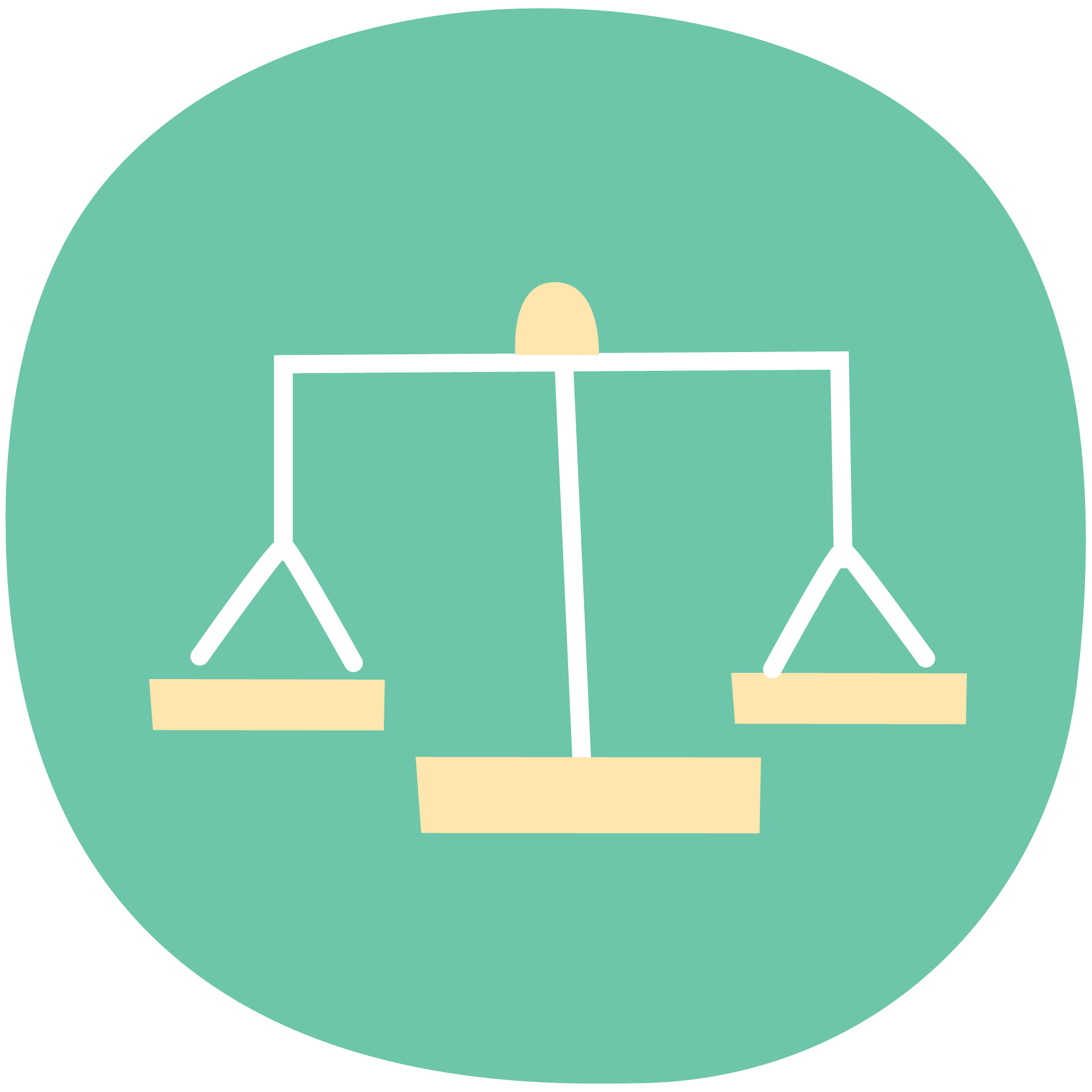 Mike Foley, administrator and chief operating officer of the Apple Valley Medical Center (AVMC) in the Twin Cities, believes that insurance consolidation "is a major driver" of health care provider consolidation.
During contract negotiations with insurers, "you might see some brinksmanship on the side of providers," said Foley, "but you have to have a fallback position," and that ultimately depends on negotiating heft. "If I'm Allina [a major Minnesota health care system] and talks break down, Medica would worry. But not so much with Apple Valley Medical," said Foley. The big three each cover about 20 percent of AVMC's patient pool, "so it's hard to see us walk away from any of them."
Matt Anderson, senior vice president of policy and strategy with the Minnesota Hospital Association, said that health insurance plans are using big data to better understand cost and utilization trends, helping insurers to put pressure on providers to accept lower reimbursement rates. In turn, these forces "create strong incentives for health care providers to consolidate," said Anderson, to better manage care, given tighter reimbursements, and help stave off further cuts.
Signs of diversification
At the same time, the role of health insurance concentration in fostering provider consolidation might be more muted than a cursory debate suggests. One reason is the multitude of other factors pushing providers to, as the saying goes, "go big or go home" (see main article on health care consolidation in the October 2015 issue).
Notably, there are at least modest signs of change in Ninth District insurance markets. In 2015, Sanford Health won the contract to provide health care coverage for 29,000 state and local workers in North Dakota, starting in July. Blue Cross Blue Shield had held the contract for 37 years, according to local reports. Sanford first entered the North Dakota insurance market in 2010 and now has 45,000 members (though enrollment is still a far cry from Blue Cross Blue Shield's 520,000 members).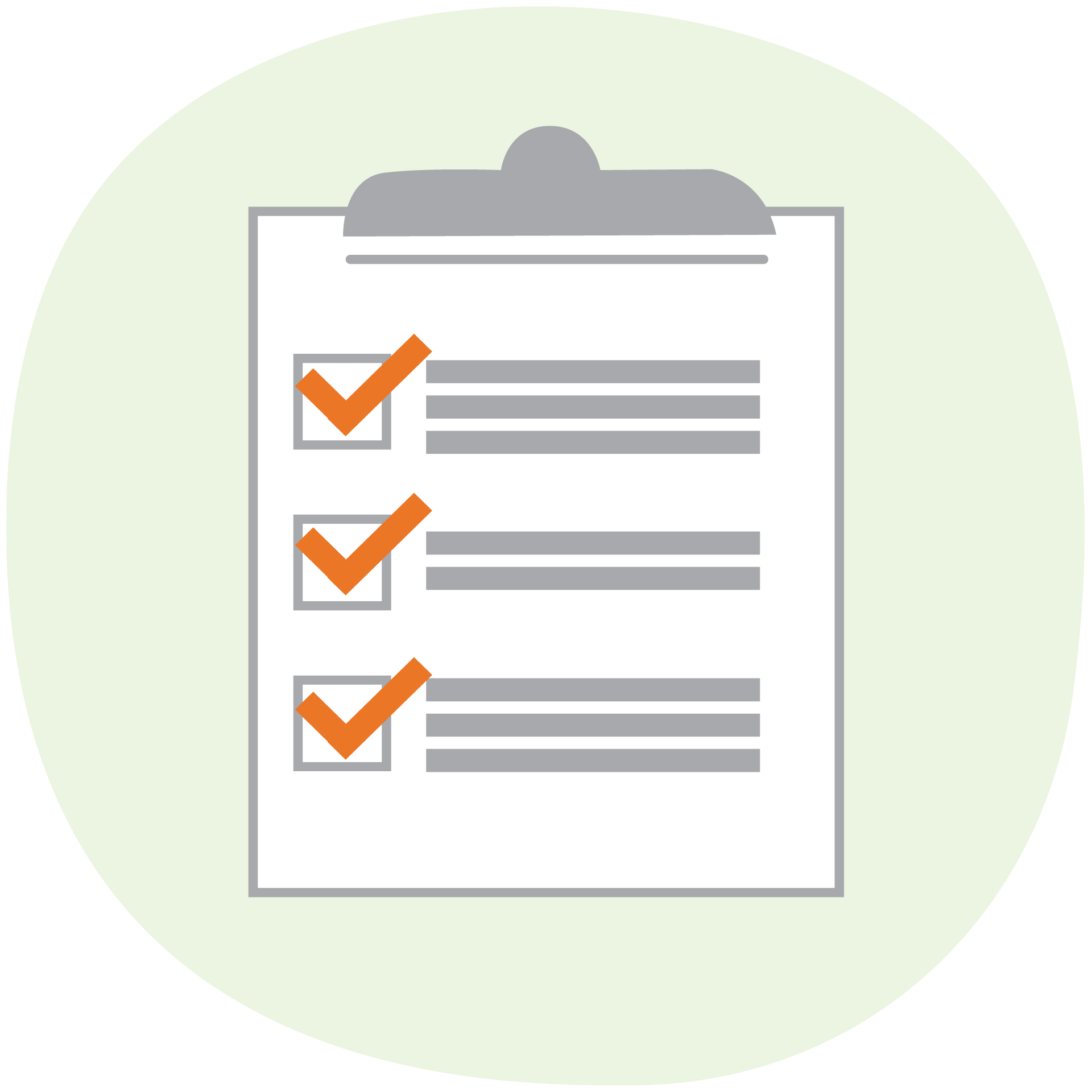 In South Dakota, the share of total premiums written by the top three health plans in the state was 84 percent or higher from 2007 to 2011, according to figures from the South Dakota Division of Insurance. But that share has declined every year since, dropping to 70 percent in 2014. In 2011, there were only five companies with at least a 3 percent market share in the state; by 2014, that number had grown to eight.
Some of this diversification might be flowing from new insurance exchanges established by the Affordable Care Act. In the market for individual coverage, for example, Wellmark saw its leading market share drop from 83 percent to 67 percent over this period.
A market share tug of war is evolving in Minnesota. From 2003 to 2012, the top three insurers there saw their combined market share (measured by member months) decline modestly from 94 percent in 2003 to 85 percent by 2012, according to data from the MDH. Much of this market share loss accrued to Minneapolis-based UCare and involved coverage for low-income families through Medicaid and other state programs.
But there is still a lot of tug among the major insurers in the battle for covered lives. Over the summer, UCare lost its contract with the state, and the coverage for 370,000 people will reportedly switch to subsidiaries of the big three that specialize in public health programs.
What about cost?
It's also not exactly clear where the net benefits lie regarding health insurance concentration and its impact on health care costs—a key driver in consolidation among both insurers and providers, who are seeking scale to gain efficiencies that, at least hypothetically, should help keep rising health care costs in check.
Economic theory, of course, supports the idea that more competition is better for consumers. But the matter is muddled in health care markets because insurers "operate in a complex bilateral oligopoly"—essentially having a negotiating (and thus price-setting) role for both patient and provider, according to a July 2015 study in the Journal of Healthcare Economics.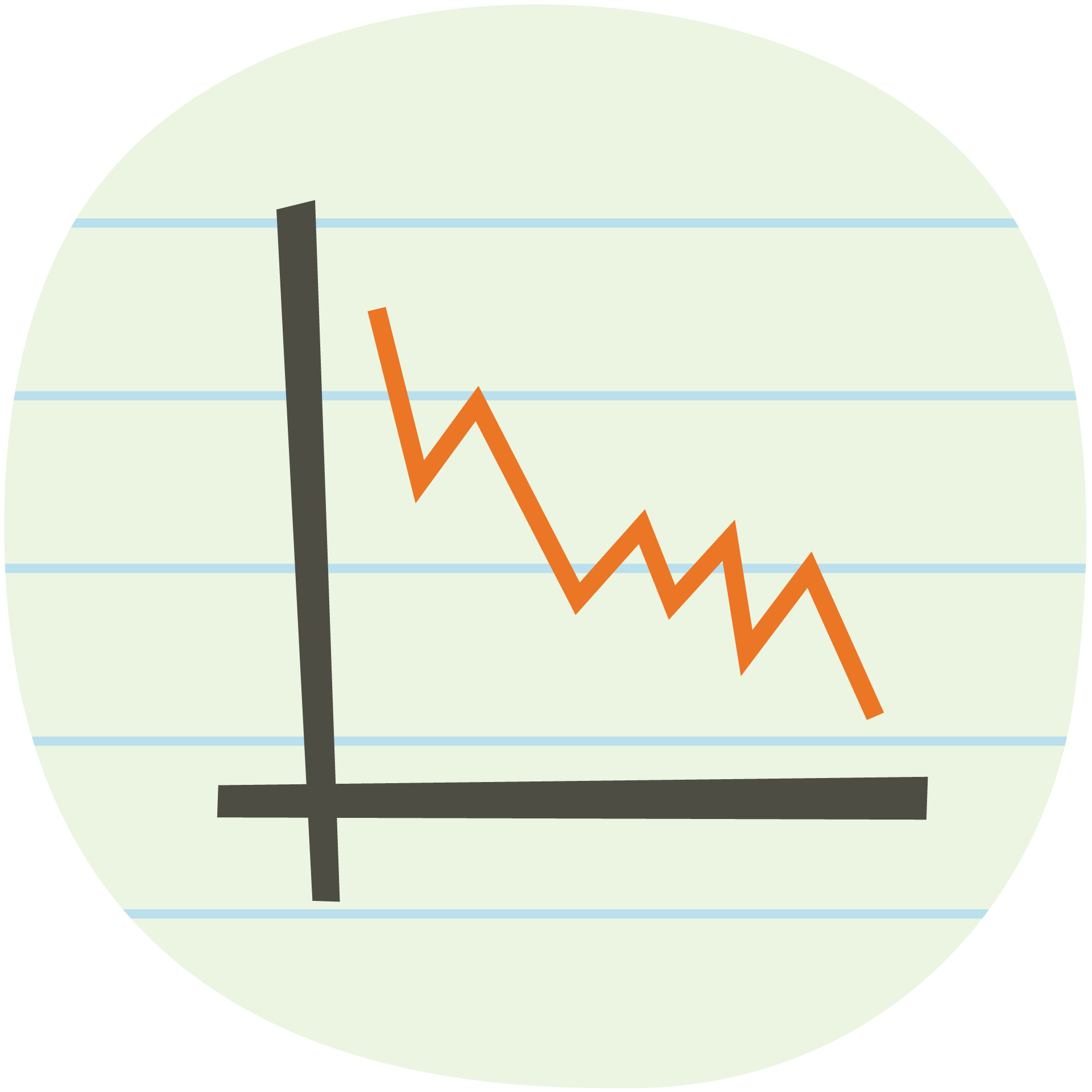 Authors Erin Trish of the University of Southern California and Bradley Herring of Johns Hopkins point out that in negotiations with provider networks, insurer market power "may in fact result in stronger bargaining leverage … to drive down prices, which could then be partially passed through in the form of lower premiums."
But it's a complicated negotiating position, and the full effect on employer-sponsored insurance premiums depends on the market power of both providers and insurers, according to Trish and Herring. While premiums for employer-sponsored plans were higher where insurers were concentrated, so too were they higher where providers were concentrated.
"Thus, the ultimate impact of the level of competition in the health insurance industry on premiums is unclear," the authors write. Their research suggests that the price effects of insurance concentration depend on the level of competition among local care providers, the number of insurance providers and insurers' overall bargaining leverage with local providers.
In other words, more competition is better, as long as there is competition throughout the negotiating chain.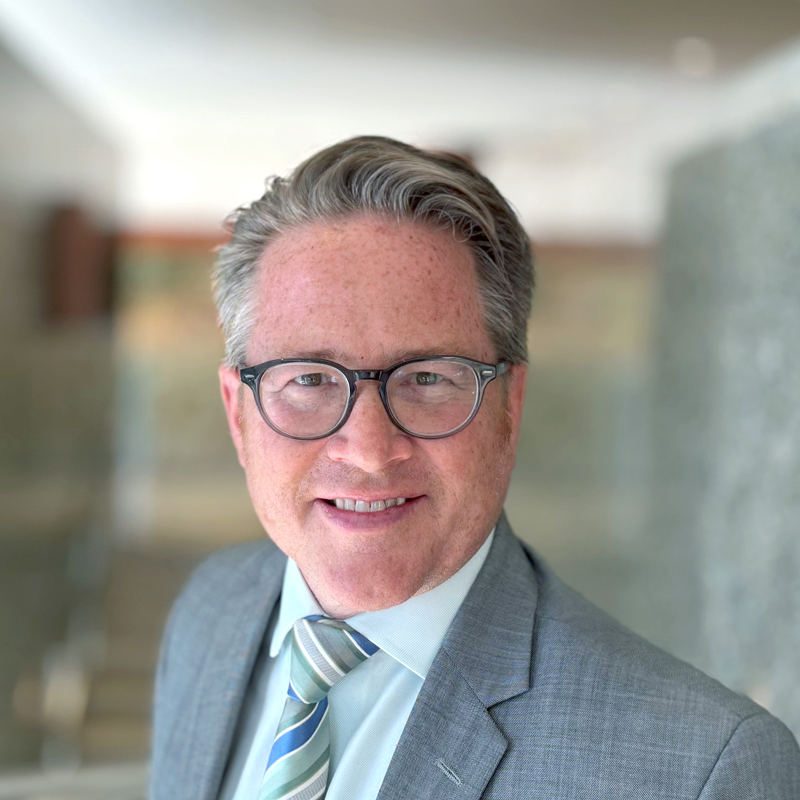 Request as a speaker
Ron Wirtz
Director, Regional Outreach
Ron Wirtz is a Minneapolis Fed regional outreach director. Ron tracks current business conditions, with a focus on employment and wages, construction, real estate, consumer spending, and tourism. In this role, he networks with businesses in the Bank's six-state region and gives frequent speeches on economic conditions. Follow him on Twitter @RonWirtz.