Ninth District mortgage conditions stabilize over summer
As the COVID-19 pandemic persists, homeowners continue to benefit from mortgage forbearance programs that allow them to delay their payments until 2021. The most recent data on mortgage delinquency, forbearance, and foreclosure shed light on how homeowners are faring during the pandemic recession. While many more homeowners are behind on mortgage payments in 2020 compared to prior to the pandemic, mortgage delinquency rates have stabilized, with August rates flat compared to June rates.
In 2020, the availability of forbearance is relieving mortgage stress for some delinquent homeowners. To help those encountering financial hardship due to the COVID-19 pandemic, the Coronavirus Aid, Relief, and Economic Security (CARES) Act of March 27, 2020, requires financial institutions to provide up to 360 days of forbearance (upon homeowner request) for mortgages backed by the federal government or government-sponsored enterprises like Fannie Mae and Freddie Mac. During the forbearance period, borrowers do not suffer any penalty for nonpayment. In addition to providing forbearance as required under the CARES Act, 31 Minnesota financial institutions committed to provide mortgage-relief options, including a 90-day forbearance period, for customers without a federal-backed mortgage who have been affected by COVID-19. In our data, homeowners in forbearance plans with their lenders are still considered delinquent. As our previous analysis of credit data during the pandemic suggested, some financially stressed homeowners may be using the forbearance opportunity to prioritize other debt obligations.
Delinquency rates stable since June
About three times as many borrowers had not made payments on their home mortgages for 60 days or more in summer 2020 as in summer 2019, both in the U.S. and in the four states that lie wholly in the Ninth Federal Reserve District: Minnesota, Montana, North Dakota, and South Dakota.1 (See Figure 1.) Delinquency rates jumped sharply in April and May as the economic impacts of the COVID-19 pandemic rippled through the economy. However, since June, mortgage delinquency rates have been stable both nationally and in the Ninth District. (See Figure 2 for Ninth District delinquency rates by ZIP Code in August.) This suggests no net increase in economic distress for homeowners over the summer months.
Data from August payments represent the last month when unemployed homeowners were still recently benefiting from the Pandemic Unemployment Compensation program, created by the CARES Act, that provided an extra $600 a week in unemployment benefits through the end of July. Many unemployed persons in Minnesota, Montana, and North Dakota received $300 a week ($400 in Montana) through the federal Lost Wages Assistance Program in August and September—a benefit that may have helped homeowners maintain their mortgage payments through September. How many homeowners will become delinquent on their mortgages now that these temporary fiscal supports have ended remains to be seen.
Loading chart 1...
Forbearance rates fell from June peaks
Across the nation, over 4.5 million borrowers were participating in mortgage forbearance programs in May and June of 2020. Since then, the number of borrowers in forbearance has dropped to just over 3.5 million as of late September. Black Knight, a company that collects mortgage-market data, estimates that 6.8 percent of all mortgages in the U.S. are in forbearance.2
Data on participation in forbearance programs are not available to us at the state level for all borrowers but are available for loans guaranteed through the Government National Mortgage Association (GNMA or Ginnie Mae), which represent about 22 percent of all mortgages. Because Ginnie Mae focuses on expanding affordable housing by guaranteeing investors payments from loans through the Federal Housing Administration (FHA), U.S. Department of Veterans Affairs (VA), U.S. Department of Agriculture Rural Development, and U.S. Department of Housing and Urban Development Office of Public and Indian Housing, their borrowers are more likely to be low- and moderate-income households. Not surprisingly given the special hardships that the pandemic-induced recession has imposed on low- and moderate-income households, these borrowers are also more likely to request mortgage forbearance from their lenders. In late September, Black Knight reported that nationally, 11.1 percent of loans insured through the FHA and VA were in forbearance, compared to 6.8 percent of all loans.3
Across the Ninth District states of Minnesota, Montana, North Dakota, and South Dakota, forbearance rates for loans backed by Ginnie Mae—which are more likely to be in forbearance than other mortgage loans—peaked in June and then fell. (See Figure 3.) Roughly 8.8 percent of Ninth District homeowners with Ginnie Mae-backed mortgages were participating in mortgage forbearance programs in June, but participation slipped to 6.4 percent in August. The trend of falling forbearance among Ginnie Mae-backed mortgages in Ninth District states is consistent with overall national trends of declining use of forbearance programs since May and June.
Loading chart 3...
Foreclosure rates continue to fall
Mortgage foreclosure rates have fallen since January (see Figure 4), due in large part to temporary federal and state foreclosure restrictions. The CARES Act and subsequent agency guidance included a moratorium—extending retroactively from March 18 through December 31, 2020—on the initiation or finalization of a foreclosure on a mortgage backed by the federal government or government-sponsored enterprises like Fannie Mae and Freddie Mac. In addition, two Ninth District states have implemented additional constraints on foreclosures:
Minnesota. Governor Tim Walz issued Emergency Executive Order 20-14 on March 23, 2020, that requested financial institutions to "implement an immediate moratorium on all pending and future foreclosures and related evictions when the foreclosure or foreclosure-related eviction arises out of a substantial decrease in income or substantial out of pocket medical expenses caused by the COVID-19 pandemic, or any local, state or federal governmental response to COVID-19."
Montana. Governor Steve Bullock issued a Governor's Directive on March 30, subsequently extended on April 13 and May 19, 2020, that prohibited foreclosure actions for "individuals who are members of a vulnerable population, who have suffered a significant financial hardship as a result of the outbreak, and who … remain sheltered at home."
With mortgages covered by the CARES Act representing 75 percent of mortgages nationally, the decline in new foreclosures seen from April through August is largely due to the federal foreclosure moratorium.
Loading chart 4...
Minnesota, Montana, North Dakota, and South Dakota all continue to experience lower foreclosure rates than the U.S. as a whole. Of the four full states within the Ninth District, North Dakota's August foreclosure rate (0.44 percent) was the closest to the national rate (0.50 percent), while Minnesota's August rate (0.16 percent) was less than one-third of the national rate. Within the Federal Reserve's Ninth District, some places are faring better than others: foreclosure rates are lower in urban communities such as Helena, Montana, and the greater Minneapolis-St. Paul area in Minnesota and highest in some less-populated communities, such as areas surrounding Pierre, South Dakota, and Minot, North Dakota. (See Figure 5.) As federal and state foreclosure moratoriums expire, the option of forbearance is likely to mitigate a massive increase in foreclosures, but foreclosure rates are nonetheless likely to rise to pre-pandemic levels.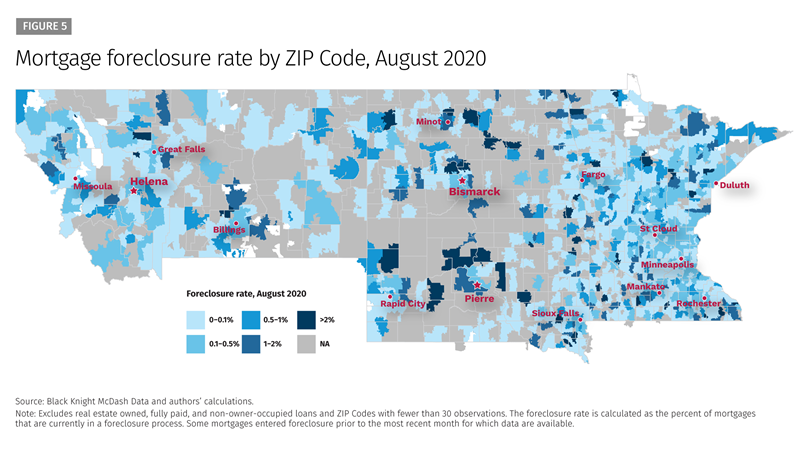 ---
Endnotes
1 Due to data limitations, the portions of Michigan and Wisconsin that lie in the Ninth District are excluded from our analysis.
2 For more on this, see Black Knight's September 25, 2020, blog post titled "Forbearances Down 24% from Peak."
3 Ibid.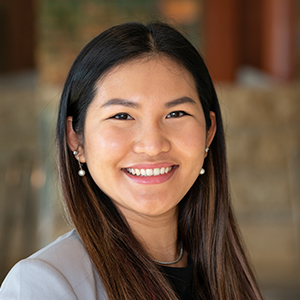 Kim-Eng Ky
Senior Data Scientist, Community Development and Engagement
Kim-Eng Ky provides data analyses, machine-learning and statistical models, and data visualizations to help the Community Development and Engagement team understand issues affecting low- and moderate-income communities.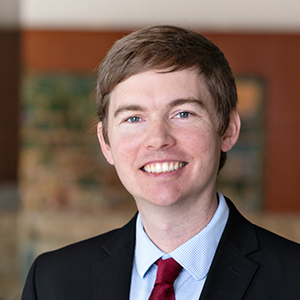 Request as a speaker
Ryan Nunn
Assistant Vice President, Community Development and Engagement
Ryan Nunn is an assistant vice president in the Minneapolis Fed's Community Development and Engagement Department. Leading the Bank's applied research function, Ryan works to improve outcomes for low- and moderate-income communities with the help of better evidence and analysis.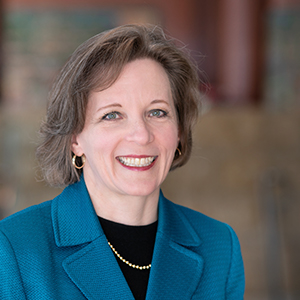 Request as a speaker
Libby Starling
Senior Community Development Advisor, Community Development and Engagement
Libby Starling is Senior Community Development Advisor in Community Development and Engagement at the Federal Reserve Bank of Minneapolis. She focuses on deepening the Bank's understanding of housing affordability, concentrating on effective housing policies and practices that make a difference for low- and moderate-income families in the Ninth Federal Reserve District.