President Neel Kashkari across the Ninth District
Visiting five of the Ninth District's six states in 2019, President Neel Kashkari met with community, business, education, and elected leaders, and hundreds of college students in open-to-the-public town halls.
His first trip of 2019 to Fargo, N.D., highlighted how residents successfully diversified their economy by building on the area's main strengths: rich natural resources and a strong entrepreneurial culture.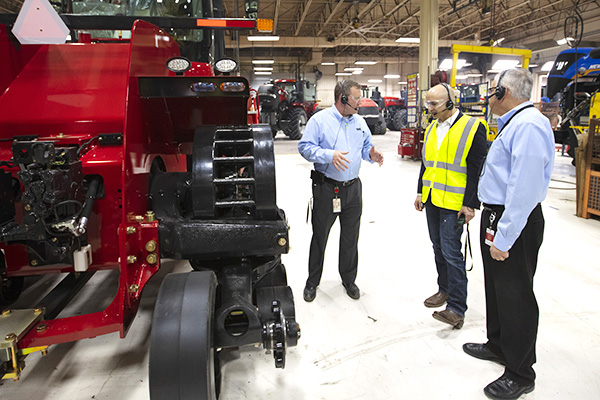 President Neel Kashkari tours a CNH Industrial plant during an April visit to Fargo, N.D. The plant produces tractors and other heavy equipment for agriculture and construction that are sold around the world.CNH Industrial N.V.
In July, Soumaya Keynes of The Economist joined Kashkari on his trip to Aberdeen, S.D., to better understand the Minneapolis Fed president's regional intelligence gathering. Kashkari spoke to a variety of local leaders, held a town hall with the Aberdeen Chamber of Commerce, and toured a soon-to-open soybean processing plant, Ag Processing Inc.
In September, Kashkari traveled to Billings, Mont. There, he held a wide-ranging town hall at Montana State University-Billings, moderated by Bill Coffee, CEO of Stockman Bank and Helena Branch board member.
During his October trip to St. Cloud, Kashkari joined Mayor Dave Kleis in his home for a luncheon with leaders of the city's immigrant community, toured the New Flyer bus facility, and held a town hall at St. Cloud State University.
For the final trip of the year, Kashkari spent a November day in La Crosse, Wis., where he discussed early child care with community leaders, held a town hall at the UW-La Crosse campus, and toured Kwik Trip headquarters.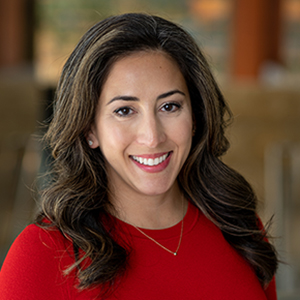 Alyssa Augustine
Content Strategy and Engagement Supervisor
Alyssa Augustine oversees social media and digital engagement, leads the Bank's content strategy, and manages media relations for President Neel Kashkari and other Bank leaders. An experienced TV journalist, Alyssa also contributes articles to the Bank's website and publications.