When planning tribal homeownership projects, assessing what is actually needed in the community is an important first step. A needs assessment may identify different issues and can help steer the overall direction of projects and developments, as well as help fine-tune the details of potential projects. An assessment may show, for example, a need to develop three-bedroom units rather than two-bedroom units, or that tribal members would prefer a certain location for a new subdivision, rather than another location.
While time or resources may be a limiting consideration, conducting a needs assessment actually can save valuable time and money in the long run.
With the increases in tribal populations in our communities, our housing needs, already great, are only going to become greater. Homeownership needs to be part of the mix.
—SUSAN HAMMOND, Executive Director, Four Directions Development Corporation
Who does the needs assessment?
A needs assessment can be carried out internally by tribal council or housing staff, externally by an outside partner or firm, or by a combination of the two. Options include a consulting firm with experience in conducting needs assessments or a university with the capacity to connect to the community. Here the most important factors are that they have experience working with tribal communities, respect the tribal organization's role and experience, and incorporate tribal input into the process.
The survey
The central conduit for gathering information about the community's needs is a survey. Using a survey to conduct a needs assessment includes these steps:
1. Design the survey:
The focus is on who will use the information collected and for what purpose, and what information they need to accomplish their goals. What should inform home design and programming? Depending on the questions that need to be answered, this information might include:
What are families' incomes?
What purchase price can homeowners afford?
Where do potential homeowners work?
What kind of credit do potential homeowners have?
Where do respondents want to live?
What design features are important to potential homeowners?
What are the demographics of potential homeowners: veterans, single heads of households, multigenerational households?
2. Determine who to survey:
It is important to know who has the information needed and who should be heard. Potential homeowner respondents include:
Housing Authority tenants.
Tribal government employees.
Teachers and school employees.
Indian Health Services and other healthcare employees.
Head Start families.
Elders.
Veterans.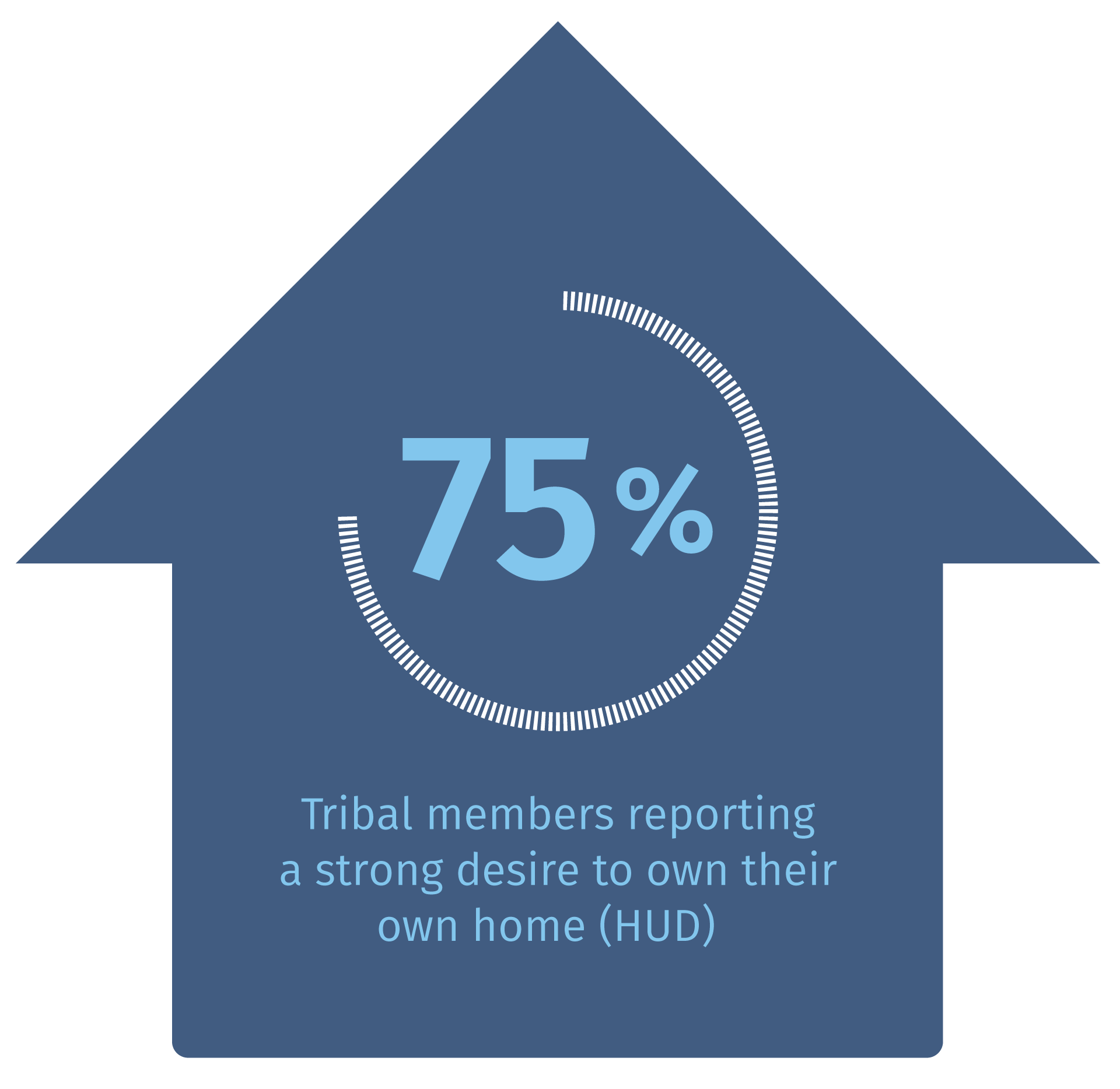 3. How will the survey be conducted?
At community events.
By mail.
Online.
At central locations in the community (such as a grocery store).
Through one-on-one meetings with potential homeowners.
Through group meetings at different worksites, such as schools and tribal offices.
4. Determine the goal at the outset.
Set a goal for the number of completed surveys: To ensure solid information moving forward, use a community outreach plan to reach a large swath of community members with the survey. The outreach plan identifies key events and gatherings, popular distribution sites, and news outlets. Sometimes the grocery store is the best place to connect with people. The overall objective here is to reach as many people and encourage completion of as many surveys as possible.
Example: Cheyenne River Housing Authority Homeownership Needs Assessment Survey
(a full version is included in the Appendix materials).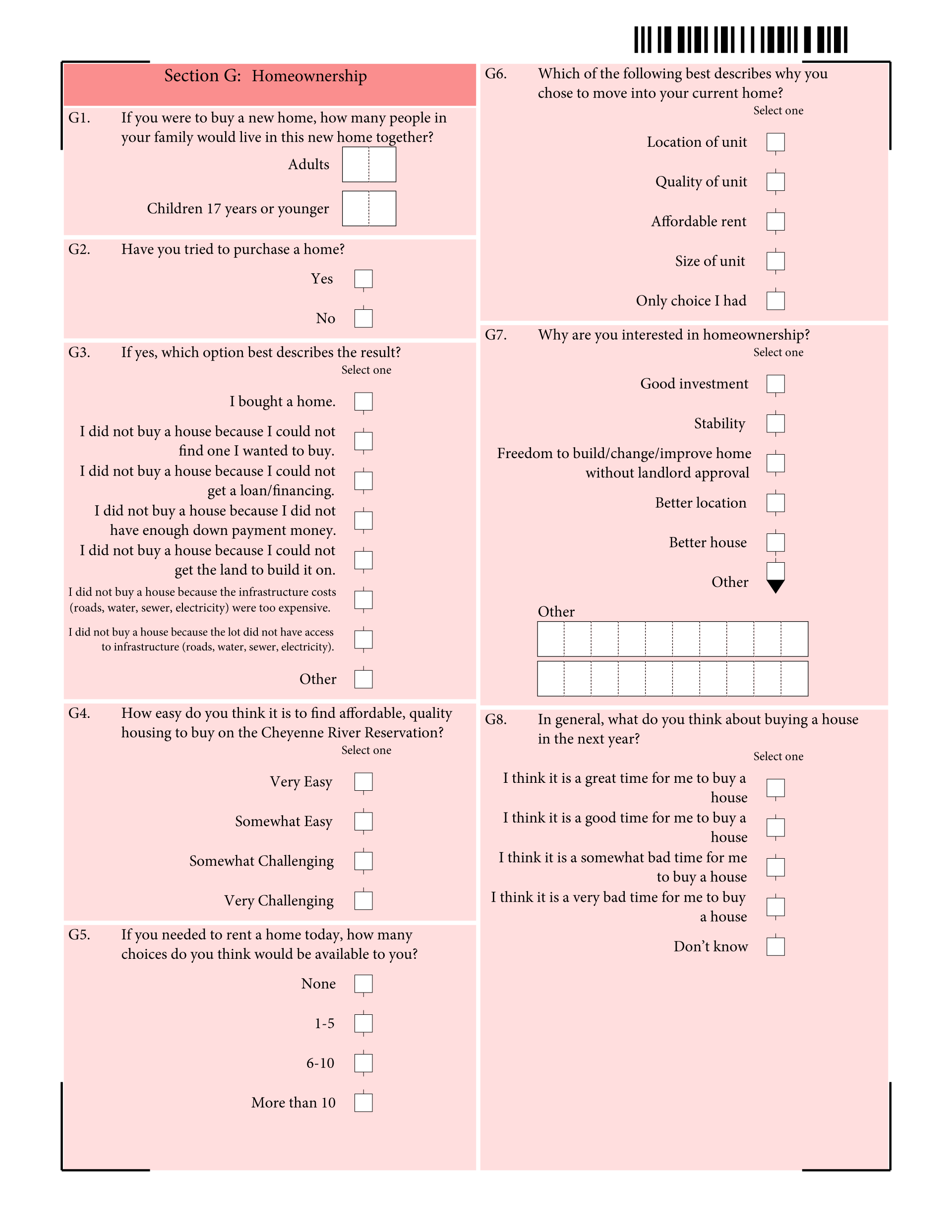 Analysis and final report
Once the survey is complete, analyzing the data will be key to understanding current trends and common themes in the community. Most important, these findings need to be shared and discussed with tribal leaders, community members, and staff.
In working with an outside consultant, it is important that they have experience working in tribal communities and understand the nuances of Native projects.