Once a tribe, TDHE, or tribal organization has committed to providing homeownership options for tribal members, it is difficult to know where to start. The focus often is on the housing stock: What homes will tribal members purchase? When considering all options for homeownership, however, it is important to take the broad view of both the options and the process. For a tribe to successfully provide homeownership, and to allow private home development within the reservation, it is important to address all components of homeownership, from assessing the needs of tribal members, to preparing families for homeownership, to facilitating the availability of mortgages for qualifying families.
Can mortgages work in Indian Country? At my reservation, they already do. At least 20 percent of my tribal houses have home loans. And we aren't checkerboard. We're almost all trust land.
—CHERYL CAUSLEY, Executive Director, Bay Mills
Below is a checklist for developing a homeownership program in tribal communities. The checklist provides a comprehensive framework of the various components of homeownership and the questions that should be addressed. It is important to recognize that a single organization is not expected to carry out all the different components. In fact, it is rare that just one organization has the capacity, experience, or staff to handle all the pieces of the process. More often, one organization takes the lead and then identifies partners to carry out certain pieces of the framework. The framework also can assist in identifying gaps in an existing program. Here are some important questions to ask in reviewing the framework:
Who is doing this work?
Who can be a partner on this piece?
Are new programming, policies, or relationships needed to tackle this piece?
Key Features of a Homeownership Program
Needs assessment, outreach, and recruiting
Before undertaking homeownership efforts, it is important to assess the community's housing needs and interests and then plan around tribal members' input.
A housing needs assessment is a useful first step to get a sense of income levels, employment status, current commuting patterns, ages, and other demographic information. It may be necessary to reach out to potential homebuyers to participate in the assessment. Are there tribal members who may be unaware of trust land homeownership options despite being strong candidates for homeownership?
What are the best ways to reach them? Options may include the media, community meetings, meetings hosted by key employers, and homeownership fairs.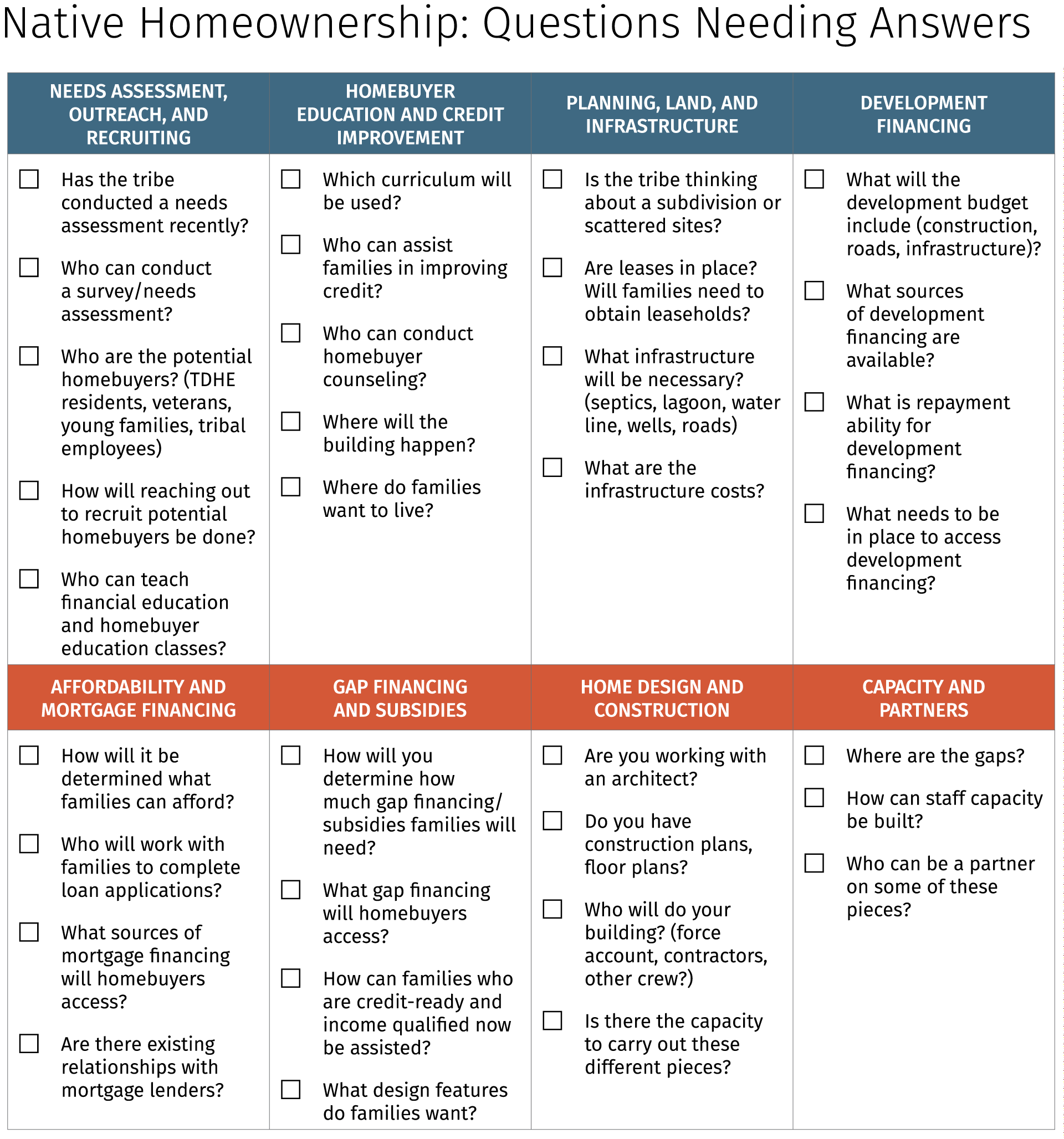 Financial education, homebuyer education, and credit improvement
Financial education and homebuyer education are critical to effectively providing homeownership opportunities for families. It is important for families to understand the homeownership process and the responsibilities of homeownership.
Money management is key to ensuring that families can pay for and maintain their new homes. Since credit history is such a critical component of qualifying for a mortgage, it is important to provide credit counseling and support for families who need to improve their credit scores in order to qualify for mortgage financing.
Planning, land, and infrastructure
If homeownership in the community involves constructing new homes, it will be important to look at land sites and infrastructure. This raises many questions to consider before moving ahead.
Where will new homes be built?
Where do families want to live?
What kind of housing concept is desired – subdivisions or scattered sites?
What kind of infrastructure will be necessary?
What is the status of the land?
Will families need to obtain leaseholds?
What are the steps that tribal members need to take to obtain a lease?
Development financing
If homeownership in the community involves constructing new homes, construction financing will be needed. The question here is: Who will provide the financing for these projects? Tribal governments might, if their budgets and borrowing capacity permit. Alternatively, banks and other private lenders may finance construction if the appropriate legal infrastructure is in place.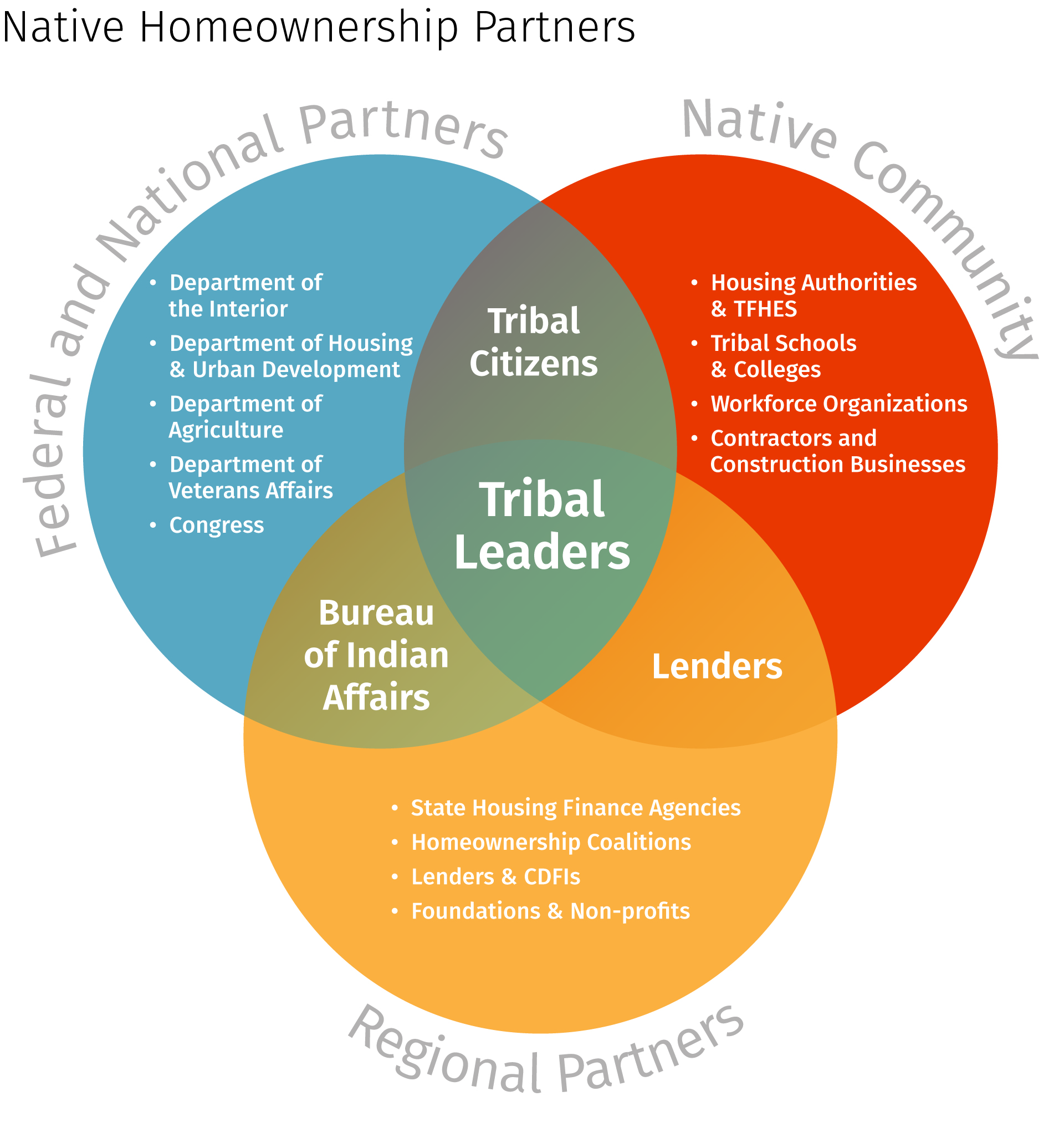 Affordability and mortgage financing
Providing homeownership opportunities for tribal members often involves supporting families' efforts to qualify for a mortgage. A number of mortgage products are designed for rural and Native homebuyers, including Rural Development's 502 loan (the RD or RHS 502), the HUD-guaranteed 184 loan (which is originated by a private lender), and the VA's Native American Direct Loan (NADL) for Native veterans.
For tribal members to access some of these programs, such as the widely used HUD 184 mortgages, tribal government may need to enter into specific agreements with the relevant federal agency.
Legal infrastructure
In addition to the physical infrastructure needed to be in place, providing homeownership opportunities also means having the necessary legal infrastructure in place. Are the tribe's lease documents current with lending standards? What other legal and judicial infrastructure is needed to support the full homeownership process, including judicial recourse?
Gap financing and subsidies
Affording a mortgage is absolutely essential to successful homeownership, so securing gap financing and other subsidies can help ensure that families can pay for their home and make monthly payments.
Families can access different funding sources for down payment and closing cost assistance. Some of these resources are designed for Native American borrowers, while others are general funds that Native homebuyers can tap into.
Home design and construction
If providing homeownership means new construction, it is also important to look at home design and construction. Here the questions concern who will design the homes and how will families have input in the home design. Many forms of housing are available to meet the consumer's need and the community's standards, from manufactured to stick-built housing. Selecting a builder is as important as securing the right lender and designer.
In the chapters that follow, these components of homeownership are discussed in further detail.
Different funding sources help families access down payment and closing cost assistance.