At the heart of homeownership is the lending process. Most homeowners need a mortgage to purchase a house, their biggest lifetime investment. To reduce costs and make the process more efficient, lenders look to standardize their lending practices. Creating a clear lending process for mortgage loans on trust land is a critical piece of Native homeownership programs.
Mortgage lenders love standardization. When we first started back in the day, the homeownership process on our reservation was anything but standard. But we improved our efforts by getting better educated, which has impacted our homeownership program today.
— JAMES "JC" CRAWFORD, Executive Director, Sisseton Wahpeton Housing Authority
The lending process for most reservations differs in a few significant ways, however, making standardization a challenge to attain. The two primary differences are the status of the land and the laws applicable to lending and recourse in tribal jurisdictions. Lenders typically use the land on which a home is located as collateral for a mortgage loan. Most reservation lands—trust lands—cannot be encumbered and may be subject to other federal conditions. To secure a home loan on trust land, the lender provides a mortgage on the borrower's interest in the leasehold (the lease of the land), not the land itself. A similar process is used for mortgages on condominiums and townhouses where the mortgage relates to the dwelling, not the land. Thus, while not an impediment to lending, the trust status requires additional steps and considerations in the process.
Before 1992, it was virtually impossible to obtain mortgage financing to buy or build a home on trust or restricted land, and tribal members had few choices for housing. The HUD Low Rent or Mutual Help housing programs were prevalent at the time. Another option was a mobile home, usually at a high interest rate. Some were able to self-finance construction.
In 1992, Congress created two new federal programs to address the lack of mortgage lending in Indian Country: the HUD Section 184 Loan Guarantee and the VA Native American Direct Loan Programs. The Section 184 program offers a loan guarantee to private sector lenders to encourage them to make mortgage loans to eligible borrowers for homes located in Indian Country, while the Native American Direct Loan program allows the VA to make direct housing loans to Native American veterans on trust land. The U.S. Department of Agriculture (USDA) Rural Development Section 502 Direct Loan Program offers another mortgage program to assist low- and very-low-income applicants to obtain housing in eligible rural areas by providing payment assistance to increase an applicant's repayment ability.
Each of these loan products allows borrowers to use their leasehold interest and improvements as security for their loan. Importantly, tribes support these beneficial programs by:
Enacting a mortgage code and establishing a system of recourse in tribal court,
Endorsing a lease instrument that meets securitization requirements, and
Executing a memorandum of understanding (MOU) between the tribe and the federal agency, or with the lender and government-sponsored enterprise (GSE) for conventional products.
All of these products and programs have made it possible for Native borrowers to obtain home loans on trust lands, but the process remains more complicated than mortgage financing on fee simple land. As a consequence, these programs were underutilized for trust land mortgages and qualified tribal households often opted to purchase or build homes on fee simple land where mortgage financing was easier to obtain.
With lending in Indian Country still lagging, HUD and the U.S. Department of the Treasury issued the One-Stop Mortgage Center Initiative in Indian Country: A Report to the President (2000), summarizing their efforts to streamline the mortgage process and make capital more available for trust land loans for both federal and conventional loan products. The initiative brought together tribes, lenders, federal regulatory agencies, and other housing professionals with a goal of streamlining the lending processes within each agency. The outcome was an interagency collaboration to recognize and use model documents preapproved by HUD, USDA, Rural Development, and the VA. This became the "One-Stop Mortgage" project, and hundreds of tribes adopted the model lease and other documents. Over time, however, the effectiveness of the project waned due to disjointed agency cooperation and new programs, as well as shifting policy directions as new Administrations came in.
One of these changes permitted the HUD 184 loan guarantee to be used in tribally designated areas, which often included areas well beyond the reservation (such as designating an entire state as an eligible area). The result has been a soaring increase in lending to American Indians on fee lands, as illustrated in Chart 1.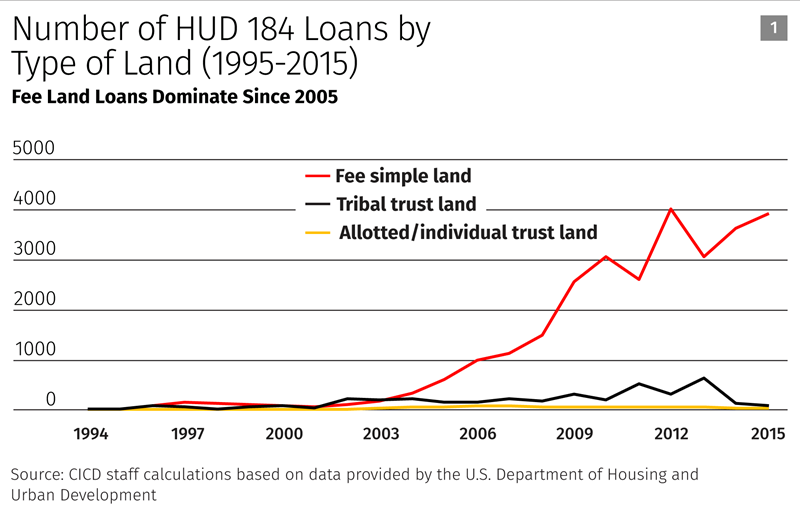 Even with these challenges, Native homeownership has flourished on many reservations. At the Bay Mills Indian Community in Michigan, for instance, more than 20 percent of homes on trust land have mortgages. See Chart 2 and Chart 3 on pages 66 and 67.
Many hands are required to achieve scale development, standardize transactions, and streamline processes in American Indian communities, Alaska Native villages, and Hawaiian homelands. These include tribal leaders, federal agencies, and private lenders—all of whom play critical roles in serving the trust land mortgage market.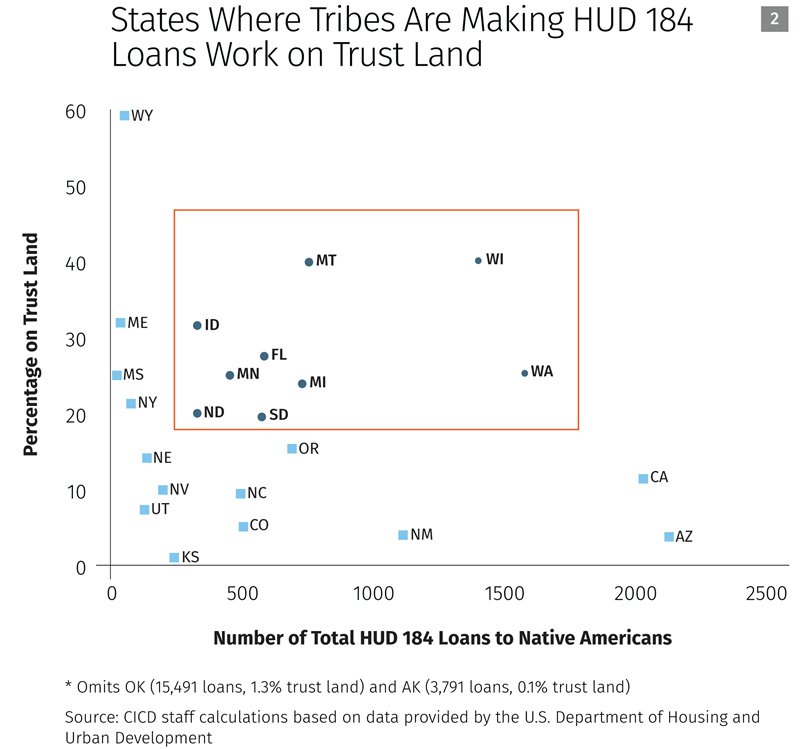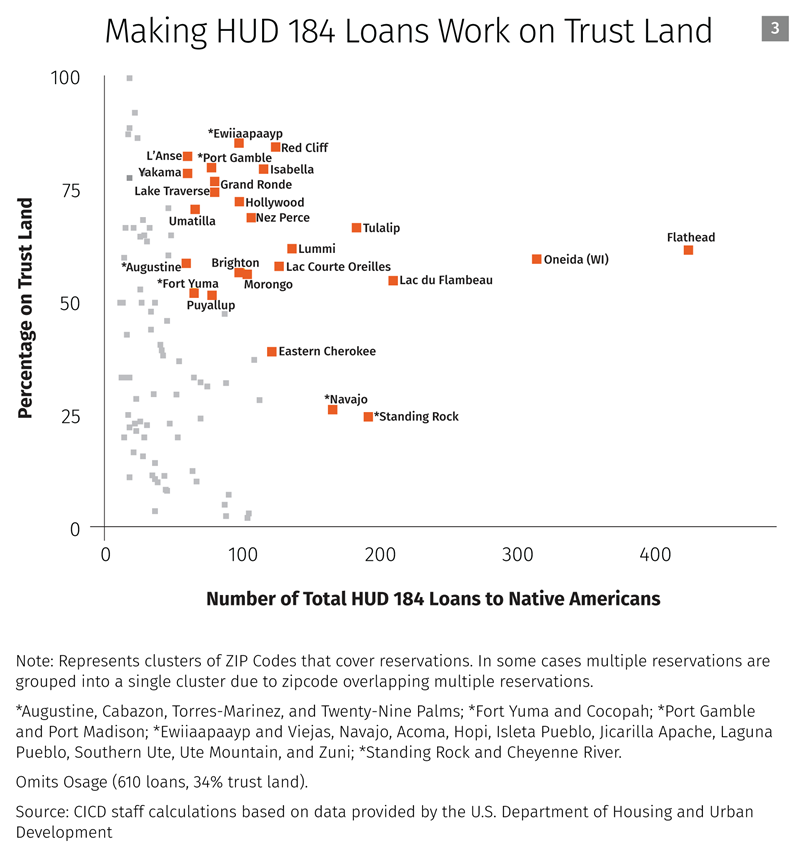 Role of Tribal Leaders
As discussed in Chapter 1, tribal leaders are in the best position to support mortgage lending in their communities and create more opportunities to live on the reservation. They can:
Promote partnerships. Develop financial partnerships with lending institutions to bring mortgage capital to their communities.
Enact legal infrastructure. Establish a legal process, based in tribal law with avenues for judicial recourse, for the tribe, lenders, federal agencies, and secondary market investors, as well as individual borrowers. The elements of this legal infrastructure include:

A tribal mortgage lending code enforceable in tribal court or other process that ensures an opportunity for recourse and due process.
A residential lease instrument and approval process.
A process for the lender to access mortgaged properties for the purpose of evaluating and servicing the loan.
Priority of lien procedures.
Foreclosure and eviction procedures.

Promote homebuyer readiness. Support homebuyer education and counseling programs to prepare tribal borrowers for the responsibilities of homeownership.
Streamline leasing processes. Create tribal processes that streamline leases, environmental clearances, and title status reports (TSRs).
Engage in land use planning. Practice master planning and create master leases for large-scale development as well as residential zoning.
Promote loan product options. Develop a full menu of conventional and federal loan products that cover the spectrum of community incomes and needs.
Create risk mitigation options. Create and fund a risk pool to assist with the liquidation process in the event of foreclosure, such that when a mortgage loan on the reservation goes into foreclosure, the tribe purchases the home and resells it to an eligible homebuyer.
Emphasize early intervention during delinquency. In the event a homebuyer becomes delinquent with their mortgage payments, engage early intervention and foreclosure prevention strategies to assist the borrower to maintain their mortgage, remain in their home, and minimize lender risk.
Role of federal agencies and private lenders
Lending partners can facilitate the flow of public and private capital for homeownership into tribal communities, which further helps tribes and TDHEs extend their resources to meet the community's homeownership goals. Following are examples of how they can support access to capital and increase Native homeownership:
Share financial expertise. Lenders and mortgage companies can share their experience in financing homeownership loans to Native communities and facilitate the development of the legal infrastructure needed to support lending in Indian Country.
Channel capital. Federal agencies and secondary market investors like Fannie Mae and Freddie Mac can provide sources of capital and guarantees tailored to the needs of Indian Country borrowers.
Promote mission-focused lending. Community-focused and Native-owned financial institutions such as credit unions, community banks, and Native community development financial institutions bring capital to their communities, as well as critically important development services for the homebuyer.
Prioritize interagency coordination. Recommit to interagency coordination (such as the One-Stop concept) to streamline the federal lending processes on trust land.
Find the best product fit for borrowers. Be familiar with loan options and support the best fit for the customer, regardless of remuneration for the lender.
Promote early intervention. Exercise customer-focused loan servicing, utilizing all partners (tribes, TDHEs, HUD-approved housing counseling agencies, Native CDFIs, and other nonprofits) to engage with early delinquency intervention.
Exhaust all mortgage relief options. Pursue foreclosure options only after all other mortgage relief procedures have been exhausted to protect the integrity of mortgage lending on trust.
Expedite property disposition. Accommodate smooth and equitable transfers of properties, such as through a tribe's first right of refusal or loan acquisition if foreclosure is imminent.
Types of Loans: Construction Loans, First Mortgages, Second Mortgages
Construction loans are separate from mortgage financing. They typically are shorter in term and considered higher risk because the collateral securing the loan is not yet complete. Several loan products available to Indian Country offer terms close to a "construction to permanent" mortgage feature.
First mortgages, also referred to as permanent mortgages, are secured by the leasehold and improvements. Typical terms are 15 or 30 years.
Second mortgages provide a level of gap financing for down payment and closing costs. They often are the key to successful financing for low-, moderate-, and sometimes middle-income purchasers because they bridge the gap between the cost of the home, closing costs, and the amount of funding available through the first mortgage loan.
The Lending Process on Trust Lands
The process for making loans on trust lands can vary from tribe to tribe and by loan product. More standardization of the lending process across Indian Country will increase the flow of capital to reservation communities and help streamline the overall process. Tribes and TDHEs also can encourage standardization throughout their region to attract more lending partners.
Here is the typical reservation-based lending process for a home purchase:
Lender preapproves borrower.

Verifies applicant and tribe are eligible to participate in the program.
Verifies land status and eligibility to mortgage.
Determines whether to lend funds against a Leasehold Mortgage on trust land or a trust mortgage on allotted trust land.
Gathers prequalification documents on their checklist such as:

Pay stubs for the last 30 days.
Bank statements for the last two months.
Last two years of tax returns for self-employed borrowers.
Per capita 1099s for the last two years (if applicable).

Borrower selects a property to buy or applies for a residential lease and obtains its accurate legal description.

If the purchase involves a new residential lease (also known as a homesite lease), the borrower will need a residential lease application along with biological, cultural, and land surveys. The lease must meet the requirements of the selected loan product.

In addition, the prospective borrower should:
Obtain prepurchase counseling and follow the homebuyer work plan, such as reducing debt or saving for the down payment and closing costs.
Select the preferred loan product based on the borrower's circumstances.
Compare, select, and negotiate with a builder and execute a contract for design and construction.
Tribe/Tribal Representative authorizes leases and seeks BIA approval.
The tribe or tribal representative authorizes lease by resolution or administrative authority and sends it to the BIA Realty Office for approval. The borrower also requests Environmental Assessment or Categorical Exclusion Review from the tribe or BIA.
BIA superintendent provides approved lease to tribe.
Tribe, borrower, or lender contacts BIA to obtain a Certified TSR to verify the leasehold interest in land, legal description, and existing liens/encumbrances.
The residential lease, with attached survey map, legal description, the rider for the mortgage, and the tribal approval, then are submitted to the BIA Office of Land Titles and Records for the BIA recording process and preparation for the TSR.
Lender reviews executed lease by Tribe, BIA, and borrower for program compliance.
Lender updates credit package.
Lender orders appraisal.
According to HUD guidelines, appraisals are good for only 120 days. Lenders may order an appraisal sooner than this in some cases.
Lender underwrites loan package.
Lender issues loan commitment.
For allotted land, the lender sends credit package to BIA for approval of loan. BIA provides the approval letter in writing to the lender.
Lender closes loan.
Within 30 days of closing, the lender batches the loan into a loan pool for sale on the secondary mortgage market.
Lender or closing agent files loan documents.
Filing usually is with the BIA or County Recording Clerk, or with the tribal Land Title Records Office (LTRO).
BIA LTRO or Realty issues a Subsequent or Updated Certified TSR.
This includes a summary of all activity since the Initial Certified TSR was issued, satisfaction and cancellation of any existing liens and encumbrances, and approval of lease and mortgage documents.
Lender reviews closing package for program compliance.
The lender submits closing package to guarantor/insurer/or direct lender or issuance of guarantee certificate.
Twenty years ago, industry experts expected to see large numbers of defaults in Indian Country because mortgage lending was so new and because of concerns about economic resiliency in tribal communities. Instead, tribal leaders realize that when borrowers treat mortgages as loans, not grants and when all parties meet their obligations and responsibilities, mortgage lending in Indian Country is no riskier than mortgage loans on fee simple land. This successful track record will help to attract investors.
Mortgage lending in Indian Country is no riskier than mortgages on fee simple land when tribal leaders and borrowers treat mortgages as loans.